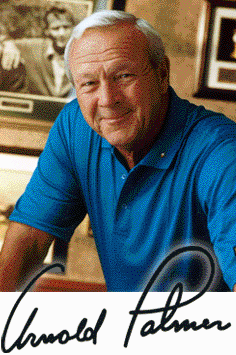 "La Quinta--Outstanding cuisine and service show at Arnold Palmer Restaurant"
.
Very few restaurants ever reach the height of being a destination in itself, a place where both visitors and locals consider a 'must see'. At La Quinta there is such a place called Arnold Palmer's Restaurant.
In many ways the restaurant has been developed to display both the talents and personality of its namesake, a man who has always been admired not just for his golfing skills, but his casual easy style and image which he has always enjoyed with his fans and admirers. Arnold Palmer has always projected the image of being as downhome American as 'apple pie' and this is certainly the effect produced to the visitor in both the ambiance of the restaurant and the cuisine as well.
This Writer had heard a great deal about the Arnold Palmer Restaurant before we finally experienced it first hand. Often in actual fact pre hype leads to disappointment but this was certainly not the case with this exciting dining house. We first met with Executive Chef Brett Maddock who gave us a personally guided tour of the premises. Chef Maddock has been with this success story from day One four years ago.
Ambiance at this restaurant is any golfer's dream since it is a museum of Arnold Palmer's many trophies including his Masters Tournament Jackets and memorabilia from the U.S. and British Opens. This is a large restaurant with seating for almost 400 but has been tastefully designed into several intimate dining areas both indoor and for outside dining. Each dining room has its own name like the British Open Dining Room, The Masters Dining Room and The U.S. Open Dining Room. Each room is decorated almost wall to wall with photographs and framed magazine covers featuring Palmer.
Arnie's Pub has a large bar and comfortable club like lounge setting. It is a delightful place for meeting friends and in the evening there is live piano entertainment. The outdoor patio looks on to a putting green open to those willing to show questionable skills to critical onlookers.
But with any restaurant what really counts most is the cuisine and service. And at this dining house both shine with excellence. Chef Brett Maddock learned his skills with Ritz Carlton and here offers a very large menu with is all American but presented with style and elegance. If you like steaks they are on this menu but downhome items like meatloaf, home made chicken and vegetable pot pies are also available under a section of the menu titled Arnie's Favorites.
For those seeking creative cuisine there are Chef's Features with dishes like New Zealand Thai Snapper or Honey Soy Glazed Halibut with stir fry. We were impressed with these entrees which show hints of the Pacific Rim. Our entree was the Pan Seared rare Ahi Tuna with arrived with butterfried jumbo shrimp and brown wild rice surrounded by fresh baby Bok Choy.
Sides here show their American heritage. We tasted the homemade Macaroni and Cheese, the creamed corn and sweet potato Brulee. Other selections include Pine Valley cole slaw or roasted asparagus with Parmesan and lemon.
Among the starters we wistfully passed on the crab and Sherry Bisque or Beef tenderloin Carpaccio but did have to try the house made potato chips which are practically a must order for everyone at the bar. They came with a Bleu cheese sauce.
We went over the extensive wine list with Dodi Henry, assistant general manager. Like Chef Brett, Dodi has been with the restaurant since Day One. In her family operating restaurants is a tradition. The wine list features wines from European countries but the list of California vintages is truly awesome representing many wines from boutique wineries located in the state's most prestigious appellations with vintages that are not always available. All told the list includes almost 400 labels.
Like the rest of the menu Arnie's Desserts include fresh home made pies, a Latrobe Banana Split from Arnie's Home Town and a Coachella date bread pudding which was our selection.
Arnold Palmer's Restaurant is located at 78-164 Avenue 52 in La Quinta. Telephone 760 771-4653 and reservations are often a necessity here. The restaurant is open daily from 3 p.m. with dinner service from 5 to 10 p.m. Like everywhere in the Desert dress is casual. Both valet and self parking are available.
Last Update:6/2/07
&copy 2007 Joe Hilbers All Rights Reserved.
Graphic Design by Impact Graphics