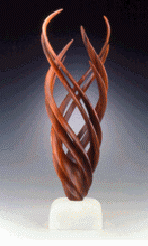 ---
"Long Beach--The Long Beach Museum of Art has presence and interesting content" By The Editor
The history of the Anderson residence and how it evolved into the Museum complex it has become is an interesting story. It was built in 1912 as a summer home for Elizabeth Milbank Anderson, a wealthy philanthropist and heiress. After her death the house became a social and beach club, then in World War 11 a Navy Chief Petty Officers Club.
It became a Municipal Art Center when the City purchased the property in 1950. In 1983 the City handed over management to the Long Beach Museum or Art Foundation.
This writer was enthralled with the landscapes of the late George Henry Melcher, a Southern California artist for most of his lifetime. The Museum has fifteen paintings of this artist on permanent exhibit. His paintings, mostly images of the Santa Monica Mountains, truly capture the unique beauty of the region.
It is also home to permanent collections of 5000 drawings, ceramics and decorative arts objects, furniture and works on paper. And special exhibitions are shown on a regular schedule at the museum.
Besides its exhibits the Museum has become a center for many cultural events from free family workshops, an art Gallery showing the work of school children, as well as a Seaside Jazz series presented on the grounds of the Museum every Thursday during the summer.
Claire's is the Museum's indoor-outdoor patio cafe offering wonderful ocean and harbor views. It is open for luncheon and dinner but for the schedule call 562 439-3587. Dining on the patio with views of ocean and shoreline is memorable.
The Long Beach Museum of Art is located at 2300 East Ocean Boulevard, Long Beach and is open Tuesday through Sunday from 11 a.m. to 5 p.m. The first Friday of every month is Free Day with complimentary admission. For more information call 562 439-2119 or log on at www.lbma.org.
Last Update:12/1/06
&copy 2006 Joe Hilbers All Rights Reserved.
Graphic Design by Impact Graphics