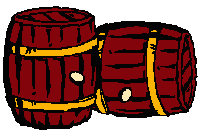 ---
"'Sonoma--The wines of Ferrari-Carano continue to excite with new estate vintages and brands" By The Editor's Vineyard
The huge improvement in the quality of California wines, just in the last decade, continues to amaze this Writer. Case to point is our participation in a tasting of the wines from Ferrari-Carano of Healdsburg. The tasting served to introduce a new label for Don and Rhonda Carano, 'PreVail'. From mountain vineyards planted in the last decade PreVail shows two cabernet sauvignon vintages. Each wine is from a separate vineyard, one called PreVail West Face, the other PreVail Back Forty.
Each vintage includes Cabernet Sauvignon with small amounts of Syrah and Cabernet Franc in the blend. Both are such superior bottlings that we were happy we were not required to chose one over the other. Our score card rated them an even tie.
There were other Ferrari-Carano wines to talk about at this tasting. Recently introduced is a 2006 Russian River Valley Pinot Grigio. If you enjoy this Italian varietal you are sure to like this bottling with its clean light flavors and balanced finish. Ferrari-Carano also offers two distinctly different Chardonnays.
The 2005 Alexander Valley Chardonnay is distinctively different from most brands of this varietal. To our taste it offered the very slight hint of sweetness to go with its opulent fruit flavors and a mellowness that was a delight on the palate. Winemaker Sarah Quider, who is responsible for the white wines, credits these unusual flavors to the fact that it is from a vineyard in a slightly warmer region of the Valley..
The 2004 Chardonnay Reserve is a completely different wine,classic to the varietal, with its French oak cooperage coming through in aroma and flavor and a buttery touch on the palate.
Tresor is Ferrari-Carano's version of a classic French Bordeaux blend. This meritage styled vintage is a big wine in every sense. Assertive and bold flavors show here in both aroma and palate. Powerful is a word we can use to describe this wine with flavors that continue with a long, long finish. Tresor is a name for treasure and it applies here.
All of this occurred on the 70 foot private yacht "Eldorado" at Marina del Rey. Matching the wines perfectly were hors d'oeuvres and conversations with Winemaker Aaron Piotter who patiently answered all our questions about each wine. As we glided throught the canals and byways of Marina Del Rey Harbor we considered this a truly special way to enjoy exceptional wines.
Last Update:6/15/07
&copy 2007 Joe Hilbers All Rights Reserved.
Graphic Design by Impact Graphics