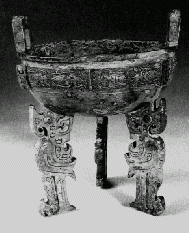 ---
"Santa Ana--Exciting Chinese exhibit heralds new Kennedy wing at Bowers Museum By The Editor
With the opening of the new $15 million Dorothy and Donald Kennedy Wing, the Bowers Museum has established itself as a premier cultural center for not only Orange County but all of Southern California. The 30,000 square feet addition to the 71 year old Museum doubles exhibition space but also includes a 300 seat state of the art auditorium for almost any kind of special event. Centerpiece for the new Wing is the 5,800 square foot John M. Lee Court which can accommodate events with gatherings of up to 500 people.
In conjunction with the opening of the Kennedy Wing which took place in February Bowers unveiled two new exciting exhibitions. They are "Treasures from Shanghai 5000 years of Chinese Art and Culture and Ansel Adams Classic Images. It was this Writer's good fortune to take part in a preview tour of the Chinese exhibition conducted by Chen Kelun, deputy director of the Shanghai Museum, who took part in the opening of the Exhibition. It is the first time the exhibition has been outside China in 20 years. The Exhibit features 77 objects dating from the Neolithic period (3000 BC) to the Qing dynasty (1644-1911 AD). Included are bronze vessels, oracle bones depicting some of the first writings five thousand years ago, cookware, and from later periods, porcelain works as well as paintings and calligraphy.
The Chinese exhibit will continue at Bowers through August 19, 2007.
The name of Ansel Adams will always been associated with photography. In his own lifetime he became the country's premier landscape and outdoor photographer and this is especially true since he resided in Yosemite National Park for many years and many of his black and white photographs depicted that spectacular country in striking detail. The present collection, now to be seen in the new Kennedy Wing, includes 75 photographs that Adams himself selected as his personal favorites to show his photographic skills. We especially appreciated photographs of familiar Sierra peaks and a dramatic photograph of the Golden Gate before the bridge was built. The images on display range throughout the west including Alaska, Hawaii, the Northwest as well as Sequoia and Yosemite Parks.
Still to be seen at Bowers is the fascinating 'Mummies: Death and the Afterlife in Ancient Egypt', which we wrote about in a previous issue of Vittles. It is most interesting to visit both the Chinese and Egyptian exhibits to contemplate how two cultures with almost the same early development could develop in such diverse ways.
Bowers Museum is open 10 am to 4 p.m. Tuesday through Sunday. It is located at 2002 North Main street in Santa Ana. Call 714 567-3600 or on the web at www.bowers.org.
Last Update:3/1/07
&copy 2007 Joe Hilbers All Rights Reserved.
Graphic Design by Impact Graphics