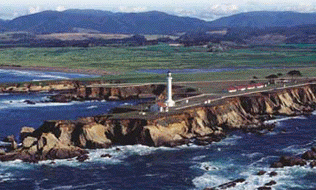 ---
"'Mendocino County--Here is a place to enjoy the outdoors, wine touring and luxury resorts" By Joe Hilbers
Think of Mendocino county as an escape. At last, found in California a place with no traffic congestion, parking problems, crowds or city hassles. For this is California's evergreen country with stately redwood groves with the dignity of old world cathedrals. On the coast a rugged shore line, always uncrowded, facing an ocean that is often anything but Pacific.
Its towns, with names like Hopland, Ukiah, Willits, Ft. Bragg and Mendocino, offer a casual, downhome, earthly life-style that has long disappeared from the Bay area or southern California. Perhaps most wonderful of all is that this laid back life-style still offers all the amenities and luxuries we take for granted these days.
Symbolic of that life-style are the many Mendocino wineries that are producing some of California's best vintages. Along with the attractions of wine touring and tasting there are resorts with luxury accommodation and restaurants with a variety of fine cuisines.
Our wine tours will be the subject of a story in the next issue of Vittles.
Our most recent trip to this forested wonderland was to explore new places, with an eye on what to do and what to see. Our headquarters for exploring the Redwood Valley and historic towns was Baechtel Creek Inn and Spa in Willits. This proved a perfect central location as we visited wineries and checked out shopping possibilities something for which my companion, Cousin Marie Zahn, is most qualified.
There isn't much that has been left undone at Baechtel Inn. There is the pool, gardens, hot tub and on site spa treatments
My room was a mini suite dedicated to the memory of Seabiscuit, the champion race horse. He received new fame recently when a book and then a movie told the story of this remarkable animal. Decorated in the era of Seabiscuit the room included photos of the horse as well as memorabilia of the local Ridgewood Ranch where the story of this remarkable legend started and ended.
We also enjoyed some exciting dining. One evening we met with Bret Cooperider, who with brother Sid, operates Ukiah Brewing Company and Restaurant in Ukiah. It is the first truly organic brewery in the State. The brothers and parents converted an old building into a bar and restaurant that truly fits in with the casual life-style of Ukiah. We tasted seven brews made by Brewmaster Bret with styles from a Czech inspired Pilsner to a classic dark stout and an old world dark ale properly called 1889 Mild.
Our favorite was the Pilsner Ukiah which also is the best seller and is packaged in six packs of cans as well. Chef Kevin Ahajanian shows a menu with classics like calamari and garlic cheese fries to Pub Fare from burgers to Quesadillas to Fish and Chips. Daily dinner specials the evening we were there included pan fried shrimp and fish cakes, grilled beef tenderloin and twin pork chops in a mustard ale cream sauce. We ordered the fish and chips which arrived on a plate with fries and a unique cold slaw with a special house dressing. We sipped the Pilsner Ukiah with our entree.
Ukiah Brewing and Restaurant is located at 102 S. State Street in downtown Ukiah. Open for bar, lunch and dinner seven days a week. Lunch served from 11 a.m. to 5 p.m. Dinner from 5 p.m. till 9 p.m. For more information call 707 468-5898, on the web at www.ubcr.com. Another evening we dined at The Hopland Inn. This was an anticipated return visit to this historic Inn and Restaurant. My dining companion was of good appetite and opened with a glass of Pinot Grigio and a huge garden green salad. Then moved on to one of the daily specials--Red Snapper served on a bed of curried Cous Cous. My entree was a hearty Flat Iron Steak served slightly rare as ordered with fresh beets and scalloped potatoes.
We chatted with Executive Chef and Inn Partner Shawn Behrens whose extensive culinary background included a stint in Southern California. On advice from our attentive Server Cheri we had to try the chocolate imbedded Bread Pudding with a Cherry Almond glaze. This was fine dining indeed with elegant surroundings and attentive service to match the cuisine.
The Hopland Inn is located at 13401 S. Highway 101 in Hopland. Telephone 707 744-1890, on the web at hoplandinn.com. Our sojourn in Mendocino County was divided into both inland valley explorations and also to the picturesque Coast with stops in Ft. Bragg and then a brief stay in Mendocino. Here we settled in at MacCallum House in scenic Mendocino. This township, abutting one of the State's most scenic coastlines, offers something most unlike California. Victorian houses, a quaint main street, and for shoppers a host of speciality stores and galleries.
We were located in what this elegant resort, rather facetiously calls the Barn. Our room offered a second story deck and a room with open beam ceiling and river rock fireplace stacked with wood for ready use. Our relaxation was watching giant waves crash into the rock studding shore. The original Mac Callum House was built in 1882 by William Kelley as a wedding gift to his daughter.
Earlier that day we drove along Highway One admiring lonely coves and several state parks available for year round outdoor recreation.
That evening we started at the Grey Whale Bar to enjoy the complimentary cheese and wine hour and discuss new drinks and cocktails with Bartender Dan Mello. Soon it was time to move into the wood paneled dining room with blazing natural rock fireplace. Here we enjoyed a memorable dining experience equal to anything one can find in a Metropolitan area.
My dining partner, always of good appetite, started with the Porcini dusted scallops with cream leeks and Arpeggio's alderwood smoked salmon caviar. Another unusual starter that caught the eye was an olive oil tasting--a selection of Northern California extra virgin olive oils served with a house made sourdought.
We met and talked briefly with Executive Chef Alan Kanter who is a graduate of the Culinary Institute of New York and with long experience in Northern California. He features a cuisine he calls North Coast based on fresh local products, whether from the nearby ocean or local farms, Mendocino produced wines and berries and mushrooms from the surrounding evergreen forests
We were even more impressed with Chef Kanter when our entrees arrived. My venison medallions came with a saute of spinach, pine nuts and currents on a bed of porcini bread pudding in a Mendocino wild huckleberry, syrah sauce.
My partner did equally well with the roasted Rosie organic chicken with gratin of Yukon Gold potatoes, house cured ham and a tarragon sauce. Looking ahead she ordered the Pear Walnut Blue Cheese souffle with a port wine sauce. This Writer must confess he too dipped a spoon into this tempting morsel.
MacCallum House Inn in located at 45020 Albion Street in Mendocino serving dinner from 5 p,.m. and breakfast from 8 a.m. to 10:30 a.m. For more information call 707 937-0289, on the web at maccallumhouse.com.
Last Update:3/1/07
&copy 2007 Joe Hilbers All Rights Reserved.
Graphic Design by Impact Graphics