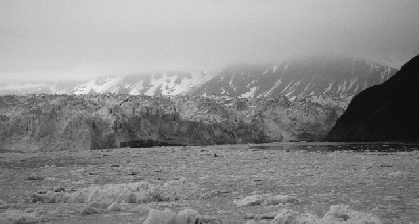 ---
"Alaska--Majestic but forbidding was our view of Hubbard Glacier" By The Editor
One of the highlights of our cruise to Alaska was the afternoon spent at Yakutat Bay and the Hubbard Glacier. We had two distinct impressions of the scene before us. One the sheer size of not only the two glaciers but the surrounding snow capped mountains and the bay filled with ice flows. The range of colors was great despite almost everything either snow or ice covered. We were fascinated with the reflections of light off the glacier giving the surface a mystic quality and the reflections of light from hovering clouds.
The second impression was the total hostility of the scene and environment as a place for people. The water, cloudy with glacier silt and filled with blocks of ice, the surrounding mountains steep and showing couloirs and iced gullies still filled with avalanche debris and struggling clumps of arctic willows seemingly without life or color.
In all my travels to so many places I could not remember any place and environment that appeared so unfriendly. Which made me feel more respect and admiration for the Tlingit people who have made their home in this country for centuries.
Twice while watching the face of the Hubbard glacier we saw puffs of white dust clouds that indicated yet another block of ice had completed its 76 mile journey and calved into the bay. Our day for viewing the Hubbard and Valerie glaciers was overcast with a cloud cover that lifted only partially leaving us without a view of the distant inland peaks. Temperature was 45 degrees and we were thankful for the down parka which we brought for this occasion.
Two U.S. National Park Rangers joined us on the Amsterdam and narrated facts about the Glacier. Brian talked with a Tlingit elder who lives in Yakutat and he had some amusing stories to tell about questions he is asked by clueless people. His favorites are, "Where are the Penguins?' and next 'Do you still live in an Igloo?".
The face of Hubbard Glacier is six miles wide but from the Ship the view is so expansive of not only the Glacier but surrounding mountains that one loses a sense of scale. We were told the mouth of Russell Fiord is six hundred yards across yet to us it appeared a most narrow corridor. We were fortunate that the cloud cover did lift some but never completely and fog only arrived as we left Yakutat Bay.
We stayed on the top deck and only left when the fog made further viewing impossible with the opinion that here we had indeed seen the real Alaska.
If it had all seemed hostile to us we were not alone. Captain Vancouver and his men aboard the HMS Discovery, when they discovered it on the their northern expedition in 1792-94,named it Disenchantment Bay.
Last Update:9/1/09
&copy 2009 Joe Hilbers All Rights Reserved.
Graphic Design by Impact Graphics