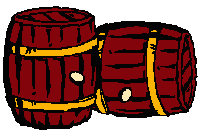 ---
"Fallbrook Winery stands as one alone in unique setting" By The Editor's Vineyard
We thoroughly enjoyed our visit to Fallbrook Winery, not only for the information we gathered but for the people we met. Owner Ira Gourvitz is a true veteran of the beverage industry and like this Writer has been a part of the many changes that have taken place in five decades.
Discovering this bond made for a delightful afternoon as we reminisced on what the wine business was like a few decades ago and the vast changes that have taken place.
With a background that included sales, marketing, and vineyard ownership the remarkable success story of Fallbrook Winery under Ira Gouvitz is understandable. He took over just a decade ago and now has a respected brand, growing many varietals on 36 acres, and enjoys having the only winery in Fallbrook.
Though close to Temecula Fallbrook enjoys a cooler climate thanks to its closer proximity to the ocean. And this means that the vineyards at Fallbrook Winery enjoy their own distinct terrior. So much so that at present plans for a separate, distinct appellation are currently underway.
Also of major importance is the appointment of Duncan Williams as winemaker. He came aboard in 2001 and combined with new estate vineyards coming into production the wines have earned medals and respect in the marketplace. He moved from the highly regarded Sierra Foothill region to join Fallbrook Winery.
We had the opportunity to tour the winery, discuss present and future plans of both the vineyards and winery and then taste some of Duncan Williams handicraft. We started with a Medal winning Chardonnay Reserve from central California fruit. This is a mature wine that does show its time in oak barrels and with a unusually long finish stands out well as a cocktail wine.
We next moved on to the Merlot Reserve. Here is a wine where the varietal character stands out with rich flavors and that delightful smoothness which had made Merlot so popular. While Syrah is not one of this Writer's favorite wines we had to admit to Ira and Duncan that their bottling from Central Coast grapes was exceptional in its hearty flavors.
As a finale we tasted the Reserve California Cabernet Sauvignon which has earned awards in several competitions. Rich aromas are offered here and fruit shows well on the palate.
Ira pointed to new plantings at the Gracie Hill Estate Vineyard which include Cabernet Franc, Petite Verdot and Malbec. To which I quickly asked if he was planning on producing a Bordeaux styled wine and the answer was yes. Visits to the Fallbrook Winery are by appointment only but once there besides a tour and tasting there is a delightful picnic area offering a wonderful view of much of the Fallbrook area. Also in downtown San Diego
Fallbrook Winery has a tasting room located across the street from the San Diego Convention Center. Fallbrook Winery is located at 2554 Via Rancheros in Fallbrook. For appointments call 760 728-0156. On the web at www.fallbrookwinery.com.
Last Update:6/1/08
&copy 2008 Joe Hilbers All Rights Reserved.
Graphic Design by Impact Graphics