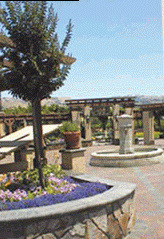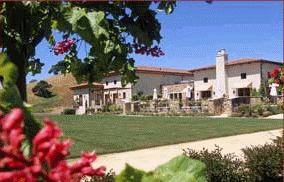 "Santa Clara Valley--Here is a place that shows the past and present with its vineyards and wineries"
.
By Joe Hilbers, Editor

With Morgan Hill celebrating its 100th Centennial it seemed most appropriate to use the occasion to explore the Santa Clara Valley where it is located. Here is a Valley that is also home to some of the oldest wineries in California, some founded even before the City.
On our tour of a few of the 14 wineries located in the Valley we were fortunate to have Daniel Ehrler, Executive Director for the Morgan Hill Chamber of Commerce as our guide and mentor. The Santa Clara Valley has its own Wine trail, some just on the outskirts of Morgan Hill, others clustered around Gilroy, further south. Much of the Valley is now known as 'Silicon Valley' but a century earlier Italian and French immigrant families recognized its lush soil and vegetation and Mediterranean climate as ideal for growing grapes and making wine.
Today the tradition continues, often with the same family as with the Emilio Guglielmo Winery, now operated by the third generation. Started in 1925 the winery has never looked back in making fine wines with the concept of quality with moderate pricing.
On our visit we met all three of the Guglielmo brothers, Gary, Gene and George. This winery is close to Highway 101 and perfect for wine touring since the family has done a remarkable job of blending earlier wine making methods with the newest innovations and technologies of the 21st century. Here is a place to see both the old and the new in the art of making wine.
At Clos La Chance you can forget the old for all is new. Here nestled in the foothills at San Martin the Murphy family planted vineyards and built a winery in 1999. All is 'state of the art' here with 90 acres planted with some 20 varietals and a winery with a 60,000 case capacity. There is also a showplace tasting room and indoor and garden facilities for special events and weddings. Also a classic wine cellar for small parties with an old world decor and ambiance.
We met with Winemaker Stephen Tebb who is now in his fifth harvest at Chance. That day he was in the midst of crushing Merlot. The 90 acres of surrounding vineyards include the Bordeaux style varietals, grapes that were originally home in the Rhone Valley, as well as the classic California varietals. Besides their estate wines some grapes also come from the cooler Central Coast, especially the Chardonnay and Pinot Noir. Three wines are packaged in screw caps, Chardonnay, Rose and Sauvignon Blanc.
Another winery we visited with a long history is Solis Winery located near Gilroy. Situated on what was once a portion of the Rancho de Solis, a Mexican land grant, it was then purchased by the Alfonso Bertero family in the late 1920s. In 1980 the Solis property and winery was purchased by another long time Santa Clara Valley family, the Vanni. We met with Dave Vanni who took time out from harvesting his Sangiovese to tell us how they have moved on from original plantings of Zinfandel and Carignane to Cabernet Sauvignon and Sangiovese, both of which have become award winners.
Still another winery with a long history is Kirigin Cellars, founded in 1916.. We recall meeting the Kirigin family, father and sons in the late 1970s and early 1980s. The Kirigin family came to California from Croatia where they had a long heritage of wine making. In 2000 Phruv Khanna acquired the winery. What has not changed is Winemaker Allen Kreutzer who has been at the winery for three decades.
Kirigin Cellars is on 31 acres and has a production of about 3000 cases with much of the production being sold from its own tasting room. Winemaker Kreutzer still leans toward old world methods in making his wines. Most are estate wines and often 100 per cent of the varietal. Located on the Watsonville Road west of Gilroy its terrior enjoys an ocean influence each afternoon with tends to lower temperatures than those experienced in the Valley. Kreutzer's dessert wine "Vino de Mocca' is a much sought after classic.
Owner Phruv Khanna mixes wine making with his hobbies of cricket and soccer so you can find fields for both sports on the premises In all Winemaker Kreutzer makes seven varietals, considering Pinot Noir as a hallmark of the winery, and of course, the Vino de Mocca. The tasting room is open daily from 10 a.m to 5 p.m., located at 11550 Watsonville road west of Gilroy. For more information call 408 8478827, on the web at www.kirigincellars.com.
Emilio Guglielmo Winery is well suited for visitors, either for tasting or tours. There is an Old World charm here with a true wine cellar, still in use, in the basement of the original family home. Here one finds the huge casks of oak and redwood reminiscence of an earlier era. The tasting room too is special being made from one of the original storage rooms still with its original rock walls visible.
The Winery bottles under three different labels: Guglielmo, which consistently wins awards, Villa Emile, which also offers vintage dated varietals, and Emile's Table wines which go all the way back to when Grandfather Emilio Guglielmo sold his first wines throughout the Bay Area.
The Guglielmo Winery also regularly stages an event that was new to this Writer. Called :Guglielmo's Cork Equity Day" it allows customers to bottle their own red wine. This is a continuing series of events with the one in August drawing some 4000 happy people. The last blend for this mass bottling (customers are allowed to bring their own empty bottles) is in three sizes, 750 ml, 1.5 L or four Liter bottle. The current blend, which was all from the Santa Clara winegrowing district, contained 38 per cent 2003 and 2004 Merlot; 29 per cent 2004 Znfandel, 18 per cent 2002 Petite Sirah and 13 per cent 2000 Cabernet Sauvignon. Cork Equity event customers are also treated to a free snacks of grilled Italian sausage and salami and cheese and assorted breads..
This Winery markets a full range of varietals plus Emile's Champagne and Emile's dessert wines, Marsala and Port , plus a special reserve Port entitled "Eredita Special Family Reserve", an award winner. Guglielmo Winery is located at 1480 East Main Avenue in Morgan Hill, phone 408 779-2145. On the web at www.guglielmowinery.com.
A full selection of varietal wines are produced at Solis Winery. Among the classic varietals like Cabernet Sauvignon and Merlot there is a Bordeaux styled Meritage entitled Cara Mia, Barbara, Sangiovese, Syrah and Muscat Canelli. Dave Vanni has carefully matched some of the winemaking techniques that go back one hundred years with modern technology. The result is a fistful of awards for his wines.
Solis is located at 3920 Hecker Pass Highway on the outskirts of Gilroy. Its tasting room which also stocks many interesting food items is open daily from 11 a.m. to 5 p.m. Telephone 408 847-6306, on the web at www.soliswinery.com.
No one will ever be disappointed visiting Clos La Chance. The Center built by Bill and Brenda Murphy is classic with its architecture and the physical beauty of its surroundings. The Hospitality Center and Tasting Room is famous in its own right. The Tasting room is open daily and there are always special events. For more information call 408 686-1050 or on the web at www.clos.com. The Winery is located at 1 Hummingbird Lane, San Martin. There is a large entrance sign that is hard to miss.
Last Update:12/1/06
&copy 2006 Joe Hilbers All Rights Reserved.
Graphic Design by Impact Graphics