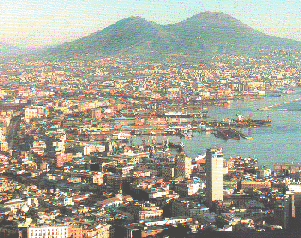 "Santa Monica--At the 'Taste of Napoli' we learned how a tradition of pasta making extends back 500 years"
.
By The Editor

We call it Naples, the Italians Napoli. It includes a province with the City and such famous landmarks as Vesuvius, Capri and Ischia.
We were in Santa Monica at Valentino's Restaurant to learn about 500 years of Napoli pasta making. Neapolitan pasta has achieved fame over the centuries because of the unusual quality of its durum wheat, pure water and ideal climate. We learned that nearby Gragnaro has for centuries been recognized for its pasta and that the same families have practiced the art for centuries through many generations.
On hand to greet us was Piero Selvaggio, Valentino owner, who can be rightfully proud of the new sparkling decor that is now in place at his award winning restaurant. Piero explained that pasta, while being a "blue jeans' staple food, has the ability to be dressed up to gourmet standards with additions of seafoods and meats. He added that pasta has indeed spread across the entire world.
With Piero doing the commentary the Chef prepared two delicious pasta dishes before the eyes of a group of food and travel writers. Both recipes were amazingly simple, with easy to get ingredients, and prepared in a matter of minutes. First the pasta was a shell called Orecchiette. The recipe included tops of rapini, garlic cloves and mashed anchovy fillets. Topping was a crumbled ricota salata cheese.
Our wine with this course was also from Naples, a Terre Inpini Greco de Terro. This white wine, dry with smooth flavors was new to us.
Equally simple to prepare and just as satisfying, for us fortunate diners, was the second pasta, Spaghetti with fresh ripe tomatos and a basil olive oil sauce. Our red wine here, again from Naples province, Terre Irpine Taurasi, made from an ancient varietal of the region. This wine was very much to our approval with a deep ruby color, very mellow on the palate and a long finish.
Six pasta manufacturers from Gragnano are sponsoring the promotion which is being played in major cities in the U.S. and Canada. Locals give credit to the rich volcanic soils of nearby Mt. Vesuvius for the quality of the durum wheat which gives Napoli pasta such reknown fame.
When we visited Naples some years back we were, as usual pressed for time, having to crowd in visits to picturesque Sorrento and the wonders of Pompeii. At this luncheon Comtur, the tourist bureau of Naples, cunningly gave us much material to outline all the things we had not seen or visited. Obviously a second visit to this City, with a history stretching back 2700 centuries, is a must.
Of some interest is "A Taste of Napoli" Sweepstakes. The prizes are three trips to Naples, Italy with all expenses paid including guided tours of the City's attractions. Enter at www.ATasteofNapoli.com. You can bet we entered.
Last Update:11/21/07
&copy 2007 Joe Hilbers All Rights Reserved.
Graphic Design by Impact Graphics