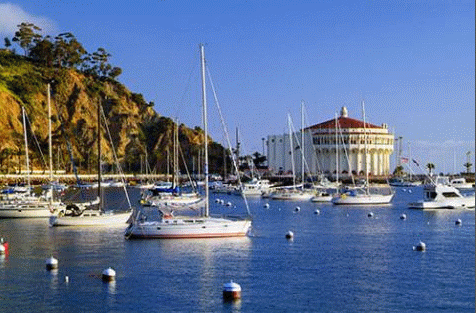 Catalina Island--It still retains its image as that "Island of Romance"
By The Editor

What Catalina appears to leave visitors with is pleasant memories. In this Writer's conversations both on and off the island invariably the reaction was to site pleasant experiences. In some ways this is surprising since Catalina hardly fits the image of a lush island. For the most part the backdrop of mountains presents a picture of steep, stark ridges and ravines as often as not shrouded in coastal fog and marine clouds.
But there is no question that Catalina has enjoyed an image projected in song and film as an exciting place of romance and relaxation. Certainly in earlier eras it was a playground for the rich and famous as well as the Spring training camp for the Chicago Cubs. And playing its part for over 80 years is the casino which was home to big bands and top entertainment draws throughout all those decades.
The steamer, known to all as the "Great white ship" was still in service when we first visited Catalina so many years ago. Our first visit was on business covering a beverage association convention. But then resolved that the whole family must come too so soon we were all on the Great White Ship on holiday.
Now it is the cruise ship with people from all parts and just about every walk of life being exposed to the Island. Perhaps like the lyrics of a song from the musical 'South Pacific' people see an island as an escape, a refuge, from the stress and frustrations that at some time befall of all of us.
From the Carnival Paradise our visit to Catalina was for just a few hours. We sauntered along the boardwalk, loitered on Green Pier and sat admiring William Wrigley's Casino for a long time. We recalled the times in our youth when we would listen to a broadcast of a Big Band performance from Avalon on Catalina and how we wished to be there too.
Last year we spent three days on Catalina and reported on it at some length in a series of stories that can still be found on Vittles web page.
Our short cruise on carnival Paradise was in itself a time of reflection and a getaway from a too hot summer in the San Fernando Valley. From our standpoint we had perfect weather the day of our visit, low coastal clouds, a lake like ocean often with the sun providing interesting patterns on the water toward the horizon. Then the sun won and it was a beautiful summer day with a glistening ocean and landward a busy scene indeed.
On board the Paradise I asked people what they would do and most had definite plans for their day. A teenage girl told excitedly of paragliding, a small boy spoke for his parents about the glass bottom boat and another eager to see the buffalo. So I mused Catalina still retains its old magic for visitors.
That song about Catalina "twenty six miles across the sea" the Island of Romance" written by Glen Larson and Bruce Belland still seemed appropriate.
However on my short visit I tried to open a conversation with a most healthy looking California girl wearing a bikini much too small for her. But she asked me if I was one of the original settlers and Island historian.
So much for the Island of romance. I caught the next tender back to Carnival Paradise.
Last Update:12/1/09
&copy 2009 Joe Hilbers All Rights Reserved.
Graphic Design by Impact Graphics