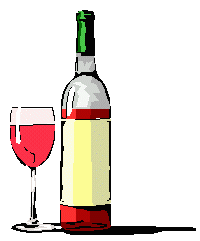 ---
"More and more vintners show interest in producing Rose Wines By The Editor's Vineyard
Rose wines are becoming increasingly popular and almost every time we visit a winery or attend a tasting these days we find new exciting pink vintages made from several varietals. Chris Leamy, winemaker at MonteVina, has an interesting Rose made from Nebbiolo called Sierra Sunrise. Ahead of his time Chris has actually been making this wine for a decade.
According to Chris this Piedmont native is a most demanding grape but for the Rose he adds 20 per cent Syrah and 20 per cent Zinfandel. The Montevina 2005 Sierra Rose lives up to its name with a fruit citrus aroma and offering the mildness just right for summer picnics. Barbera is another Piedmont native that does particularly well in the Sierra Foothill country. Chris loves these Italian varietals and Barbera has been part of MonteVina production for many years. We found the MonteVina 2004 Barbera surprisingly hearty with much fruit that jumps to the nose and palate in both aroma and flavor. Robust at 14.5 per cent alcohol.
MonteVina has built its reputation on its red wines and with good effect in the Montevina 2003 Syrah. As made in France's Cote Rotie Chris adds some Viognier which is fermented with the Syrah. Color alone makes this wine exciting, almost eggplant black in the glass and with intense, aggressive flavors. Its aging in small French and American oak offers a satisfying smoothness.
More Rose
An interesting Rose from the Napa Valley is I'M Rose produced by Rob Mondavi, Jr, winemaker at Folio Fine Wine Partners. The wine is made from 100 per cent Napa Valley Cabernet Sauvignon, vintage 2006. It has been made in stainless steel and at 12.6 per cent alcohol offers a smooth texture with refreshing fruit flavors. The wine has been produced yearly since 2003 at the suggestion of Rob's mother, Isabel Mondavi. Mom wanted a lighter styled wine that would pair well with food and to share with her friends.
Just to prove how well I'M Rose pairs with foods Sarah Scott, chef at Mondavi Winery for many years, has produced several interesting recipes that go expecially well with a Rose. For information about the wine or the recipes check the web at www.foliowine.com.
Getting it right
In the last issue we wrote about Briar Rose Winery in Temecula and dropped the ball on the telephone number. It should be 951 308-1098. We could blame Briar Rose 2005 Estate Zinfandel for this error since we perhaps tasted the wine with some 'irrational exuberance'. We have never made a secret of the fact that Zinfandel is one of our favorite varietals and we discovered that Briar Rose Winemaker Mike Tingley makes a good one in the 2005 bottling. So place the blame for the error where you may.
Last Update:6/15/07
&copy 2007 Joe Hilbers All Rights Reserved.
Graphic Design by Impact Graphics