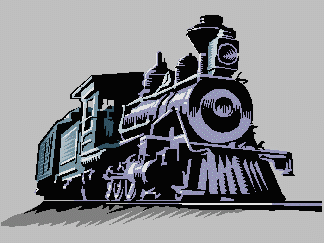 "Perris--Its 'All Aboard' when touring the Orange Empie Railway Museum"
.
For a railroad buff, nostalgia reigns supreme at the Orange Empire Railway Museum in Perris. For this Writer, who had his first windup model train set at age of six, a tour of the 100 acre site was a most rewarding experience.
This year the Museum, the largest such in the western U.S., celebrates its 50th year of preserving America's railroad and street car rolling stock for present and future generations. Literally hundreds of rail cars, designed for every use, is on display here, some beautifully restored by talented and devoted volunteers.
We were fortunate to have Signals Superintendent Gene Cranston available to give us a personal tour of the museum which includes huge sheds filled with street cars dating back to the first decade of the 20th century. The "Big Red Cars" of Los Angeles are here as well as a San Francisco Street car exactly like those I rode in my school days in that City. And yes there is one of that city's famed cable cars here as well.
There is a lot of history here and even for an old railroad aficionado like this Writer it was very much a learning experience. Here is, in splendid condition, a Los Angeles Funeral Car. Dating back to 1909, before the days of the automobile, families of the 'dearly departed' could rent the car to carry the casket and accompanying entourage to the cemetery and then hold the wake on the return trip. Its name was Descanso and it was one of several that could be rented for $25 for such occasions.
Here too is a railroad coach car simply named Car 20 but has enjoyed a distinguished career in Hollywood being in many Western movies including "The Man Who Shot Liberty Valance" and "Hang em High" to name two. We clambered aboard a Southern Pacific Caboose that has just been lovingly restored, complete with new red fresh paint, by a husband-wife volunteer team.
In fact the Orange Empire Railroad Museum is funded almost completely from private sources and its officers, board of directors and most of the people operating the rolling stock are volunteers. In all there are over 2500 of them with about 250 participating on a regular schedule like our guide Gene Cranston.
The Museum grounds are open daily but activities like riding the trains takes place only on weekends. There are always special events like the October Pumpkin Train or the annual Santa Christmas Train which runs every weekend in December.
Rolling stock from all the famous railroads are here--Santa Fe, Southern Pacific, Union Pacific and many that are now almost lost names of the past. There is a steam locomotive that once hauled borax from Death Valley after the 20 mule teams passed into history. Also the steam engine that once transported logs from forest to mill until drafted by Uncle Sam in World War 2 to shuttle supplies at military bases.
The Museum is centered on land that was once the Pinacite Townsite which grew up in the 1880s as a supply base for the adjoining mining district. The Pinacite Station is now the gift shop and offices of the museum. We also learned that the City of Perris is named for Fred T. Perris who in 1886 was chief engineer and superintendent of construction for the California Southern Railroad.
Exhibits at the Museum include city streetcars, including one car that was horse drawn, suburban and Interurban cars as well as cars used on transcontinental lines. The importance railroads had in opening vast stretches of land in our country and its impact on economic development cannot be over estimated.
The American Civil War showed the world how railroads could change warfare by moving large numbers of troops in a short time and Continental Europe was quick to learn.
Three different gauges of track and rolling stock from each is on display including suburban lines, regular railroads and narrow gauge used in the mountainous West. There is also private cars outfitted with every luxury that era could offer used by railroad executives and wealthy individuals.
This Museum is a wonderful place for both old time railroad buffs, like this Writer, as well as young people who never heard the lonesome sound of a faraway steam locomotive or the cheery 'All Aboard' from the conductor. For families there is a free grassed picnic area and there is also a 'hobo' camp showing how these rail wanderers of an earlier ear lived. On special occasions this hobo camp is manned by local business men and politicians making their 'mulligan stew' over an open fire.
Our guide took us through several shed filled with trollies and then through the work and machine shops. All the equipment that it took to operate a railroad is here. We were there on a weekday and so could not ride a train. Here also you can actually operate a locomotive: the opportunity to be a train engineer on a diesel. With a trained engineer at your side you can run the engine on tracks in the museum grounds. By reservation only this is available on Mondays and Wednesdays. Rate for the 'dream come true' adventure is $150 an hour. This makes a great birthday or Christmas present for the rail buff (hint, hint).
Admission to the Museum is free, on weekends the rail passes for trail and trolley rides is $10 for adults, $8 for ages 5-11 and free for kids five and under. There is plenty of free parking. If you plan on touring the museum like we did wear comfortable footwear and spend a whole day since there is so much to see.
The Orange Empire Railroad Museum is located at 2201 South A Street in Perris just off Interstate 215 and State Highway 74. There are signs to guide you. The Museum is open daily from 9 a.m. to 5 p.m., closed only for Thanksgiving and Christmas. On weekends trains operate from 11 a.m. to 5 p.m. For more information call 951 943-3020 or on the web at www.oerm.org.
Last Update:12/1/06
&copy 2006 Joe Hilbers All Rights Reserved.
Graphic Design by Impact Graphics