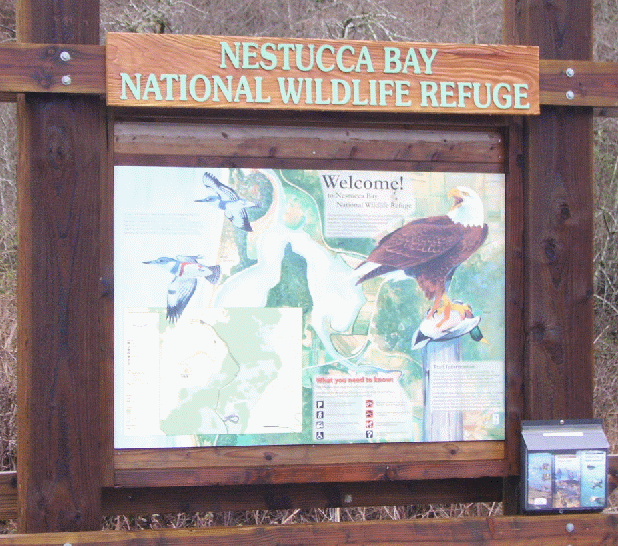 "Oregon--Its state parks offer something for every person's activities and interests"
by The Editor
Scenic wonders in Oregon are not limited to the beach areas. Just past Pacific City is the Nestucca Bay National Wildlife Refuge. This refuge is made up of short grass pastures as well as the Neskowin Marsh, home to many bird and mammal species. Our visit was on a day spotted with alternating times of clouds and fleeting periods of sun. For this Writer geese have a private special meaning and seeing flights of these birds in perfect formation will never be forgotten.
The Refuge is actually winter home to six subspecies of geese, one Aleutian species endangered by the introduction of arctic foxes to their normal nesting areas. Rain prevented us from taking the Pacific View trail but we did get some splendid photographs of the Little Nestucca River area. Another day we took the half mile hike on a good trail to Munson Creek Falls. The trail took us through typical Oregon rain forest with everything heavy with moss. The Falls were a surprise with a large flow of water dropping sheer for some 200 feet. The weather cooperated and we were able to get some interesting photographs here as well. On the way out we met two other hikers with a most friendly dog.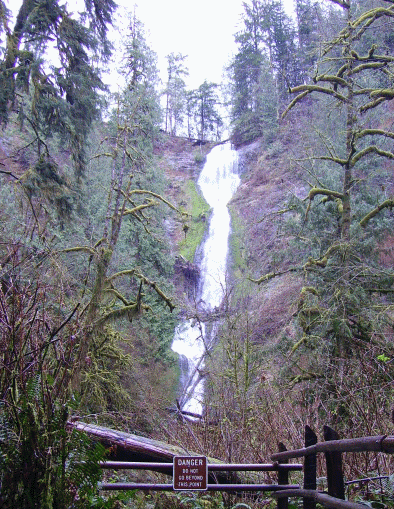 At Cape Lookout State Park we had the opportunity to see some of the cabins that are now available in Oregon parks for a more carefree camping experience. We roamed here along the shoreline with the imposing cape in the distance. Some of the State Parks also have Yurts and Tepees available for rental. All these must be reserved far in advance.
At Ecola State Park we were met by Larry Oswald, park manager for both Ecola and Nehalem Bay parks. Ecola is a day park with a historic footnote since William Clark, Sacagawea and a small group of the Corps of Discovery searched this area for a beached whale. Now called the Clatsop Loop Trail one can follow in the footsteps of the explorers as they followed their Indian guide in their search for the whale. It is just one of several hiking trails available at Ecola which is the Indian word for whale.
Just a short ride from Astoria we visited Fort Stevens, another State Park. Here Park Ranger Dane Osis guided us through the military site which guarded the mouth of the Columbia river from the Civil War until the end of World War ll. Here too we saw a recreated native American longhouse of the type used by Clatsop Indians for centuries. Then we moved on to the beach and climbed an observation platform where one can view waves breaking on a Jetty and the famous Columbia Bar. And we, like everyone who goes there, took pictures of the wreck of the Peter Iredale, an English sailing ship which founded there in 1906.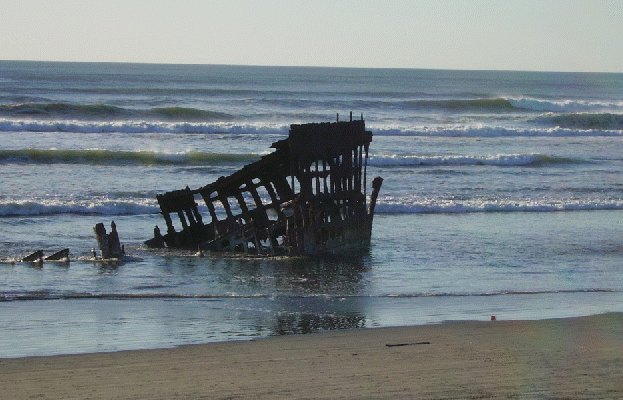 Back to Table of Contents..
Last Update:9/15/11
&copy 2011 Joe Hilbers All Rights Reserved.
Graphic Design by Impact Graphics