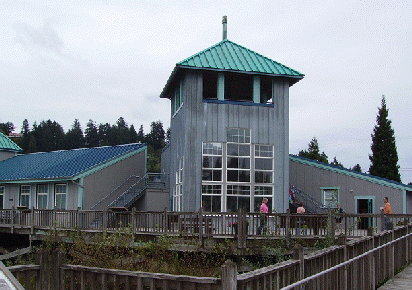 Oregon--Vacation Land best describes Southern Coastal Communities
.. By Joe Hilbers
Decisions on what to do may be the biggest challenge on a visit to the southern Oregon coast. For just call this vacation land. The choices are so variable and so large in number that it may prove difficult.
If you are a golfer you will definitely want to play the heralded Bandon Crossing course there. For the salmon fisherman there is Winchester Bay, Gold Beach, Port Orford, or Brookings to name just a few.
Then there are an assortment of past times like crabbing in the bays, open year round for the sports fisherman, or seeking those prized chanterelle mushrooms in the Fall while hiking, or just being on lookout for the myriad selection of animal and bird life both ashore and at sea. Those long stretches of sandy beaches are a challenge in themselves, often so lonely that you are the only beach comber in sight. For surf fishermen like this Writer they are Valhalla.
For the photographer look in any direction and there is another photo opt. And if history is your thing every community we visited has its own museum. In Reedsport there is the Umpqua Discovery Center and in Bandon the Historical Heritage museum, and in Port Orford the Coast Guard museum.
Reedsport has been linked to the Umpqua River since the days it was discovered by Trapper Explorer Jedediah Smith. Over the decades it has evolved from its flourishing salmon canneries and lumber industry to what it is today the perfect place for the outdoor sportsman, whether spent in RV's, fishing, boating or racing across sand dunes in a variety of off road vehicles. The story of Reedsport and the surrounding country is well told at the Umpqua Discovery Center.
We thought this Center a remarkable achievement for such a relatively small City. Diane Novak, Center Director, personally guided our group, first to the Tidewater and Tide, an extensive series of exhibits tracing the history of Reedsport.
Our explorations continued with a visit to the Umpqua river lighthouse. This is located where the Umpqua river empties into the ocean south of Winchester Bay. It was constructed in 1894, a sixty five foot tower build with 250,000 bricks with its Fresnel lens still flashing its light to this very day. Of all the lighthouses on the Oregon coast it is the only one built especially to guide mariners into the river and Winchester Bay. Adjacent is the former U.S. Coast Guard Station which is now a museum which shows the quarters of the men as well as a history of the Coast Guard and light house keepers of an earlier era.
We also learned that the government had a military fort at this site. It was Called Fort Umpqua and existed from 1858 to 1862. Two of the Army officers stationed there are famous names to this day. They are Joseph Hooker and William Sheridan who after the fort was closed moved on to fame during the Civil War.
Outdoor adventure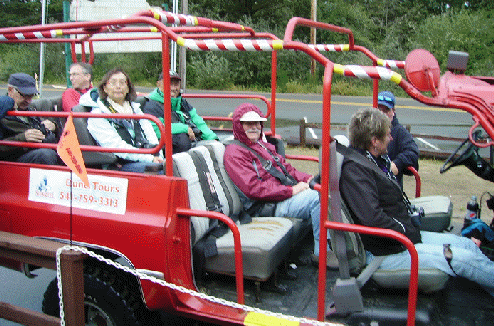 The Oregon Dunes National Recreation Area is a very special unique place and our exploration of them was an exciting experience. Rich Burkholder is owner of Spinreel Dune Buggy and ATV Rental located in North Bend. On our tour Rick did not want our group to miss anything. We tracked local animals including deer and elk, went to the beach that seemingly stretched forever and had this Writer remembering his days as a surf fisherman. Here we also watched a large flock of cormorants. Next it was time for some thrilling ascents and steep descents of dunes in Rock's modified International Scout. Our dune safari stretched over sixteen dunes.
This was our introduction to Coos Bay-North Bend area of the Oregon coast. Coos bay is the largest coastal city in Oregon. We learned about Oregon Dungeness crab from Nick Furman, executive director of the Dungeness Crab Commission. The Commission has been established by the crab fishing fleet to make their most desirable crustacean, not only a national but international culinary treat.
This program has been most successful for the 425 crab vessels in Oregon. The Commission is funded by a one per cent levy on the value of the annual harvest. The size of the crab fleet is limited to this number and sustainable harvesting is ensured by only keeping male crabs over six and one fourth inches across the back. The crab pots are specially designed to allow small crabs to escape and females caught are returned to the sea. Today the Dungeness crab harvest represents Fifty five per cent of the value for the entire fishing fleet in the State. Last year this was 49 million dollars. The importance of the Dungeness was enhanced when it became the Oregon State Crustacean in 2009.
Our education of the Dungeness was completed with a cab crack where we gleefully cracked and devoured crab at an astonishing rate for a most satisfying lunch.
We also visited the University of Oregon Institute of Marine Biology located in Charleston. Here Craig M. Young, director and Professor of Biology, outlined the work of the students under the ideal conditions offered on this part of the Oregon coast.
One of the showplaces of the Coos Bay-North Bend region is the Shore Acres State park, actually one of three state parks that offer spectacular views of a rugged sea scape with a host of seals, sea lions and other sea mammals to be seen in their natural habitat. In winter views of migrating whales are common. The day of our visit there was high surf with the entire shoreline encased in white churning water often with towering columns of water and spraying mist. Our guide was Marty Giles, owner of Wavecrest Discoveries Tours, who also had much to tell us about the ecosystem of this coast. Shore Acres State Park was once owned by an Oregon entrepreneur who built a mansion there as well as lush gardens with flora planted from far-off places. Later it was purchased by the State of Oregon and the gardens have been reestablished. This Cape also features the Cape Arago lighthouse which is no longer operational.
We have already pointed out how unique and different each Oregon coast community is and this certainly applies to Bandon which has a character and history that is all its own. There is its "old town' with the boardwalk overlooking the bay and a museum which depicts a history that has experienced good times and disasters, included two devastating fires that required an almost a complete reconstruction. We thought our time in the Bandon Historical Society Museum well spent.
Bountiful Agriculture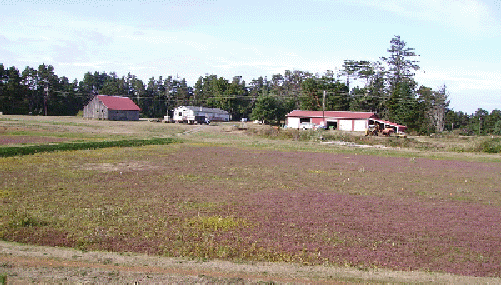 Surrounding Bandon is one of Oregon's best known agricultural products--cranberries. Julie Miller of the Bandon Chamber of Commerce explained that the farms producing cranberries are all family owned and operated, some of several generation. To prove her point she led us to the farm of Ty Vincent, a fourth generation member of the Vincent family Cranberries. Here Ty explained how cranberry bogs are created and maintained. Best of all we were able to actually watch how the berries are harvested. A specially designed harvester is driven through a flooded bog which shakes the ripe berries from the submerged bushes. These then float to the surface where they can be gathered. Most of the bogs are about two acres i size. After harvest some of the berries are dried, others made into canned sauces and Oregon now has its own canned brand. Vincent Farms also markets its own variety of cranberry juices in several varieties.
Ty explained how the cranberry, like many products, enjoys both rising and falling prices depending on the success of a given harvest nation wide. In Oregon growing cranberries has continued for many years since the sandy soil and climate surrounding bandon offers excellent growing conditions. We learned it takes much care and effort to supply us with the cranberries at our thanksgiving Day table.
Another Bandon attraction, not to be missed, is the West Coast Game Park Safari. It is the country's largest wild animal petting park and here you are talking about petting among other animals, tigers and leopards. Owner Brian Tenney is second generation owner and his interaction with the large cats is extraordinary. The petting cats are young and are only allowed to be petted until they reach a certain age and size.
Other animals, like goats, deer and big horn sheep, wander unconcernedly around free to mingle with visitors. Also to be seen are black bears, elk and reindeer with immense spreads of antlers. Children love the park but we noted the same fascination and glee among adults and our group when the young tiger and the leopard were playfully touched and photographed at length. The large cats, lions, tigers and leopards, are actually bred at the park.
Bandon is adjacent to the Coquille River which meets the Pacific Ocean there and the beaches offer scenic views, classic of this coast, with opportunities for long walks.
Mariners Guide
Cape Blanco Light House is the oldest in Oregon dating back to 1870. This station is also the oldest to operate continuously to the present day. The original Lensel lens, still in place, with only the technology being upgraded to present standards. Our guide was Roland Young, one of a staff of volunteers who guide visitors at the Cape and relate its history. Roland was also our guide when we toured the nearby Hughes home. The Hughes family were pioneers in the region and prospered building a home that showed the best of the late 19th century. The Hughes family played a large role in the Sixes River Valley with some sons manning the lighthouse as well. Today it is part of Cape Blanco State Park.
These showplaces are within easy reach of Port Orford which has its own lore of Oregon fishing and lumbering history. There is the Lifeboat Station and Museum open to visitors and it is the original building occupied by the Coast Guard. We also took one of the adjacent trails which offered stunning views of the surrounding cliffs that drop sheer to the sea. Since Port Orford does not enjoy a natural harbor there is a crane that lowers the local fishing fleet of about 45 vessels into the Pacific Ocean. On the day of our visit these fishing boats were all on the shore sitting on their wheeled trailers with red flags flying warning of storm waters at sea.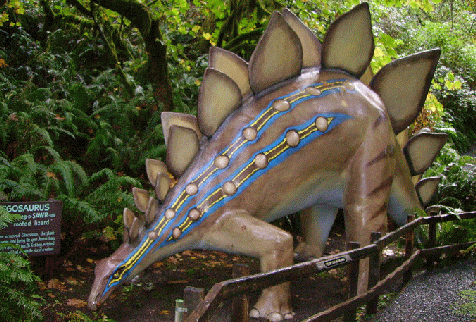 On Highway 101 after departing Port Orford we visited The Prehistoric Gardens. This has been an attraction on the southern Oregon coast since 1953. It is a display of life size dinosaurs created by a sculptor named Ernie Nelson. The Gardens are located in Oregon rain forest that has been untouched through the centuries. A walking tour here is very much an educational experience with signs explaining the period of the dinosaurs as they peer at the visitor looking very natural indeed. We talked with Kiki McGrath, Nelson's grand daughter, who told us of her grandfather's talent and life long interest in earlier geological times and how this inspiration led to the Gardens.
Rogue River Adventure
The Rogue River has long enjoyed fame as being an ideal way to experience the wilderness of Oregon's back country and a whitewater experience.
Today one of the best ways to do this is to board one of Jerry's Rogue Jet boats. This is at Gold Beach where the Rogue empties into the Pacific Ocean. Jerry's Rogue Jets offer a variety of trips up the river, a 64 mile scenic trip, an 80 mile white water trip or a 104 mile adventure. Ours was a short version of the 64 mile trip. We departed the tour at luxurious Tu Tu Tun Lodge so we could experience the lush Oregon woodland first hand. For this we took the Shrader Old Growth trail which winds through untouched timberland with two and three hundred year old Douglas fir trees dominating the lush forest. This easy one mile loop trial was a memorable experience.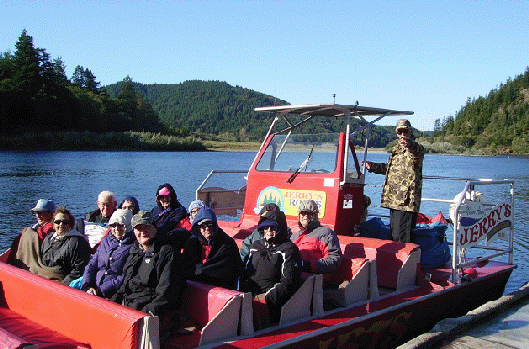 Later that day we visited the Brandy Peak Distillery. Here located atop an 1800 foot mountain David and George Nowlin family have been producing Grappa brandy and blackberry liqueurs for eighteen years. With copper stills the spirits are hand crafted using Oregon fruit from inland farms. The grappa is produced from pears using the pomace in a traditional grappa process.
We had the opportunity to taste the finished brandies some enjoying years of barrel aging before bottling. The Brandy Peak Distillery is located at 18526 Tetley Road at Brookings and is open to visitors Tuesday thru Saturday from 1 to 5 p.m., March to January. Call 541 469-0194 for appointments.
The tree is called California Laurel but Oregon has taken this Laurel as its own calling it Myrtlewood. It is unique to the northern coast of California and Oregon and its leaves produce a smell like camphor. The wood can be made into beautiful bowls and other objects and is extensively worked and sold in shops all over Oregon. We visited Rogue River Myrtlewood owned by Michael and Caryn Merica and saw bowls being carved from wood which must be seasoned before working.
This Writer was a 'hacker' for some decades and seen many golf courses but still thought the Salmon Run course at Brookings remarkable. We used a golf cart to explore the back nine of the course on a brilliant fall day. The course could be called 'deer run' since we saw no less than four does with their fawn while on our tour. The course is public and owned by the city of Brookings. With its rolling terrain, narrow fairways and several creek crossings it can be a challenge for any golfer and our comment was that the first rounds should be played forgetting the score card.
In future issues of Vittles there will be more stories about the Southern Oregon Coast including our lodgings and most emphatically our culinary adventures.
Back to Table of Contents..

Last Update:11/30/11
&copy 2011 Joe Hilbers All Rights Reserved.
Graphic Design by Impact Graphics