Astoria, Oregon--This City at the mouth of the Columbia River is planning a Bicentennial celebration..
.. By Joe Hilbers
The first settlement west of the Mississippi to fly the American flag was a trading post at the mouth of the Columbia River. It later was named Astoria, Oregon after New Yorker John Jacob Astor who established the settlement for the fur trade. That was in 1810 Now in 2010 Astoria is celebrating its Bicentennial and it will be quite a party.
In its two centuries Astoria has shared both good times and bad. But from the first it has been a place of muscle power and people not afraid of either hard work or danger. For fishermen and seamen there has always been the Columbia River bar that earned it the name 'Graveyard of the pacific' for the huge number of vessels, large and small, that met their end here.
Think blue color for a city that went from fur trading to salmon fishing and canning and a mighty lumber industry. No cream puff jobs here. This hard living took Astoria through a bawdy period like so many other places in the Old West. Then there was the collapse of the salmon fishery and the 20 odd canneries that had flooded the world with the product. And not least a devastating fire that leveled the downtown section of the city in 1922. But for these hardy people rebuilding quickly took place including the Liberty Theater, a showplace in town since it took shape in 1925 as the cultural center of the City. With all the grandeur of the art deco period it offered Picture window paintings of Venetian themes framing the walls. In the 1990s the Theater was completely restored to its original stature and we had the opportunity to visit and admire at length. Today it continues its reign as a cultural center staging concerts, operas, and popular entertainers on a regular schedule.
For us a most exciting attraction in Astoria is the Columbia Maritime Museum. The infamous bar of the Columbia River where it meets the ocean accounted for a large number of ship wrecks and loss of human life. The wrecks, in the hundreds, are charted at the museum. Here too the role of the brave pilots who met the ships often in surging seas to bring them safely over the bar into the Columbia River. The service of the Coast Guard is dramatically displayed at the museum with an actual guard vessel poised at a steep angle braving a 45 foot high wave in rescuing a seaman floating on a life vest. For visitors this museum is a must see since the whole history of northwest seafaring is on show here. A naval display includes the bridge of the USS Astoria, a cruiser in World War 11 service.

Want to take a cruise without worrying about ship motion and possibly sea sickness. Then may we suggest a stay at the Cannery Pier Hotel. What a way to end a one thousand mile auto trip. Our delight on arriving at Astoria, Oregon on a cloudless winter day accelerated as we checked into this Hotel. And when we got to our room the excitement only increased.
The Hotel, built four years ago, is on piers where once stood a cannery. From the balcony of our room we could look directly down on the river. The picture windows encompassed a view right to the Columbia bar, across to Washington State and within hailing distance of the bridge that continues Highway 101 into Washington and the remarkable Long Beach peninsula.
Luxury is the only way to describe our room with gas fireplace, sofa, king size bed and a bar with refrigerator and microwave. And then there was the bath with a huge clawfooted tub and separate shower both situated so as to enjoy the view during ones ablutions. Each day the hotel staff provides guests with a list of ship arrivals and departures, the name, country, type and time of moving over the bar. For some time this kept us busy dashing out to our balcony with camera in hand. The Darling River from China was due to pass us at 0800, the Ocean Phoenix from Korea at 1200 and the Coral Ace from Japan at 1600 hours.
We did find the time to join the daily wine and cheese event for guests and snacked on smoked salmon hors d'oeuvres while sipping a Eola Hills chardonnay from the Willamette Valley and a Stimson Estate Cellars Cabernet Sauvignon from the Columbia Valley. Cannery Pier Hotel is at No. 10 Basin Street, Call 888 325-4996 for reservations on the web at cannerypierhotel.com.
Culinary opportunities abound in Astoria and we took full advantage. One evening we were at Baked Alaska, one of the city's leading restaurants. Thanks to Owner Chef Chris Holen excitement reigns in the kitchen of this restaurant and adjoining Mise en Place, his cooking school and kitchen ware store. Baked Alaska is a four star dining house complete with dining rooms overlooking the Columbia River, a complete bar lounge, and a big wine list to match his northwest cuisine. Our dining experience was at the Chef's demonstration kitchen. Everything we had that evening was prepared before our eyes opening with a five onion baked dip served with Chris's own sourdough bread. Next came scallops which were prepared with a sparkling Brut creme sauce. All of this food preparation was accompanied with a running commentary by the chef on his philosophy on both the dishes he creates but also on how he developed Baked Alaska to the excellence it enjoys. This was followed by a plate of cremina and oyster mushrooms served flambe. And still we were not finished Chris starting with fresh Albacore tuna served over greens with a coffee-sparkling brut sauce. And yes we had to try the restaurant's Baked Alaska with a chocolate chip cookie. Baked Alaska/Mise en Place is at #1 12th Street, 503 325-7414.
One day we had breakfast at the Blue Scorcher Bakery & Cafe which offers a Veggie only menu in a casual, unique atmosphere. Our tasty repast included Quiche, salad and crisp potatoes. Here one finds produce from local farms, home baked breads and all organic and handcrafted Here too a Pie of the month club. 1493 Duane Street, 503 338-7473.
A luncheon was memorable at Bridgewater Bistro located on piers with the Columbia River and Bridge as a backdrop. It enjoys an exciting menu with items like coquilles St. Jacaues or a cioppino. We had the fish and chips made with Alaskan halibut. Also at our table pan fried Willapa bay oysters and grilled salmon. Bridgewater is spacious with a banquet hall and a wine bar and tasting room. With its riverside ambiance and interesting menu owners Tony and Ann Kischner have made Bridgewater Bistro a place to remember when visiting Astoria. Address 20 Basin Street,. reservations 503 325-6777, www.bridgewaterbistro.com.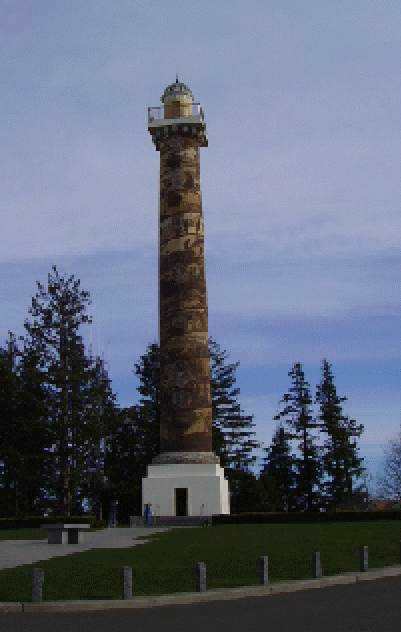 Our sight-seeing included a visit to The Column that dominates the City and was built to commemorate the completion of the North Pacific railroad spanning the continent. With clear skies we also visited Fort Stevens State Park on the coast which gave us wonderful views of the Jetty that extends a long way out into the Pacific as well as the Bar itself.
Astoria operates a Waterfront Trolly line which gives visitors a 45 minute tour of the city and makes almost everything downtown easily accessible. We took a ride with John William and Ted Langdon as motorman and conductor. They are part of a large cadre of volunteers which operate the cars during the summer season.
For more information about Astoria contact the Chamber of Commerce at 800 875-6807, web www.oldoregon.com.
Back to Table of Contents..

Last Update:3/10/10
&copy 2010 Joe Hilbers All Rights Reserved.
Graphic Design by Impact Graphics