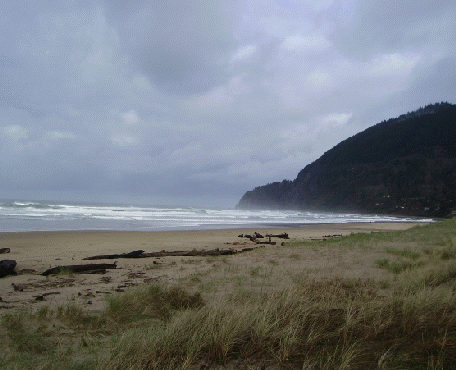 "Cannon Beach, Oregon--Here is a beach community devoted to arts, crafts, shops and fine dining"
by the Editor
Cannon Beach is to Oregon what Carmel is to California, a haven for the arts in a beautiful seaside setting. In Cannon Beach we toured some art galleries that are located in a uniquely designed center of specialties stores, antiques and galleries.
The City of Cannon Beach enhances this image by featuring award winning sculptures in an outdoor setting. While on public display they remain available for sale by the artists. We browsed our way through Northwest by Northwest gallery and met with Joyce Lincoln, its director. Next we visited Dragon Fire Gallery and this proved good timing on our part since Sue Newwirth served up some most tasty crab cakes and a lip smacking clam chowder, this at the Inspired Cafe located in the Gallery. She calls herself "Cranky Sue" but we were awed by her culinary skills. All of this nestled in with the exciting works of art displayed at the Dragon Fire where we met Eva Lantela.
Hearing of a surfer artist in the complex we peeked in at the Jeffrey Hall Gallery. He is a prominent Oregon surfer who has turned to art to put on display his beloved Oregon shores. The Bronze Coast Gallery offers sculpture and fine art and we talked to Kim Barnett about our own feeble landscape painting efforts.
Icefire Glass Works in Cannon Beach allowed us to see first hand a true craftsmen at work. He is Jim Kingwell and visitors are welcome to watch as he does incredible things creating hand blown glass works of art. His aide is Suzanne Kindland and they are located at 116 East Gower. Many completed art works are ready for sale there as well. We watched Jim as he created a beautiful multicolored glass vase. For hours of business call toll free 888 423-3545, the web at icefire@theoregonshore.com.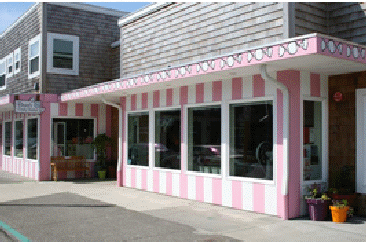 It appeared to us that no Oregon seaside city can go without a candy story. In Cannon Beach it was Bruce's Candy Kitchen which has been a city family tradition since 1963. We met with Proprietor Susan Truax and then watched Brian Taylor as he made a traditional Salt Water Taffy. Sorry but as we discovered there is no salt water in this popular confection. In fact at Bruce's they put the recipe on every package and of course we took one with us. As Brian Taylor explained the candies and their recipes are very traditional and have changed little through the years and this holds true also for the appliances and machines used in its manufacture like the Kiss cutting and wrapping machine that dates to 1908. Anyway we liked what we saw and also what we tasted. At Bruce's the Salt Water Taffy comes in fifteen flavors. Bruce's Candy Kitchen is located at 256 N. Hemlock, Call 503 436-2641, on the web at www.brucescandy.com.
Like everything we saw and experienced in Cannon City our lodging and dining experiences were exceptional and most upscale. We stayed at the Sea Sprite on the Estuary in a luxurious room entitled the Tide Pools Alive Studio. This included a gas fireplace, a full kitchen, king size bed, sofa and a wondrous view of Ecola Creek and the estuary it forms as it meets the Pacific Ocean. The view alone was such that our main regret was having so little time to enjoy it. In our room we appeared to be far from everything except the beautiful beach before us but actually Sea Sprite was only a block from downtown Cannon Beach. Sea Sprite is one of four proprieties all with stunning locations. There is a fine website www.seasprite.com or call 503 436-2266. Just south of Cannon Beach is the Arch Cape Inn and Retreat. Think of the grandeur of an English country house or a French chateau here. We breakfasted here one morning and were treated to the talents of Resident Chef Noah Kaufman. We opened with a banana curried soup, then a Dungness crab Quiche and finally spiced rum poached pears with toasted hazelnuts.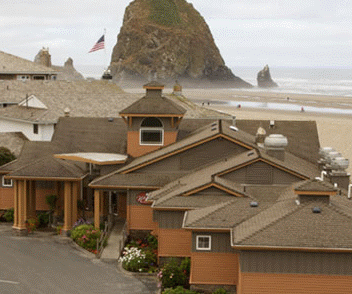 Each room here offers a unique decor and ambiance with names like Provence, Gaugnin or Tuscan. Proprietors are Stephen and Cynthia Malkonski. For more information call 503 436-2800, web www.archcapeinn.com.
The moment we stepped inside Wayfarer in Cannon Beach we knew we were in for a special lunch thanks to a tempting and extensive menu. We ordered the Battered Prawns, jumbo Mexican prawns dipped in a beer batter and it was such a huge plate that we shared some of our prawns with our fellow diners. The wine list here is extensive and we loved how each entree on the menu came with a recommended wine as well. We met both G. M. Rachel Conyers as well as Corporate Chef William Leroux and had the opportunity to tell him how impressed we were with his menu and the entrees at our table. Wayfarer Restaurant and Lounge serves breakfast, lunch and dinner at Oceanfront and Gower Streets in Cannon Beach, telephone 503 436-1108, web.wayfaer-restaurant.com.
When Bob Neroni and Lenore Emery brought their combined years of culinary skills to Cannon Beach six years ago it added another gem to this upscale community. Called EVOO=Extra Virgin Olive Oil it is a combination of cooking school, wine shop and store for unusual culinary items. We were there for 'The Dinner Show' where Chef Neroni prepares a complete repast as one watches. Our evening the dinner was entitled 'Seasonal Skillets' and included baked crab and ginger salad, stuffed piquillo pepper on black beans, then salt cocoa rubbed pork shoulder with Avocado tomatillo salsa with rice, then warm Camembert and Citrus mint salsa and for dessert toasted fresh coconut cream tarts with grilled pineapple. Each course offers a suggested paring wine that can be purchased by the bottle.
Other events at EVOO include a cooking class entitled "Sous Chef of the day' and classes in Artisan bread making. At our dinner there was a group of 16 happy diners. In summer these dinners take place five nights a week. EVOO is located at 188 S. Hemlock Street, Cannon Beach, Call 503 436-8555, web, www.evoo.biz
For more information on what to see and what to do on a trip to Oregon check with the Oregon Coast Visitors Association located in Newport. Phone 541 -574-2679, on the web at www.visittheoregoncoast.com.
Back to Table of Contents..
Last Update:6/30/10
&copy 2010 Joe Hilbers All Rights Reserved.
Graphic Design by Impact Graphics