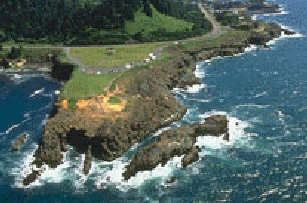 "Oregon Central Coast--The scenery adds to the luster of Flying Dutchman wines"
By The Editor's Vineyard
If there is one word that describes the winery owner and winemaker it is dedication. This is certainly true when we met Dick Cutler, owner and winemaker for the Flying Dutchman Winery located at Otter Cove on the Oregon Coast. In fact the Flying Dutchman is only the second winery that we know of that is located only yards from the Pacific Ocean.
Dick Cutler moved into the wine industry a decade earlier after a successful career in hospitality management. His personal passion for wine took him to learning as much about vineyards, grape varietals and the art of making fine wines as well as the marketing of same.
We had the opportunity of enjoying Flying Dutchman wines, both at an elegant dinner and later when he generously invited this Writer to visit his Tasting Room and Winery. It is as close to the ocean as one can get without getting wet. In fact from the bluff where his picnic area is located it is a straight drop to Otter's Cove directly below.
Dick believes this close proximity to the moist ocean air has a direct effect on his vintages. To this end every label includes the information that the wine enjoys "salt air fermentation" Like so many of the Oregon wineries Flying Dutchman is small and dedicated to producing superior wines. He contracts with growers in inland regions of the State where the terrior matches the varietal.Dick Cutler, wearing his hat as winemaker, admits to favoring red wines although the barrel sample of his Chardonnay we tasted was excellent and ready for bottling. Pinot Noir is his premiere wine and the ones we tasted were definitely superior. The 2004 Reserve Pinot Noir we enjoyed at the dinner had all the qualities of this temperamental varietal in color, texture and aroma with a palate of complexity.
We also tasted his 2005 Riesling which he produced in stainless steel. Oregon vines and wines of this varietal appear to capture more of the essence of their German antecedents. It was from Williamette Valley vineyards and we thought it excellent.
In the near future Dick Cutler will be moving his winery to larger quarters, still near the Pacific Ocean at Depoe Bay. The Tasting Room and picnic will remain at its present spectacular location. The new winery is being designed for all gravity flow and will also allow for sharply increased production.
The Flying Dutchman Winery and Tasting Room plus seaside picnic area is located at 915 First Street, Otter Rock. Hours for the tasting room are from 11 a.m. to 9 p.m. in summer and 11 a.m. to 6 p.m. in winter and it includes a selective gift shop. For more information call 541 765-2553, on the web at www.dutchmanwinery.com.
Back to Table of Contents..
Last Update:12/1/07
&copy 2007 Joe Hilbers All Rights Reserved.
Graphic Design by Impact Graphics