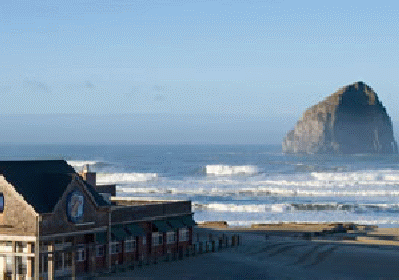 ---
"Pacific City, Oregon--Our experience can be described as luxurious, scenic and serene By Joe Hilbers, Editor
There is a lot to be said about not being on the "main" highway. This was our conclusion after our enjoyable stay in Pacific City, Oregon. It is not on main highway 101 but a few short miles on the Three Capes Scenic Loop to a shoreline of special beauty. We stayed at the Inn at Cape Kiwanda in a room filled with amenities and a perfect view of Haystack Rock jutting off the beach sands of the city. Every room has an ocean view at the Inn and services include a day spa and fitness center. Reservations 888 965-7001, web Inn At Cape Kiwanda.com.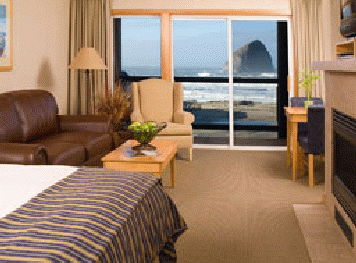 Located across the street on the beach is Pelican Pub and Brewery. Our visit here proved to be a remarkable experience. First off we met with Brewmaster Darron Weld who gave us a tour of the brewery and a close up look of the ingredients of a brew including the grains and hops. At Pelican many of these malts and hops are Oregon grown. At Pelican Darron makes five beers and stouts on a regular schedule and then always has two seasonal brews as well. He has been brewmaster eleven years including one year spent in Germany.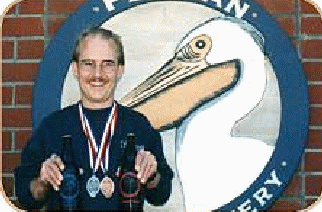 Then we sat down for a brewmaker dinner with Chef Jason Roy showing a menu that included a Pelican brew with every course. These brewer dinners are a regular feature at Pelican being held from April through October. They have become a regular tradition at Pelican since it first opened in 1996. Our appetizer was jerk seared shrimp skewers with fresh mango teriyaki sauce paired with Pelican's Scottish style ale. Then a Tillamook vintage white cheddar soup with house made apple sausage. This was paired with Saison du Pelican. Our entree was Dungeness crab crusted Mahi Mahi with a beer blanc sauce and paired with Kiwanda cream ale. The dessert was entitled 'beer-a misu', lady finger cookies soaked in coffee liqueur and Tsunami stout and layered with Mascarpone and whipped cream. It was paired with the Tsunami Stout. We also learned from Darron that Oregon leads the nation in craft brews and enjoy fifty per cent of the on-sale market in the state. Pelican has also won many awards in international beer competitions. Pelican Pub and Brewery is open every day for breakfast, lunch and dinner and shows a truly large menu selection. It is located on the beach at 33180 Cape Kiwanda Drive in Pacific City. Call 503 965-7007, on the web at www.pelicanbrewery.com Our breakfast in Pacific City was at Grateful Bread Bakery and Restaurant. It is owned and operated by Robyn Barcroft. Her husband, Jay, is a commercial fisherman ensuring that all fish served is fresh indeed. Server Susie Wenrick was kept busy with our group with plates loaded with everything from home made bread French toast, my order, to omelettes short stacks of hotcakes and more. Grateful Bread is open for breakfast and lunch at 34805 Brooten Road in Pacific City. Telephone 503 965-7337. Close to Pacific City is the Nestucca Bay National Wildlife Reserve and we did visit this sanctuary to view bird and animal life.
Last Update:8/21/10
&copy 2010 Joe Hilbers All Rights Reserved.
Graphic Design by Impact Graphics