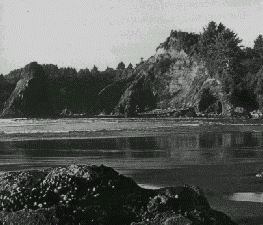 "Oregon's Central Coast--Our culinary experiences could be called a food and wine safari"

by Joe Hilbers
Our visit to Oregon's Central Coast proved to be a food and wine safari. We discovered this in short order when we were introduced to Lincoln City's Pacific Coast Center for Culinary Arts. Founder and still overseeing the Center is Rob Pounding. We talked with Rob who related how he went about creating the Center with concepts from cooking classes and culinary demonstrations to educating local chefs.
Certainly Rob Pounding has all the credentials. He is a graduate of the Culinary Institute of New York and for many years was Executive Chef at the Salishan Resort, a four star property in nearby Gleneden Beach. Now he is Owner and Chef at his own Blackfish Cafe.
For our group of journalists Rob Pounding created a gourmet event right before our eyes. It opened with his Blackfish Caesar with a most unusual locally grown Sugar Cos Romaine with olive oil toasted sour dough croutons. He then displayed a huge locally caught filleted Ling Cod and showed how he prepared it with olive oil and an Oregon Pinot Gris.
Also the best Risotto that this Writer had enjoyed within memory. It was prepared with local spring mushroom and grilled vegetable fondue. And served with Washington asparagus. Our dessert was pot de Creme, a Tillamook creamery custard baked with caramel and topped with a chocolate cigarette and vanilla whipped cream. The Culinary Arts Center is located on the top floor of one of Lincoln City's tallest building. For more information call 1 800 452-2151 or www.oregoncoast.org. Rob's Blackfish Cafe is located at 2733 NW Highway 101 in Lincoln City. Telephone 541 996-2226.
One evening we enjoyed the Rogue River Room for premier dining at the Chinook Winds Casino Resort in Lincoln City. The Chinook Winds is a destination resort with gaming, celebrity entertainment, golf, and 227 oceanfront rooms.
e Rogue River Room offers views of the Pacific Ocean and includes a full service lounge. Our culinary experience opened with a salad of Baby lettuce greens with crumbled smoked blue cheese, sweet tomatoes, garlic crouton and aged Balsamic vinaigrette. Then the Cedar Plank fresh caught salmon with Dungeness Crab and champagne Tarragon Buerre Blanc. Cooking and serving the salmon on cedar wood dates back to the original native Americans of the northwest. We also had a selection of Oregon wines selected and described in detail by our sommelier in former attire. The wines included a Willamette Valley Pinot Noir, Chardonnay and Riesling as well as a Canoe Ridge Cabernet Sauvignon. Our dessert was a Chocolate torte with vanilla bean sauce and toasted Oregon hazelnuts.
Its hard to miss the Chinook Winds Casino Resort as you enter Lincoln City. For more information call 1 888-CHINOOK. Or www. chinookwindscasino.com.
Changing our dining view from the Pacific Ocean to the Siletz River we visited John and Kathy Bingham's Kernville Steak & Seafood House one evening. With a delightfully casual ambiance and atmosphere we admired the downstairs bar and lounge, then got down to some serious dining. On this trip we were enthralled with the abundance of fresh seafood from an ocean only steps away.
Here we opened with the traditional Kernville French Onion Soup. Then ordered the fresh caught Halibut Parmesan. This came with a crisp parmesan-panko crust, served on a bed of creamy Alfredo sauce and wild rice. Our wine was most remarkable. It was a 1998 Henry Estate 1998 Pinot Noir which had bottled aged to perfection. It proved beyond doubt that Oregon produces outstanding vintages of this varietal. Deep red in color with subtle aromas it glided on the palate with mellow earthy flavors. And what a finish. Also well received was the Tyee Wine Cellars 2005 Oregon Pinot Gris from the Willamette Valley.
Shamefully we also ordered dessert which was a apple-hazelnut cake surrounded by vanilla ice cream. Kernville Steak & Seafood is open daily from 11 a.m. for lunch and dinner. It is located at 186 Siletz Highway in Lincoln City. Call 541 994-6200 or www.kernvillesteakhouse.com.
The Inn at Otter Crest is one of the Central Coast's showplace hotels and resorts with 110 guest rooms, studios, mini-suites, most with private deck and all with a view of the Pacific Ocean. The Inn is located on a prominent bluff. Our evening opened with cocktails in the Ward Room lounge and then we moved to the Flying Dutchman Restaurant for dinner.
This evening with dinner we were treated to the wines of the nearby Flying Dutchman Winery with Owner-Winemaker Dick Cutler personally pouring and explaining his vintages. Also joining us for dinner was General Manager Derek Miller. Dick Cutler prior to creating his own winery in 1996 had been general manager at Otter Crest. Following appetizers which included a crab cake and jumbo prawns we selected the charbroiled Ribeye Steak deciding to leave the seafood at least for one evening. This came with carmelized garlic and button mushrooms and crusted baked potato and asparagus. Other entrees featured that evening included an Cast Iron chicken with marsala glaze and artichokes or the salmon and halibut crusted with black & white sesame seeds and oven baked. Our dessert was a chocolate devil cake.
At Flying Dutchman Winery Dick Cutler admits to preferring to make red wines but there certainly nothing to apologize for in his 2005 Riesling. We also had a preview tasting of his 2004 Syrah which while bottled has not yet been released. Whenever possible Dick likes to give his vintages some bottle aging. Also served was his Cabernet Franc which was 100 per cent of the varietal. Most of the Flying Dutchman wines are from single vineyards sourced in the inland wine growing regions of Oregon.
We also had the opportunity to tour the Flying Dutchman Tasting Room and Winery which we will relate in a separate story.
The Inn at Otter Crest is located at 301 Otter Crest Drive in Otter Crest. 866 869-4291. wwwinnatottercrest.com
The Drift Inn in Yachats proved to be a nice change of pace from our formal dinners. This historic pub and cafe has been a fixture in Yachats for a couple of generations. Our dinner here was a casual affair starting with one of the local produced brews. We thought we had made a very wise choice with our crab and shrimp crepes. This arrived with plenty of Dungeness crab and tiger shrimp wrapped in paper-thin crepes with an herbed brandy-cream sauce. There is a full menu here. To go with dinner we had the June Rushing Trio performing on stage with a nice mix of standard ballads and country western favorites. This soon became a jolly fun-filled evening.
The Drift Inn is located at 124 Highway 101 N in Yachats and open seven days a week for breakfast, lunch and dinner. Call 541 547-4477, on the web at www.the-drift-inn.com.
Our Central Oregon Coast visit at times seemed to be a foodie marathon. Lunches also took on events of major proportions. On day we lounged at the Olalla Valley Golf Course in Toledo. Toledo, in from the coast, enjoys a milder climate and we looked over the inviting fairways and greens with some nostalgia on a warm, sunny day. It was an Oregon pastoral scene at its best.
Another day it was the Grand Central Pizza in Waldport. Some of us did have and sample the excellent pizza but this Writer ordered the halibut fist and chips. I just could not get away from all that fresh caught seafood available everywhere we went on the Coast. The Grand Central is well named since the restaurant was full of locals the whole time we were there. The quality was excellent, the prices most moderate.
Grand Central Pizza is located at 245 Highway 101, Waldport with fast pick up for those on the go. 541 563-3232. You know you're in a restaurant designed for hearty appetites when a 60 ounce Rib Eye Steak is on the menu. This is
Shirley's, located on Newport's historic bayfront, which numbers among its customers commercial fishermen and cannery workers. We had breakfast here one morning and the portions are not for the faint hearted. Breakfast here is served on a platter and this Writer has never seen bigger omelettes, some with items like Polish sausage, oysters, and Cajun salmon to name just a few
We were at Shirley Welton's eatery for breakfast but it is a full service restaurant and a cocktail lounge as well. They serve breakfast, lunch and dinner and only ask that you bring your appetite. Shirley's on D Bay is at 859 SW Bay Blvd. in Newport. There is a second Shirley's by D River at 317 SW Highway 101 in Lincoln City. 265 574-8400..
Still on Newport's historic Bay Street one day we had to try the famous Clam Chowder at Original Mo's. Restaurants seem to enjoy longevity on the Central Coast, certainly Original Mo's which first opened 56 years ago dedicated to serving Oregon's best seafood. This success has brought about expansion and as one wanders up and down Highway 101 encounters of other Original Mo's can be found.
The success of the clam chowder is such that is now packaged for sale in grocery stores. Along with our chowder we enjoyed the half sliced avocado stuffed with shrimp salad and Mo's famed cheese bread. Call 541 265-2979 or check the web at www.moschowder.com for more information for these Original Mo's restaurants.
We also had the opportunity to peruse dining rooms at two of the Coast's top hotel resorts. In Lincoln City it was Inn At Spanish Head which is on the beach and offers views from the 10th floor. Address is 4009 SW Highway 101, Lincoln City 1 800-4528127, www. SpanishHead.com
Another day we were at Salishan Spa & Golf Resort. This is a destination resort with three dining options. We were in the most comfortable Sun Room which opens to the pastoral ambiance of the Hotel. Salishan Spa & Golf Resort is located at 7760 Highway 101 North in Gleneden Beach, 541 764-2371, on the web at salishan.com.
Our visit to the Oregon Oyster Farms located on upper Yaquina Bay just eight miles east of Newport was the stuff gourmets dream about.
Here we learned how oysters grown here end up in famous New York restaurants as well as in Taiwan and China. Oysters plucked from the waters of Yaquina Bay on Monday are served to oyster fanciers in China on Thursday. Shin Lou, general manager and part owner, explained all the processes that take place from the placing of minutia oyster seedlings to the harvesting of the grown oysters some years later. This is a large operation with millions of oysters harvested each year.
And yes this Writer participated nobly in tasting the finished product plucked just minutes before from the Bay. These included the Pacific Oyster and the highly prized Kumamoto oyster.
Back to Table of Contents..
Last Update:9/10/07
&copy 2007 Joe Hilbers All Rights Reserved.
Graphic Design by Impact Graphics