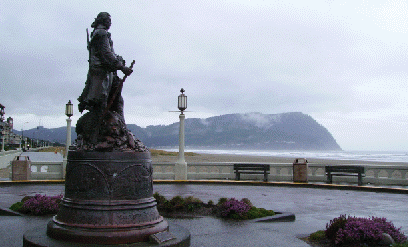 "Seaside, Oregon--For a century it has been the state's 'playland at the beach"
By The Editor
For over a century Seaside has been Oregon's playland at the beach. Certainly, as a resort city, Seaside had much to keep us busy. It abounds in restaurants and with over three thousand hotel and motel rooms makes living easy for visitors. At Seaside's Promenade, a walkway that follows the beach, there is a sculpture of Captains Lewis and Clark to mark the end of their trail, a trail that started at Monticello, Virginia, a continent away.
Its human history started many centuries earlier as Native Americans found it a land of abundance for hunting and fishing. And it was here too the Lewis and Clark Corps of Discovery found the place to set up their salt works. We visited the salt works, now protected by the National Park Service, and heard how an Indian woman named Jennie Michel in the last century recalled how her grandmother told of white men who boiled sea water and then pointed out the place where it happened..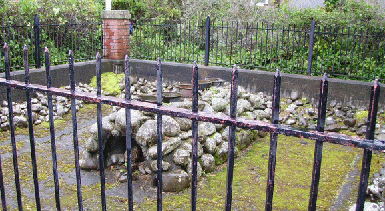 As for attractions we visited the Seaside Aquarium, founded in 1937, making it one of the oldest aquariums on the West Coast. It is privately owned and has been delighting old and young alike for over 70 years. We arrived just as the seals were being fed, a rumpus affair indeed. The seals all have names and several generations are at the aquarium. Children love the 'touch tank' where they can finger urchins, anemones, sea stars. We were given a 'behind the scenes' tour of how an aquarium actually functions.
The Seaside Aquarium is located on the Promenade. It opens at 9 a.m. every day. Call 503 738-6211 or on the web at www.seasideaquarium.com. We checked in at the well appointed Seaside Visitors Center and met with Mikela Norval, director of tourism, who steered us to the Seaside Museum and Historical Society. Here there are exhibits and photographs that show Seaside from its early beginnings in 1888 and how it has evolved into what it has become today. Then we moved on to the Indoor amusement center and watched happy children riding the carrousel. As in so many other western communities the railroad played a huge role in Seaside's development as a beach resort. From 1911 to 1939 trains offered regular service from Portland to Seaside. The Visitors Center is located at 415 First Avenue, telephone 888 306-2326, www.seasideor.com. The Seaside Museum at 570 Necanicum Drive, telephone 503 738-7065.
Our accommodations in Seaside were the Sandy Cove Inn, a motel conveniently located near the City Center and with a unique ambiance for every room has a separate theme and is decorated and furnished accordingly. Our room was 1940s, one look at this Writer and they knew it was a perfect match. But best remembered is the friendliness and hospitality of the staff. The Sandy Cove Inn is located at 2421 Avenue U. Call 503 738-7473, web www.sandy coveinn.biz. Outdoor activities abound here with two rivers running through town to the sea that offer fishing and boating. There are two golf courses and interesting biking and hiking trails. The 'break' at the nearby Cape is cherished by surfers. For shoppers there are stores offering fashion, antiques, arts, books and much else. This Writer even pursued some shopping, a rare occurrence indeed.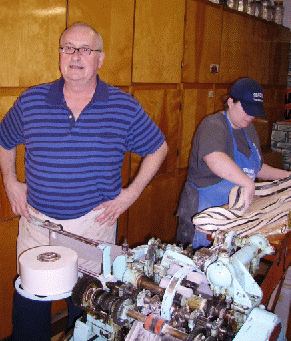 It sees that every beach city must have a candy store with salt water taffy. In Seaside it is Phillips Candies which has been satisfying Oregonians sweet tooth since 1897. We visited this store and watched Proprietor Steven Phillips make candy before our eyes.. We forget exactly which generation Steve is of this traditional family business. This was all new to us and we were amazed at how much effort it takes to make those candies with the neat bowtie wrappers. And of yes we did sample and take some with us. Phillips Candies of Seaside is located at 217 Broadway and sells candies both retail and wholesale.
We mentioned before the numerous restaurants in Seaside and we had the opportunity to try some which we considered exceptional. Certainly this applied to our dinner at Yummy Wine Bar and Bistro which we rate at three stars. Chef Owner is Corey Albert and his restaurant combines casual with upsale both in ambiance and cuisine. For our party it started with hors d'oeuvre and cured meat plates which were a pleasing entry to what was to come. My entree was sole normande with the fish surrounded by tiger prawns, manila clams and a truffle cream. Others at our table had pork medallions with a white wine brown stock and sea scallops with fava beans and carrots flavored with dill.
Yummy is a dinner house but things start at 3 p.m. with a Snappy Hour for bites like artichoke dip, shrimp quesadilla or chipotle pork pasta. There is a large selection of wines to go with these goodies. Walls at Yummy are decorated with original art, the work of Artist partner Jim Pickering. The partners took over an old fire station in 2007 and converted it into the restaurant it is today.
Yummy Wine Bar and Bistro is located at 831 Broadway, telephone 503 738-3100. Reservations are suggested as this is a popular place.
We were at McKeown's Restaurant and Bar for breakfast one morning. This is a large restaurant with a full bar lounge, a exceptional wine list and banquet facilities. Owners Dennis and Nancy McKeown keep the restaurant open for breakfast, lunch and dinner seven days a week and offer a large selection of traditional American cuisine. Certainly this also applies to the breakfast menu with country delights like biscuits and gravy or fried steak and eggs. Woe to a light eater like this Writer, however there was some specialties for seniors and from this I ordered the French toast with bacon and fruit garnish.
Nancy McKeown also gave us a tour of the restaurant and its gracefully decorated wine room and banquet hall. McKeown's is located at 1 N. Holladay Drive at the corner of Broadway. Call 503 738-5232 for reservations.
We love Italian food and when we arrived at Angelina's Pizzeria and Cafe we found still another reason for not leaving Seaside. Adrian and Krista Miller own this jewel which offers a self order and then be served style of casual dining. Krista grew up in a family with Italian restaurants and she has designed much of the menu which moves far past pizza. However our group all agreed the pizza had the best crust within memory. But the menu also offers Calzones as well as grilled Panini sandwiches made with their own homemade Foccaccia bread.
The salads can be a meal in themselves with a Greek Goddess with feta cheese, olive, tomato, artichoke and pepperoncini and chicken breast. After sampling several items of this exciting menu we also spotted one of our favorite desserts, Tiramisu which we could not resist. Another in our party succumbed to the triple chocolate cake.
Angelina's Pizzeria & Cafe is located at 300 S Roosevelt in Seaside, phone 503 717.1230 and be sure to bring a good appetite.
Back to Table of Contents..
Last Update:6/1/10
&copy 2010 Joe Hilbers All Rights Reserved.
Graphic Design by Impact Graphics