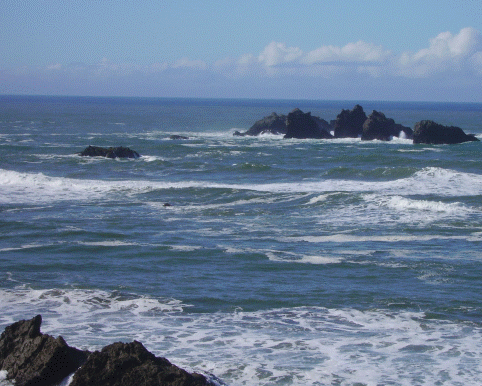 "Oregon Coast--Each community has its own unique variety to see and enjoy"

by The Editor
As we traveled along the northern Oregon coast we were struck with how well each community and town had managed to maintain its own individual identify. Exploring communities like Manzanita, Garibaldi, Tillamock and Pacific City each had something unusual and unique to promote local pride and of interest to the visitor.
In Tillamook there was the Latimer Quilt and Textile Center. Its comprehensive collection of these arts and crafts was amazing. We learned that the Center has a world wide reputation with people coming from distant states and countries. Its catalogs of fabrics and designs as well as patterns and works that are truly an art form wall all new to us. We were welcomed by Carol Weber, board president. The Latimer Center is open daily and welcomes visitors and has a large schedule of special events, some drawing people from distant places. For more information call 503 842-8622 on the web at latimertexile@oregoncoast.com.
Garibaldi, a small fishing village, has a wonderful Maritime Museum that features the story of Captain Robert Gray, the Boston ship captain who discovered and named the Columbia River outlet. In two ships, the Lady Washington and Columbia, Capt. Grey found the mighty river that others had sought for over a century. There are models of the Columbia on exhibit as well as a history of Capt. Grey and how the idea for the journey around the Horn was conceived and the financial rewards that might be gained. This museum is privately funded and other exhibits are included that show the early history of Garibaldi that has always been principally fishing and logging. Also a featured gun collection with hundreds of firearms dating over two centuries.
We had the opportunity to tour the museum and viewed a video that has been made about Capt. Gray as well. The Museum is an outstanding achievement for such a small community. It is open May thru October Monday to Thursday. In winter by appointment. Call 503 322-8411 or on the web at www.garibaldimuseum.com.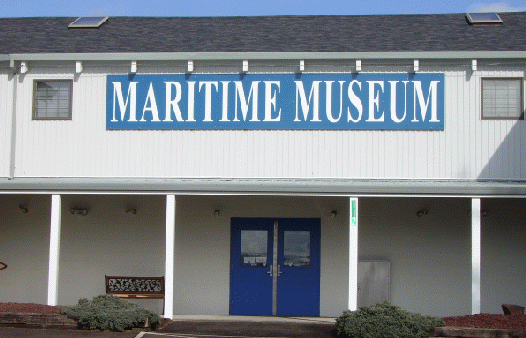 Another attraction in Garibaldi is Steam Train rides which take place during the summer. The locomotive is a 1910 Heisler that takes a route around Tillamook Bay. Call 503 842-7972, the web at wwwocsr.net.
Our lodging on this part of our trip was San Dune Inn in Manzanita which fit perfectly with the laid back style of the village which boasts a permanent population of 600. Innkeepers Billie and Brian Hines hail from the British Isles and excel in down home Brit hospitality. From the Inn you can reach anywhere in town or to the beach in a few minutes stroll. Call 888 368-5163 or www.sandune-inn-manzanita.com for more about this quiet, comfortable haven.
That evening we walked to the nearby San Dune Pub. This is the local watering hole and traditional tavern that serves as a gathering place for both locals and visitors. Here our group got busy with fish & chips, fish tacos, huge burgers and lots of conversation. I met a most interesting local, Garry Gitzen, who has written a well researched book about Francis Drake visiting Nehalem Bay in 1579. Just where Drake explored on his journey in the northwest is still unclear and controversial. Garry's book is entitled, "Francis Drake in Nehalem Bay, 1579".
The next morning we enjoyed a hearty breakfast at the Big Wave Cafe operated by Marci Russo in Manzanita. Hearty breakfasts seem to be a way of life for seaside Oregonians. Then we were on our way for some motor car exploring of Nehalem Bay and Wheeler. Our visit to Nehalem Bay Winery was covered in a separate story.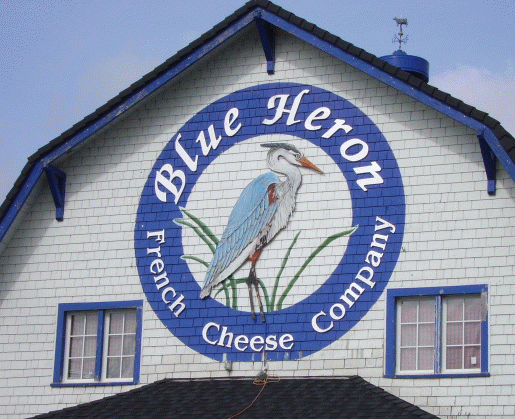 Next stop was the Blue Heron French Cheese Company in Tillamook. Besides selling their cheese products there is a great deli cafe and wine tasting and store. Blue Heron has its own label for Chardonnay, Pinot Gris and Pinot Noir. We found most interesting a Henry Estate Muller Thurgau, a German varietal of Reisling that we had not seen produced in the U.S. before. The whole list in the tasting room is of Oregon wines.
After some of our culinary experiences in Oregon we decided that we could easily become a fan of both Northwest cuisine with our palate for Oregon wines close behind. Our lunch here was a towering roast beef sandwich so large that we took half away with us. And we purchased a package of Blue Heron Tradition Brie cheese as well.
Blue Heron Cheese is located at 2001 Blue Heron drive in Tillamook. Call 800 275-0639 for information.
Tillamook cheese is a name familiar to anyone who shops at a supermarket. Early settlers to this area quickly learned that it was ideal for dairy farming and a hundred years ago the Tillamook County creamery association was born. As it grew the Tillamook brand was trademarked so that today TCCA is the number two selling brand of packaged cheese in the U.S. There is a Visitors Center here where one can taste samples free and watch as cheeses are packaged. There is also a cafe and a huge number of flavored ice creams. No one leaves here without an ice cream cone, this Writer included. The TCCA celebrated its 100th anniversary last year and hosted one million people to its Visitor Center. Learn more at TillamookCheese.com
Back to Table of Contents..
Last Update:12/10/10
&copy 2010 Joe Hilbers All Rights Reserved.
Graphic Design by Impact Graphics