Our forays into Oregon wines proved exciting and memorable
.. By The Editor'a Vineyard
There were two wineries we planned to visit on our recent trip to the northern Oregon coast and one was almost like a homecoming. We became acquainted with Vincent and Audrey Clurizo early on in our visits to Temecula wine country. Vince Clurizo was the first to plant grapes in the valley and his Petite Syrah vines still flourish there.
On one visit Vince and Audrey hosted a group of wine writers, my wife and I among them, at their home and also met their children, Chenin and Vince Jr., both in their early teens.
So when I arrived at the Twist Wine Company Tasting Room and Lounge in Pacific City it was a joy to meet Chenin, now a lovely young woman. She and her husband, Sean Carlton, started Twist Wine Company in 2006 and now produce 3000 cases a year. Chenin and Sean met when they were both working at Pine Ridge Winery located in the Stags Leap Appellation of Napa. The Twist vineyards are located in Dundee part of the Yamhill appellation.
Twist markets wines under unusual labels like Shy Chenin, Basket Case, Stumbling Block and Reversal. We gave high marks to Shy Chenin Syrah Rose and Basket Case Cabernet Sauvignon as well as Reversal Syrah from the Rogue Valley which we thought was a big, hearty vintage with a long finish.
The Tasting Room and Lounge has become a gathering place for both locals and visitors to Pacific City with a cozy atmosphere and some 1000 L.P.. records to chose from for music. Besides the Twist wines being poured also featured are two craft beers made by Chenin's brother, Vinnie Jr., now proprietor and brewmaster of Santa Rosa Brewing Company of that Californa city.
The Twist Tasting Room is located at 6425 Pacific Avenue in Pacific City. It is open four days a week in winter and seven days in summer. For hours check the web at twistwine.com.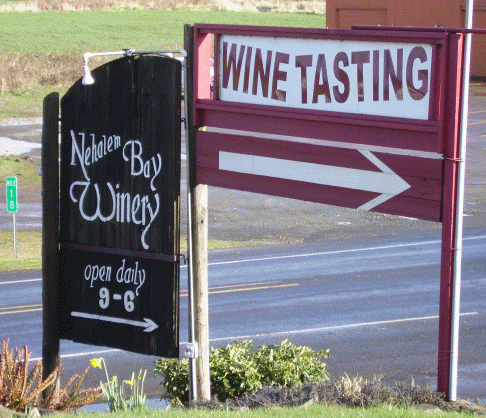 Nahalem Bay Winery is one of the oldest in Oregon currently celebrating its 36th year in business. It started with fruit wines and then made its first grape wines in the early 1980s. Located in Nehalem the Winery is an extensive facility with tasting room, outdoor patio, picnic area and a large stage for live entertainment.
This presentation of live shows is now a tradition and starts in April and concludes the Labor Day weekend. There is also a banquet room and it is popular for weddings.
Here we tasted the Pinot Noir and Chardonnay as well as an award winning White Riesling. Other vintages include Gewurztraminer, Pinot Gris and reds like Merlot, Cabernet Sauvignon and Marechal Foch. We found the Marechal Foch most interesting since it is a French-American hybrid which in the U.S. is mostly been grown in upper New York State. They also continue to produce fruit wines. Ray Shackelford is the Vintner and Marlene Gallick winemaker. Our hostess and guide here was Melissa Stetzel who poured the wines we tasted and showed us the extensive facilities.
For more information about Nahalem Bay wines and the scheduled events at the Tasting Room call 503 368-wine on the web at www.nehalemBayWinery.com.
Back to Table of Contents..

Last Update:6/1/10
&copy 2010 Joe Hilbers All Rights Reserved.
Graphic Design by Impact Graphics