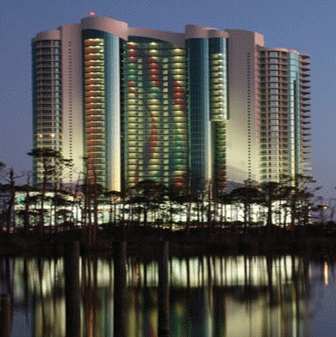 "Alabama Gulf Shores--We were awed by both accommodations and great restaurants"

by the Editor
On our trip to Alabama's Gulf Shores we stayed at Spectrum Resorts' Turquoise Place. This is a cluster of 24 story towers with three to five room residences. Our three bed room condominium, located on the sixth floor, also had a balcony which offered a sweeping view of the beach and gulf waters. And for us this balcony became a very special place for here we could watch both the sunrise from gulf waters and the sun set into the waters as well.
We could not recall anyplace else other than a cruise ship where we had seen this. This balcony proved the perfect place to watch dolphins and in the morning the diving birds seeking breakfast. This balcony also had a private hot tub and outdoor barbecue, neither which we used. Inside there was a full kitchen which we would have like to take home with us. The living room proved to be a quiet sanctuary for us with its gas fireplace and the floor to ceiling windows gave all a feeling of space and serenity
We cannot recall ever having a more upscale address than we did here at Turquoise Place, 26302 Perdido Beach Blvd., Orange Beach.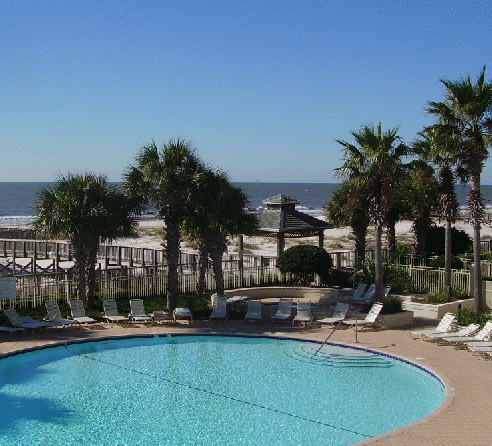 Spectrum Resorts also has a propriety called The Beach Club which is located on a parcel of Gulf shores that is private and luxurious. We had breakfast here one morning at the South Beach Bar & Grill and were offered what in fact was the Brunch menu. Mimosas were served and then fresh baked blueberry cupcakes and still warm pumpkin bread. The Menu offered items like Crabmeat Omelet, Eggs Benedict or Shrimp Broil. We had the banana stuffed French Toast. Here we met Greg Buschmohle who is both executive chef and director of food and beverage.
Accommodations at the Beach Club offer a choice of either Gulf side residences or three to five bedroom cottages with private swimming pools. For more information on Spectrum Resorts call 866 966-6451, web SpectrumResorts.com.
To say we were impressed with Alabama Gulf Shores restaurants and cuisine is an understatement. If you want to try authentic Alabama eats then we suggest Lucy Buffett's Lu Lu's located on the Homeport Marina in Orange Beach. With both indoor and veranda dining, almost always with live entertainment in the evenings, LuLu's was our very special introduction to southern downhome cooking.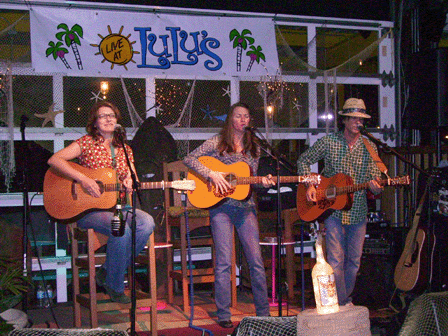 On a mild November evening our group was spread out on Lucy's veranda sampling fried crab claws with one of the best tartar sauces ever, shrimp rolls, collard greens and of course green fried tomatoes. And don't forget the bread pudding.
First there were cocktails from the adjacent bar and then a long admiring look at the huge menu. In town during our visit was a gathering of country artists, composers and musicians, many from Nashville. Some of these groups entertained that evening to a large and appreciative crowd.
Lucy is the 'baby' sister of Jimmy Buffett and he has written the foreword to her handsome cookbook entitled "Crazy Sista Cooking' of which we have a copy.
Lulu's is at Homeport Marina, 200 East 25th Avenue Gulf Shores, Telephone 251 967-5858, web wwwlulubuffett.com
Dining at exciting restaurants seemed to be a principal activity on the Gulf Shores. Our evening at Cosmos Restaurant and Bar can only be described as memorable. The name Cosmos comes from Proprietors Brian and Jodi Harsany's pet dog. The menu at Cosmos offers something for every taste. The seafood is special as we learned personally with tastes of Firecracker Shrimp, Crawfish Tails in a Mediterranean sauce and a crab bisque. Our entree was seafood pasta with bay shrimp and blue crab meat tossed with angel hair in a tomato chardonnay sauce. This menu also features sushi and as an appetizer we tried the Veggie Tempura. Others at our table were dining on Tournadoes of beef served atop green tomatoes and portabella mushrooms.. The wine list is extensive, in fact better than many excellent Southern California restaurants. Cosmos has a delightful casual bar and lounge and also offers some 100 brands of bottled beer from around the world. We rated Cosmos four stars. It is located at 25753 Canal Road in Orange Beach, telephone 251 948-9663.
One morning our breakfast was at Tacky Jacks which is scenically located almost atop Cotton Bayou Marina in Orange Beach. Here breakfast is an event entitled "Breakfast at the Bayou" Everything than anyone could possibly desire for the first meal of the day is on this menu and that includes a full bar for Bloody Marys, 'Whiskey Willies', Mexican or Irish coffees for those recovering from a previous wild evening.
Tacky Jacks offers both inside and patio dining on what is actually a dockside pier. We met with Ken Kichler, CEO of Tacky Jack's who gave us a tour of the facility which is located on two levels. He also showed us the high water marks from the water surges of recent hurricanes which we thought most impressive. As for breakfast we skipped the bar items and settled for French Toast.
Our dining experiences in Orange Beach went from one triumph to another. At Villaggio Grille we were greeted by Proprietor and Master Chef Brody Olive and settled in for another exciting evening. Our group was served family style which enabled us to get a grand culinary tour of the kitchen's very best. Appetizers included Ostrich Carpaccio, Crawfish Aracini and mussels in white wine followed by a salad with walnuts and local goat cheese. honey shrimp on a parmesan risotto. Villaggio also offers a full bar with seating and the wine list can only be described as huge with over two hundred labels from every part of the world.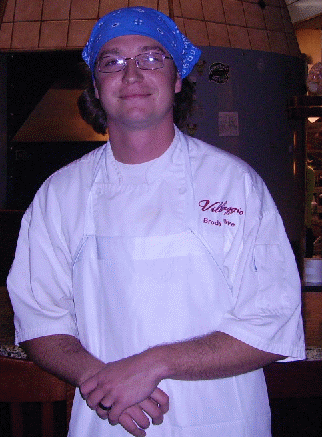 We chatted with Chef Brody who told us how he created Villaggio at The Wharf, a colorful thoroughly 21st century mini mall complex. In ambiance Villaggio is spacious and contemporary with large windows looking out to the mall. In four years Villaggio has earned a place for truly fine dining and is located at The Wharf, 4790 Wharf Pkwy in Orange Beach, telephone 251 224-6510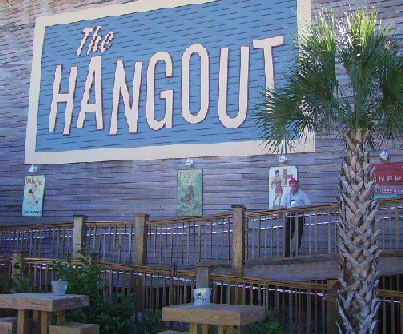 Lunch one day took us to The Hangout which is surely one of a kind providing a Carnival beach style with outstanding food and service. Families love it for offering something for every age group, a huge sand pile for kiddies, games like ping pong for teenagers and four bars and live entertainment for adults. The Hangout sprawls over a wide area both indoors and outside. One area outdoors has a large stage and tables for the later evening adult shows with two bars for service. In daylight hours it offers a carnival atmosphere for all ages.
We met with Chef Phillip Cary who gave us a tour of the kitchen which is in size like that of a large full service hotel. For the bars there are over thirty beers, many crafted on tap. And for diners an extensive wine list. To sample the menu we were treated to a large assortment of appetizers including oysters Rockefeller, wild frickles, pickles breaded and fried, Shaka'shaka shrimp served on a stick as well as coconut crusted chicken strips. After all that tasting we ordered the BLT which arrived smothered in a huge helping of home made potato chips. Others at our table enjoyed an albacore tuna salad sandwich or huge Poboys.
Located adjacent to the beach The Hangout offers a relaxed laid back atmosphere with superior quality food and a well trained service staff. It is located at 101 East Beach Blvd at Gulf Shores, telephone 251 948-3030.
Waterfront dining is always special and especially so at Shipp's Harbour Grill located at the Sportsman Marina in Orange Beach. Our Hosts were Chef Owners Regina and Matt Shipp. Matt is a graduate of the Culinary Institute of America and at the Harbour Grill uses only fresh seafood and prime beef and everything prepared on a daily basis. We liked the way he has divided the menu into specialties like island fare, fried seafood, oysters and sushi besides regular entrees.
There is a full bar with seating and the wine list is exceptional with over 100 labels. Some evenings live music is offered on the rooftop deck.
We sampled much of the Chef's best here including Creole and Rockefeller oysters, sushi like crunchy shrimp roll and spicy tuna roll as well as blackened duck and petite filet. For his steaks Matt offers a choice of sauces like garlic butter, bourbon mushroom or Bearnaise. For dessert we skipped the key lime pie for the chocolate cherries bash with whipped cream.
In Orange Beach Shipp's Harbour Grill is located at 27842 Canal road at Sportsman Marina. Call 251 981-9891.
One evening we stepped out to explore the club scene and went to Flora-Bama Lounge and Oyster Bar. It is advertised as the last great Honky Tonk roadhouse and is actually located right on the Florida-Alabama state line. The address is 17401 Perdido Key Drive, Pensacola but one wall leans again the Alabama state line.. The style was completely casual and with the country songwriters and musicians at the Shores live entertainment that evening was lively and enjoyable. The customers were lively too either with dancing or conversation. The Flora-Bama calls itself the Gulf Shores longest running beach party. We thought it the best gin mill we had imbibed in a long time.
We decided that luncheon at Cobalt can only be described as an event. A relative newcomer to Orange Beach, it opened in 2008 under the Perdido Beach Pass bridge. The restaurant is an expansive as the views offered to patrons. Cobalt seats 500 people indoors and on patios. Inside there are sweeping glass windows and high ceilings presenting an upscale contemporary ambiance. The patio includes a bandstand for nightly live entertainment.
As usual on this Shores trip we ordered seafood whenever possible but had to start with a Pina Colada after a busy morning. Then we opened with Cobalt's own Crab Bisque. Next Lobster Rangoon which arrived as a crispy wonton shell, stuffed with lobster, cream cheese and a hint of seasame. One of our group ordered the Bayou la Batre crab claws sauteed in a garlic butter and basil sauce and passed the huge portion around for the rest of us to taste. We also had to taste the roasted Vegetable Hummus which was accompanied with crisp pita chips and grilled flat bread. Someone else offered us a bite of their honey-balsamic duck breast.
Like everything else at Cobalt the backbar and lounge furnishings are spectacular and the wine cellar such that it has won an award from Wine Spectator. We were introduced to Chefs Jack Baker and Larry Wierman who are responsible for the culinary creations.
We talked with co-owner Brian Harsany and complemented him on the professional but friendly demeanor of his service staff. He explained that all employes have two weeks of training before moving on to the regular positions. Also on how Cobalt has matched superior quality with moderate pricing on everything from food to wine.
Cobalt the Restaurant is located at 28099 Perdido Beach Blvd., Orange Beach and is open from 11 a.m. to 9:30 p.m. seven days a week. Phone 251 923-5300, web www.cobaltrestaurant.net.
As this Writer waddled out of Cobalt we decided our only hope was a long walk on those broad white sand beaches of the Shores. And with camera in hand this is exactly what we did.
Back to Table of Contents..
Last Update:3/15/11
&copy 2011 Joe Hilbers All Rights Reserved.
Graphic Design by Impact Graphics