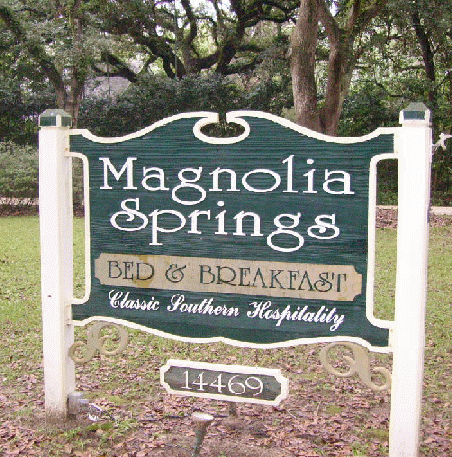 "Alabama Gulf Shores--"Jeanne Bartlett's lament was 'so much to do, so little time'"
.. By Jeanne Bartlett
Magnolia B & B
If you could have it all, how would you construct the perfect bed and breakfast? Let's see, first, a romantic setting – perhaps the streets would be lined with a few magnolia trees, and a scenic river in the area would be nice. Next, have some interesting shops a short walk down the street. For atmosphere, maybe some famous Southern hospitality and a laid-back ambience. Not too many rooms, maybe five, and of course each with a private bath. The furnishings of each room would be in tune with the rest of the house. In evidence would be wooden floors covered with sturdy rugs that look as if they have passed the test of time, and walls to match. In this ideal abode you would want innkeepers who are friendly, but not intrusive. They would provide food of superior quality, superbly prepared and presented. Furthermore, this cuisine should be healthy and low calorie as well. Have I gone too far? No such place? Wrong, all is possible!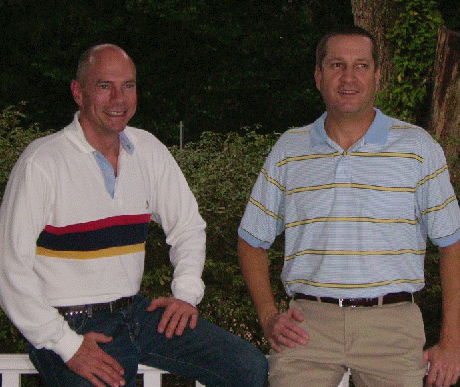 Magnolia Springs Bed & Breakfast is situated in the town of the same name in Alabama, a few minutes from the Gulf Shores. The innkeepers are David Worthington and Eric Bigelow, who met in the restaurant industry and discovered that they were a team, the only way to function in this particular hospitality business. They opened their B& B in 1997.
Worthington and Bigelow enjoy sharing their home and hospitality with others. The crown jewel of this operation is that David not only loves to eat but is interested in low-fat, healthy cuisine. The breakfast fare is the biggest hurdle since high fat and calorie eggs, meat, cheese and bread are the usual ingredients. I have tasted the magic three-course feast David concocted with recipes such as Crustless Spinach Pie, Zucchini and Tomato Frittata, Baked Apple Pancakes and Breakfast Pizza that could satisfy the most health-conscious eater. Culinary class weekend packages with a chef's tasting menu also are available
Contact: David Worthington or Eric Bigelow, Magnolia Springs Bed & Breakfast, l4469 Oak St., Magnolia Springs AL 36555. Phone: 800.965-7321. E-mailinfo@magnoliasprings.com
SanRoc Cay
I confess, I hate to shop. It rates right up there with going to the dentist. Well, maybe not quite that bad, but almost. Last November I was to visit the SanRoc Cay shopping center in Orange Beach, Alabama. Remembering what my mother wisely advised me, "Sometimes you have the best time when you are expecting it the least," I put a smile on my face and stepped off the bus into a beautiful setting – Mediterranean buildings, attractive rock structures, an art center, an enormous flying marlin in a fountain, four restaurants, and a spa! The center really has everything covered.
Actually, I found I loved the boutiques. I instantly forgot that there was not that much room left in my suitcase when I went in the door at Too Hot Mamas. Now when you compare this shop with say a Macy's in a mall it is small, but just looking inside we could see there were fresh and intriguing items. We five ladies went in, all different sizes, ages and tastes and all found something fun and exciting to take home. I even discovered the perfect item for me: a shirt featuring the names of wines, various colored and shaped bottles and glasses encrusted with crystal sparkles, and sayings that must have come from Victorian times. The cryptic adages were written in white. My favorite was, "Now that the fields are dank, and ways are mire, Where shall we sometimes meet, and by the fire." All of this was on a black background to display the elaborate designs.
I managed to find room in my suitcase and later wore my find to a wine dinner. The treasure was an instant hit and the fun part came when my friends wanted to know where I found this jewel. I was able to tell them that I discovered it in Alabama. Everyone wanted to know name of the shop or the manufacturer. They even tried to peek at the label but fortunately I had removed the evidence. But really, that is very selfish of me. I think I need to tell them that they can go to www.sanroccay.com and find web sites and pictures of merchandise from all the stores.
Cetacean Cruises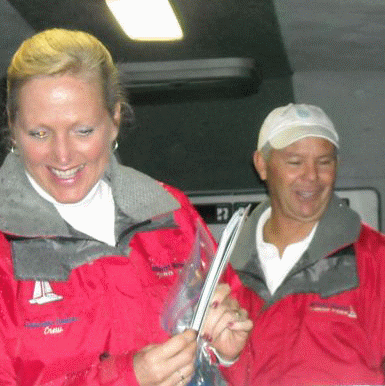 Rain, rain, go away! That is what our group was thinking as our bus pulled into the parking lot overlooking the Alabama Cruzin, a 40-foot pontoon boat that we were anxious to board. But the rain was hard and steady and didn't let up. The hardy skipper, Bill Mitchell, and his wife Sheryl boarded instead our bus to tell us about the experience we would miss.
The best time of day to enjoy this encounter is two hours prior to sundown as the waters are calm and the passengers can view the spectacular sunsets. The boat has a glass bottom and when the water is clear you can view the local sea life. There are two ways to enjoy the trip. You can choose 1-1/2 hour stint that concentrates on seeking dolphins and learning all their secrets. Hopefully, you will instead choose the half-hour longer program where the boat navigates to a deserted swamp where you can view the sea wildlife in their natural habitats. Best to choose the longer excursion as it would be a shame to miss the sight of wild boars, alligators, deer, snakes, crabs, and a multitude of fascinating plants.
The part of the cruise that concentrates on dolphins takes you to observe a resident pod of 19 to 30 of these creatures. Captain Bill spoke of them by name because observing these animals so often, the crew has given them names. They tell the dolphins apart by certain natural markings or by some distinctive injury they might have received. The captain is concerned with keeping the dolphins healthy. He explained that some boats throw out food to attract them when actually the dolphins need to learn to catch their own food. These dolphin boats are only in the area during the summer. Scientists have found that younger animals that do not learn to fend for themselves often die of starvation. Under Captain Bill's watch the tour is peaceful, no raucous loud speaker, only the soft sound of the water while you watch the dolphins as they play in the bow wake when the boat is under sail.
Cetacean Cruises, 25991 West Perdido Avenue, Orange Beach, Alabama. Phone 251.550-8000. Website: www.cetaceancruises.com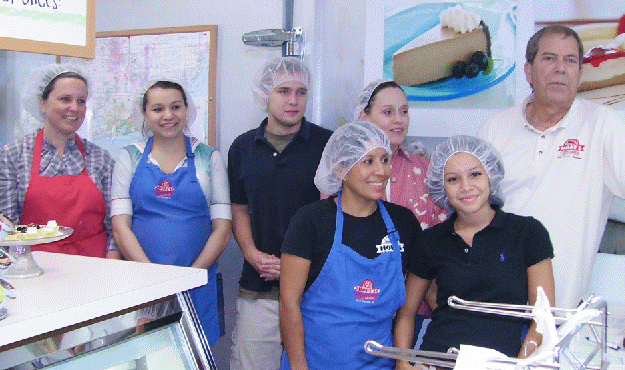 Hope's Cheesecake

Just imagine being in cheesecake heaven. It exists at Hope's Cheesecake in Gulf Shores, Alabama. At this establishment you are able to choose from more than 20 different flavors. And they are not your everyday choices such as vanilla or chocolate, but exotic marvels. For a light treat select the Bailey's and White Chocolate, a white chocolate cheesecake with Bailey's and raspberry puree, or Pecan Praline, which has pecan praline liqueur mixed in and then is topped with caramel and Southern pecans. I couldn't resist a taste of the Key Lime Cheesecake, which had actual key lime juice from the Florida Keys – and was exceptional!

The owner of this establishment is Jeanne Donald, who found her way to Gulf Shores from Alaska to be closer to family. Looking for a vocation in her new surroundings she discovered this business. The new owner could have changed the name to Jeanne's Cheesecake but thought the idea of hope in her new surroundings was appropriate.

Hope's Cheesecakes can be found in restaurants and stores all along the Gulf Coast from Pensacola, Florida, to Metarie, Louisiana. The reason is Jeanne Donald only uses the finest of ingredients – Kraft Philadelphia cream cheese, fresh whole eggs, pure cane sugar, juice squeezed from fresh lemons, superior quality chocolates, and top quality liqueurs.

Hope's Cheesecake, 210 E 20th Avenue, Gulf Shores, Alabama. Phone, 888-968-4673. Check out the company website at www.hopescheesecake.com . Gulf Shores,

My B & B in the town of Magnolia Springs, Ala., served wonderful breakfasts that turned out to be not only delicious but low calorie too, which took care of my first meal each day. While looking for a spot for lunch, dinner, or maybe both, I hit it out of the park when I discovered Jesse's. The promise the restaurant makes is it provides "casual fine dining at its best." What a concept! Diners can relax and enjoy themselves while eating like kings. (Side note: I walked to Jesse's, but I could have come by boat on the Magnolia River. As a matter of fact, Magnolia Springs possesses the only remaining mail delivery by water in America.)

Stop anyone in this town with a population of 3,946 and they can explain how this prominent establishment came about and why it is named Jesse's. In 1922, Mac and Grey Moore bought the building that became Moore's Store. The locals soon christened it Mo's Sto'. Not only did the shop carry food, it offered shoes, chickens, feed, and I suppose the kitchen sink. These goods came to the store by boat or buggy. Jesse King worked for 60 years in the store, never missing a day's work. In 1992 he was named an Outstanding Alabama Citizen and April 5th became observed as Jesse King Appreciation Day. The Post Office next door eventually became a dining room. Both the Moore Brothers Market and the old Post Office are on the National Register of Historic Places.

In 1997 Charlie and Jane Houser bought the market and began the process of revitalizing the building, making it a popular spot for locals. In 2008 Charlie's son and daughter-in-law Shay and Nicole Houser became owners of the store and restaurant.

Having enjoyed all the wonderful seafood the Gulf has to offer, I never would have guessed the house specialty is Jesse's Whiskey Steak, rated "One of 100 dishes to eat in Alabama before you die". The steaks are hand cut and marinated in Jack Daniel's and a secret mix of spices. The steak is served with fresh-baked bread, vegetables, and a choice of potatoes or grits. All this is offered for an eye-popping low price of $25. Another entree is blackened filet mignon stuffed with shrimp, lump crab, mushrooms and topped with hollandaise. Interesting appetizer offerings listed were local blue crab claws, prepared sautéed or fried, fried green tomatoes, and fresh Gulf oysters. The wine list would match sophisticated offerings in any big city. The great dishes at Jesse's are prepared by Chef Gannon Leary, who is known not only for his excellent food, but also for mixing with the guests to greet them and make them feel at home.

A very important component of the restaurant is the coffee shop and bakery, which features Chef Jennifer Haffner's offerings. She brought out a dessert tray that was a sugar lover's dream! There were five of the most exceptional concoctions I have ever seen. The bread pudding was made with freshly baked croissants and was swimming in a vanilla whiskey sauce. Other options included a miniature chocolate pecan pie, an apple-cranberry cobbler, Lane cake (a cake so famous in Alabama it was mentioned in the novel, To Kill a Mockingbird,) and a chocolate truffle cake surrounded by raspberry sauce. If the tray didn't suit you could have a piece of special key lime pie or almost any flavor of pie you could think up. I had to go for the chocolate and it was as scrumptious as it looked.

Jesse's Restaurant is open from 11 am to 9 pm Monday-Thursday and open until 10:00 pm Friday and Saturday. The Market and Bakery are open from 7 am to 8 pm Monday-Saturday. All businesses are closed on Sundays. 14770 Oak Street, Magnolia Springs, Alabama, phone 251.3827

Back to Table of Contents..

Last Update:3/1/11
&copy 2011 Joe Hilbers All Rights Reserved.
Graphic Design by Impact Graphics