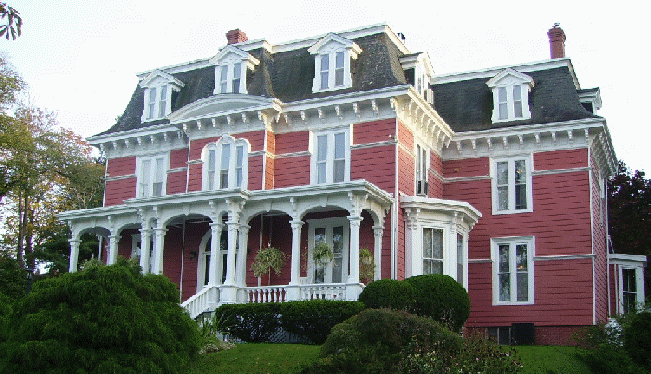 "Nova Scotia--We found the cuisine offered style and variety" by The Editor
.
If you would like to know about Nova Scotia cuisine please stay with us for we do have a story to tell. Many of our dinners on our visit can be truly be termed memorable.
Let's start with the Blomidon Inn in Wolfville where we spent two nights. This is an English Manor House built by a sea Captain in the 1880s Victorian style. The Laceby Family took over the home in the 1990s making it a bed and breakfast establishment of classic proportions. And each evening there is a Captain's dinner prepared by Chef Sean Laceby.
Our dinner was held in one of the drawing rooms complete with piano and fireplace at a table sparkling with wine glasses, white linen and beautiful china. We opened with a house prepared Country Pate with Apple Chutney and Garlic Melba crisps. Then moved on to a Maritime roast beef tenderloin rubbed with garlic and rosemary so tender it could be cut with the fork.
For dessert a Belgian waffle with old fashioned vanilla ice cream, fresh strawberry and blueberry sauce and chocolate garache.
Other choices on the menu that night included Creamy Lobster Dip with Fresh Yellow Tomatoes, Seared Digby Scallops with Rice and apple sherry cream and for dessert Captain Burgesss Rum cake.
Our wines, from Nova Scotia wineries, opened with La Cadie Vineyards sparkling Brut, then a L'Acadie 2008, all from the Annapolis valley where the Blomidon Inn is located. Michael Laceby who is host and sommelier at the family operated Inn selected our wines.
Chef Sean Laceby's reknown extends to the cooking of wild game and he has published "Wildgame Cookbook" which includes recipes for all the game found in Nova Scotia including venison, elk, moose, muskox and arctic hare. The book is beautifully illustrated with both photos of the animals in the wild and prepared dishes.
Still in the Annapolis Valley we visited Domaine De Grand Pre and stayed for dinner. The restaurant at the winery is called Restaurant Le Caveau. This restaurant has achieved distinction on its own showing a menu of regional Continental cuisines by Executive Chef Jason Lynch and Chef Joseph Crocker. Our dinner included a lobster and scallop chowder, slices of salmon smoked over vine cuttings and a Bay of Fundy lobster presented shelled in a wine sauce. Others at our table feasted on a pork belly stir fry and a chicken Marrakesh.
Our Domaine de Grand Pre wines included Seyval Blanc, and a red named Vintner's Reserve Moulin Rouge and a Muscat Icewine.
Restaurant Le Caveau is open for lunch and dinner from May through October.
More about Domaine de Grand Pre will be told in our story on Nova Scotia's booming wine industry.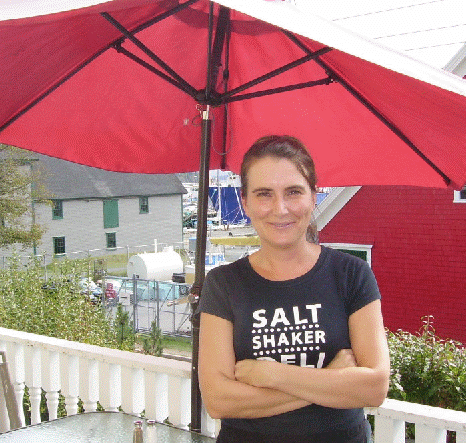 In Lunenburg we lunched at Salt Shaker Deli although the menu showed a much more selective menu. Carolyn Ramsay is chef and owner and the restaurant has become a popular addition to the City's cuisine. We were tempted to order the lobster roll but decided we should try something besides lobster on the excursion. So we enjoyed our smoked salmon club on focaccia with tomato, bacon, capers and cream cheese. Some of our group succumbed to the Indian Point Mussels which can be ordered by the pound. These come with a choice of eight different dipping sauces.
Salt Shaker Deli is delightfully located with a view of the Lundenburg picturesque waterfront and harbor.
Another day we lunched at Sugar Moon Farm which combines making maple syrup with a restaurant that often hosts dinners with visiting chefs. Quia Gray and Scott Whitelaw operate Sugar Moon and the ambiance here takes one back to an earlier era. The restaurant is in a natural wood log building with a huge stone fireplace with a cheery fire burning. Our lunch included two mammoth pancakes, which gave us the opportunity to taste Sugar Moon's delectable maple syrup accompanied with smoked barbecued sausage and baked beans.
The restaurant is open year round and is a magnet for locals with its Chef's Nights and often live entertainment.
If you are dining in Halifax you must include the 5 Fishermen Restaurant. Beside great ambiance, excellent service, and a challenging cuisine why you might just meet one of apparitions or ghosts that have a long history there. For many years the building was a funeral home and victims of the Titanic sinking as well as the Halifax Explosion were housed there until burial arrangements could be made.
We did not see any ghosts although we looked for them. We did much better at the salad bar which offers among countless goodies fresh steamed mussels. We have always had a personal prejudice against California mussels and will not touch them except for bait. However in Nova Scotia all this changed when we had the opportunity to taste the smaller, black mussel which is common in local waters and indeed is often farm raised. Once we tasted mussels on this trip we were hooked on the Nova Scotia variety. So needless to say at 5 Fishermen we went back to the salad bar twice for plates of these tasty shellfish which are offered with a variety of flavor dips.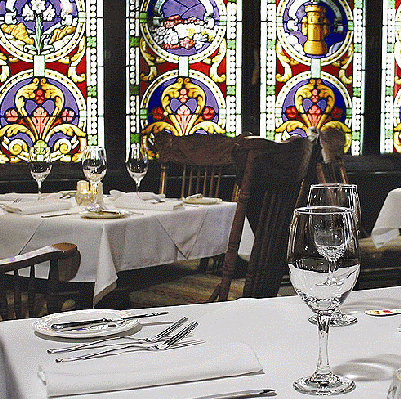 Only then did we move on to a lobster salad and our entree which was broiled haddock that came with a delicious mashed sweet potato. Others at our table also ordered impressively with items like oysters on the half shell, clam chowder, or escargo followed by baked lobster and pan fried scallops. Again our wines were from Nova Scotia and included a Grand Pre Muscat as well as a Jost Marechal Foch.
Located in downtown Halifax 5 Fishermen is a dinner house open daily at 5 p.m.
We discovered a great Italian restaurant in Lundenburg. Named Trattoria Della Nonna with Chef Terry Vaffollo and Simone Mornbouguette as proprietors it offered an Old World ambiance on two levels with a full service bar and fine wine list. We opened with calamari, one of our sneaky ways of judging a restaurant chef's skills. Chef Terry passed the test well and then added to our admiration with a Penne Alla Vodka with scallops, prawns and grilled fennel that was truly exceptional. One of our group had the rack of lamb which he termed memorable. A side order of wild mushrooms with grappa also won high praise from one and all. The wine cellar where we dined is a great fit for large parties.
What we found exciting about Nova Scotia cuisines and its Chefs was the emphasis on fresh, locally grown products. Whether fish from the sea or produce grown locally in Nova Scotia's agricultural heartland. All the places where we ate displayed this on the menus and with the food served. This was also true for the wines that are now being produced from Nova Scotia wineries. All the restaurants showed great loyalty in promoting locally produced wines which have increased in quality at a rapid rate.
Back to Table of Contents

Last Update:3/10/11
&copy 2011 Joe Hilbers All Rights Reserved.
Graphic Design by Impact Graphics