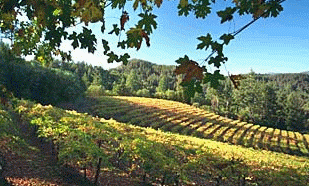 Russian River--Wine marketing now creating brands for specific California appellations
By The Editor's Vineyard
Marketing has taken command in the naming of domestic wines and with small wonder when one sees the astounding number of wines available on supermarket shelves. Some are clever, others a far reach.
One new label which does strike our fancy is Picket Fence Vineyards. For us it seems to reflect on a downhome rural American dream. In this instance the brand has been established to feature wines from the Russian River appellation in Sonoma county. In my youth growing up in San Francisco so many, many years ago the Russian River was associated with what we thought were wild teenage parties. But that is another story.
We have thought for some time that wines from the Russian River region were under rated and deserved more attention especially for Burgandian varietals.. Now with Picket Fence Vineyards this may change. Certainly we were impressed with the first wines released by Picket Fence. Made by Winemaker Alison Crowe we tasted the Picket Fence 2009 Russian River Valley Chardonnay and liked it. Fresh, full flavored and a lasting finish and with 13.7 alcohol this Chardonnay goes well either with food or as a cocktail. We also enjoyed the Picket Fence 2009 Russian River Valley Pinot Noir. Though young the wine shows remarkable body and the earthiness of the varietal is here. Its body and flavor make it an excellent food wine. We admired the craft of Winemaker Alison with this vintage. Both these wines are priced under $20, the Chardonnay at $15, the Pinot Noir at $18. Both wines were made from small Russian River vineyards.
California is blessed with many regions for making good wines. We just mentioned one above. Another is Santa Lucia Highlands located in Monterey county. This appellation was pioneered by Nicolaus Hahn and Hahn Family Wines 30 years ago and today continues to excel with exciting vintages. Chardonnay is often the grape of choice in Monterey county and particularly in the Santa Lucia Highlands. We recently had the opportunity to taste two chardonnays side by side made by Hahn from this appellation.
One, Hahn SLH Estate 2007 Chardonnay was produced from a 156 acre Lone Oak Vineyard in the Highlands. The other was Hahn Winery 2009 Chardonnay also from the Highlands.
Both are excellent vintages but the single vineyard chardonnay was exceptional for its full fruit aromas, softness on the palate and a lasting finish. Its $25 price tag is not excessive. The 2009 Chardonnay was also a very good bottle of wine with fruit flavors, smooth palate and a lasting hint of acidity. Both these wines were released for Hahn's 30th anniversary in 2010. At $12 the 2009 Hahn Chardonnay represents unusual value.
Back to Table of Contents..
Last Update:3/1/11
&copy 2011 Joe Hilbers All Rights Reserved.
Graphic Design by Impact Graphics