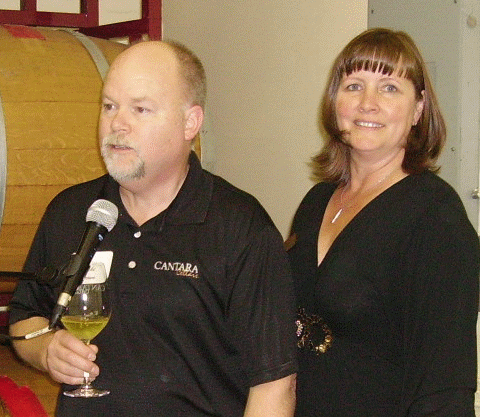 "Ventura County--Its Fifteen Wineries now have their own wine road"
The Editor's Vineyard
When the Ventura Chapter of Wine Investigation for Novices and Oenphiles, WINO, held its first meeting 35 years ago there was one winery in the county. A few weeks ago one hundred members of WINO enjoyed a winemaker dinner at Cantara Cellars, one of fifteen wineries now located in Ventura County.
n a relatively short period of time Mike and Chris Brown have established Cantara Cellars with winery, tasting room and lounge all located at 126 N. Wood Road in Camarillo. Mike Brown's family roots are in Lodi, California's largest appellation in production of wine grapes. So while the grapes are sourced in Lodi, some vines on the Brown family ranch, the wines are made in Camarillo.
WINO's evening at Cantara Cellars was catered by Cafe Zack, long one of Ventura's best restaurants. On hand to personally supervise the elegant dinner served that evening were Partner owners Hector Gomez and Alfonso Bello. They have owned the three star Cafe Zack for ten years and continued its long history of quality cuisine.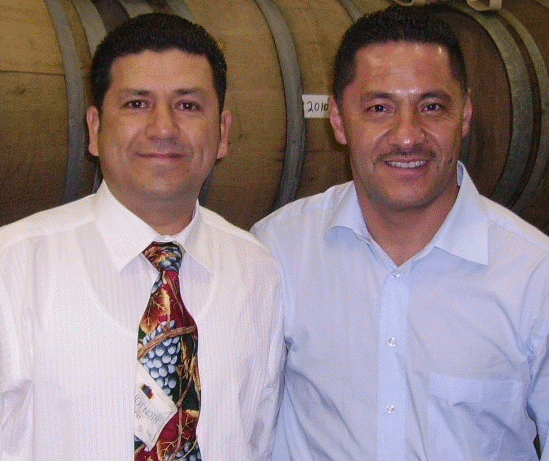 Opening the five course dinner that evening was sauteed lobster and sweet corn with black truffle oil and a creme sauce served on corn husks. The wine Cantara Cellars 2009 Ruth's Vineyard Lodi Chardonnay which Mike Brown explained was from a vineyard of the varietal from his parents ranch. With Champignon de Provence, sauteed Portobello and Shitake mushrooms with black truffle oil the wine was Cantara Cellars 2008 Lodi Old Vines Zinfandel Block 817. Here Mike Brown explained that the wine is from old growth Zinfandel vines first planted in 1941
Another Lodi Zinfandel, this a 2008 vintage, was featured with the Pork Medallions, sauteed pork with sliced apples and olive oil in a brandy creme reduction sauce. We were especially appreciative with the Muscovy Grilled Duck breast with a berry Port wine reduction. Here Mike Brown presented his version of a blended red called Lodi Franknvine. It is the best seller at Cantara Cellars and a blend of Cabernet Sauvignon, Zinfandel and Petite Syrah.
A 2008 Lodi Petite Syrah was served with the flourless chocolate cake with raspberry reduction concluded Cafe Zack's memorable dinner. Currently Cantara Cellars markets twelve wines and all are available for tasting at the winery. Also on Friday evenings the lounge is open for tastings which include chesse plates and bread and oil servings from five to 7:30 p.m.
The fifteen wineries in the county have organized themselves into the Ventura County Wine Trail which now offers a calendar of year round activities and tours. Maps showing the locations of Ventura County wineries can be found at www.vcwines.com or cantaracellars.com.
Back to Table of Contents..
Last Update:3/1/2011
&copy 2011 Joe Hilbers All Rights Reserved.
Graphic Design by Impact Graphics