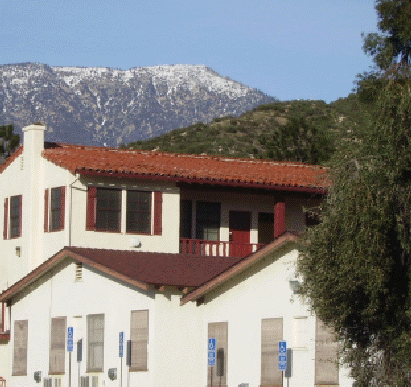 Cherry Valley, Calif.--Highland Springs Resort offers visitors an idyllic setting and fine dining
.. By Joe Hilbers
Highland Springs Resort, nestled in the foothills of the San Bernardino mountains, has long been a refuge for travelers and those seeking a refuge from a busy world. Over a century ago it was a stop over for the Butterfield Stages en route to San Diego. But it was in the 1920s that the Resort took shape as a hostelry and spa. Since then it has never looked back as a resort to please travelers and diners. Our visit at the Resort took place after a drive through the Cherry Valley on a sun drenched winter day with snow capped San Gorgonio Mountain framed in the distance. At the resort we discovered an idyllic setting with lush grounds, eighty eight well appointed guest rooms as well as conference accommodations for 300 day guests.
The principal reason for our visit was to enjoy the culinary talents of Executive Chef Stefan Weck, ( pronounced the German Veck) who has earned considerable honors for his artistry at the Grand Oaks Main Dining Room. We were truly impressed with Chef Weeks skill in blending so many ingredients in each dish. The result is an extraordinary array of flavors. Originally from Munich, Germany he received classic German culinary training. Later he moved to Spain where he worked in a Michelin starred restaurant, then came to the U.S., first in New York and two years ago to Highland Springs. We opened with the caramelized pan seared scallops with white truffle oil, herbs and Jerusalem artichokes. Another at our table the winter beet salad, roasted beets, medjool dates, and a goat cheese pate a choux.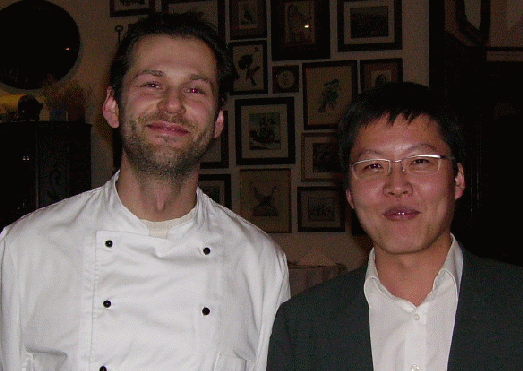 The Grand Oak menu offers an excellent array of steaks but we selected the Moroccan Tajine styled braised lamb shank with a heirloom bean-tomato stew and salt cured lemon. Simply put for this Writer it was the best lamb shank within memory. Another of the Chef's signature dishes is beef Bourguignon and we tasted this as well. It is a red wine-juniper ju braised tri-tip with pearl onion, button mushroom, bacon bits and Spatzle. We though it superb. We also had the opportunity of tasting two soups, an organic Butternut squash and spicy local apple chutney as well as a heavenly creamy Jerusalem artichoke. Last year the grand Oaks Steakhouse and Bar was voted best restaurant and chef by the Inland Empire Magazine and we found out why. It is indeed well earned. Like everything at Grand Oaks the desserts are house made and unusual. We tasted a lemon grass creme Brulee as well as the chocolate mile Feuille with Quince compote and red wine ice cream.
We loved the ambiance of the dining room with dark wooden beams and large glass windows. It is spacious, well lighted, with tables brightly decorated with white linen and sparkling china and glasses. On the walls there are some fine original oil paintings. The lunch menu offers Panini, portobello burger as well as Chef specials like a Grand Oak Cuban sandwich with marinated pork or pasta of the day. We also enjoyed Chef Weeks Sunday Brunch with his French Toast Austrian style with house made plum jam and organic Lavender syrup.
The Highland Springs Resort was our kind of place with a history, and unique character and most friendly accommodating staff. Some famous names are included in the Resort's guest list. They include Albert Einstein who was a personal friend of Fred Hirsch who created the Resort in 1923. When Einstein visited Cal Tech he always found the time to visit the Highland as well. Irving Berlin was another frequent visitor as well as Frank Sinatra, John Wayne, Gene Autry and Elizabeth Taylor. But its history goes back further to when it was a ranch and a stopping place for the Banning Stage and brothers Wyatt and Virgil Earp were drivers on the line.
Our accommodations were comfortable with our room big enough to be called a mini suite. Highland Springs Resort is well named since it is at the 3000 feet level of the San Bernardino mountain foothills with 2400 acres to enjoy including a 1100 year old California oak tree.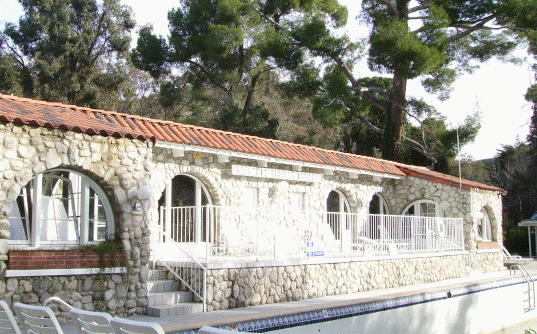 There is also a large grove of olive trees that date back over 100 years and huge fields of lavender. When they bloom in the Spring the Resort's festival attracts a huge number of visitors. Other amenities include an Olympic style pool, jacuzzi and gym. The Resort in many ways is self contained with an organic pot bellied Pig Farm as well as Sheep, Cows and Chickens. There are also hiking trails that wind back into the mountains behind the Resort. Highland Springs Resort is located at 10600 Highland Springs Avenue, Cherry Valley , Ca. 92223. Telephone 951 845-1151, web information at info@hsresort.com.
Back to Table of Contents..

Last Update:3/1/11
&copy 2011 Joe Hilbers All Rights Reserved.
Graphic Design by Impact Graphics