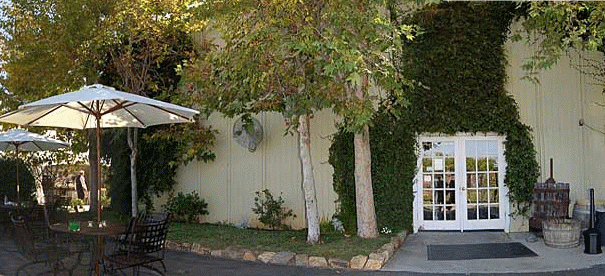 Escondido--Justin Mund named winemaker at Orfila Vineyards & Winery"
By The Editor's Vineyard
We have always thought that San Diego County does not get its fair share of press coverage for its vineyard and wineries. So we were eager to attend a recent press event at Orfila Vineyards and Winery located in the San Pasqual Valley adjacent to Escondido.
It served to introduce Justin Mund as new winemaker. Justin brings practically a lifetime of experience since he grew up in Healdberg, Sonoma wine country. At both Sata Rosa Junior College and Cal Poly Justin majored in wine and viticulture graduating with a degree in Fruit Science. Then as an adult worked first as an associate winemaker and tlater as as winemaker at Addamo Winery. His experience extends to both Sonoma and Central Coast winemaking.. At Orfila he joins a team that has established an excellent reputation for its most successful tasting room as well as the large number of special events that take place there on a continuing basis.
Orfila, with its 35 acres of vineyards, commands a hilltop location with well kept grounds and facilities for many special events. And Orfila is the sole winery in the San Pasqual Valley appellation. Also present to explain their roles at Orfila were Steffi Habermann, Event manager, and Scott Ledbetter, Tasting Room manger.
Steffi handles special events for Orfila which span a large range of activities including weddings, concerts, picnics and meetings. Scott is responsible for Orfila's tasting room, gift shop and wine club which has thousands of members.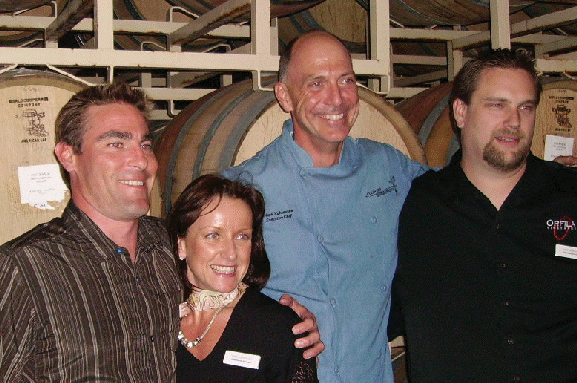 Our dinner and tasting of Orfila wines took place in the well appointed barrel cellar with Chef Mark Kuhlman of Culinary Underground showing a most interesting menu selected to match Orfila wines. Starters was an organic Arugula salad with pears, prosciutto and aged genda. This was matched with 2008 Coastal cuvee Chardonnay. Next was a fresh mushroom and watercress soup we thought so good we pressed Mark for his recipe. Here the wine was 2007 Estate Sangiovese which we marked as very special.
Our entree was Tuscan-style Barbecued roast pork with rosemary, sage and garlic. Also farm fresh baby veggies like mini fingerling potatoes. The 3008 Estate Ambassadors's Reserve Merlot perfectly matched the pork. Mark explained that everything he prepared is grown locally whenever possible.
Chef Mark Kuhlmann really had our attention with the dessert, his family's New Orleans styled Bread Pudding with a warm brandy sauce. Bread Pudding is this Writer's favorite dessert and we thoroughly enjoyed Mark's creation. It was served with a California Tawny Port, well aged and robust.
Orfila Vineyards and Winery is located at 13455 San Pasqual Road in Escondido. For tasting room and tour hours call 760 739-6500, on the web at www.orfila.com.
Back to Table of Contents..
Last Update:3/1/11
&copy 2011 Joe Hilbers All Rights Reserved.
Graphic Design by Impact Graphics