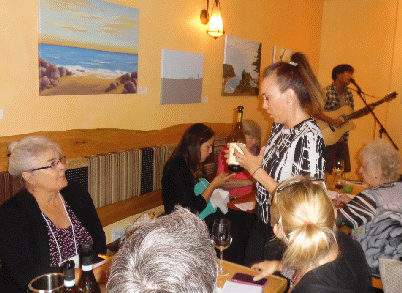 San Mateo--Wine is never far away in the Silicon Valley--..
.. By Joe Hilbers
Today, living in California one is never far from something that has to do with wine. It may be proximity to a vineyard, winery, tasting room,, wine bar or a combination of any of the above. This was proven once again when we explored San Mateo Silicon Valley on a "As Fresh as it Gets" tour as members of the International Food, Wine
& Travel Writers Association. San Mateo enjoys an exciting coast of the Pacific Ocean with scenic historic cities like Half Moon Bay, Rockaway Beach and Pacifica. Here we found our way to A Grape in the Fog, described as 'Your Friendly Wine Bar by the beach". Greeting us was Proprietor and Founder Beth Lemke who for seven years has been providing folks with interesting wines from around the world, tasty foods that match the wines, a daily Happy Hour and live entertainment.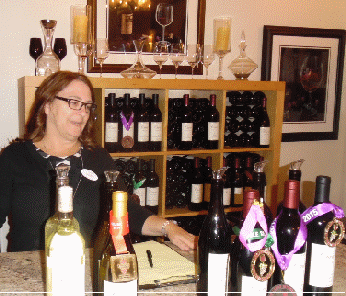 When Beth says her wines selections are world wide she means it. We opened our tasting with Cave Geisse, Pinto Bandeira Blanc de Blanc sparkling wine from Brazil. For us it was the first sparkling wine from Brazil we had enjoyed since sipping one at a race track in Rio de Janeiro a few decades before. Next was a Riesling labeled 'The Doctor' from New Zealand followed by a 2010 Burnsini Petite Sirah from Tehama county, Cottonwood, California. Another red was a French 2013 Chateau De Caladioy from Cotes de Roussillon
With the strumming of a live guitar near by, we concluded our tasting with a Master Reserve Porto from Martinez, Portugal.
We liked the ambiance and especially the art that decorates the walls of Beth's wine haven. We do a little oil painting of landscapes but were awed by the work of Christiane Evans who calls her paintings 'Tina's Art. We thought her work outstanding.
We left A Grape in the Fog feeling like members of the Jet Set.
Back in the Silicon Valley at San Carlos where, in the industrial part of the City, there is a winery row, within walking distance, several wineries are now located with tasting rooms as well as production facilities.
First stop in this urban wine conclave was Cuvee Wine Cellars where Paul Rogerville holds forth as Proprietor and Winemaker. They do not grow a great many wine grapes in San Carlos but Paul's sources with names like Napa, Sonoma, Santa Cruz Mountains and Carneras are only a few hours away in distance. The white wines here are Chardonnay and Sauvignon Blanc with vintages from four different appellations. Red wines include Pinot Noir, Syrah, Merlot, Cabernet Sauvignon and four Meritage bottlings. Again the grape sources are from famed appellations.
Cuvee Wine Cellars is located at 1001 Washington Street in San Carlos. Telephone 650 610-9810, web www.cuveewinecellars.com.
Some of the San Carlos tasting rooms are only open on weekends and this is true with Russian Ridge Winery open Friday evening and days on Saturday and Sunday. Russian Ridge is a family operation with Scott and Joan Townsend and their son, Spencer making all of their wines from single vineyards located in nearby appellations. Each vintage is made in relatively small amounts. The Chardonnay from Berry Lane in Napa, the Petite Sirah from Paso Robles, the Zinfandel from Fiddletown, Almador County, Petit Verdot and Malbec from adjacent Santa Clara county and Syrah, Cabernet Sauvigrnon, Cabernet Franc and Merlot from Santa Cruz Mountain appellation where the Townsends make their home.
Russian Ridge Winery Tasting Room is located at 919 Washington Street in San Carlos. Telephone 650 851-9690, web www.russianridgewinery.com.
Still on a pedestrian wine tour we next visited the tasting room of Flying Suitcase Wines "Alluring wines for the curious wanderer". We were met by Owner/Manager Vikki Vinther who readied a lineup of six wines for our tasting. The 2013 Sauvignon Blanc was from Lodi. Each of the Flying Suitcase wines also have names associated with travel, the Sauvignon Blanc called Diverson. The 2015 Chardonnay was from St. Helena, Napa and was made with new French oak fermentation.
Three wines were from Amador County including the 2013 Sangiovese, entitled Journey, 2013 Syrah entitled Passage and a wine which captured our interest 2013 Aglianico. This is an Italian grape and is not used by many California winemakers. We found the wine outstanding, bold in flavors but smooth in tannins thanks to thirty months in American and French oak barrels. Our final wine was 2013 Zinfandel from the Russian River Valley and called Wanderlust.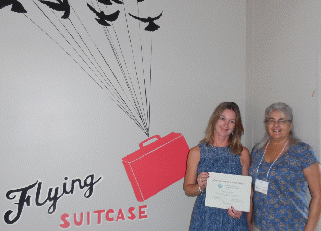 The Flying Suitcase Winery Tasting Room is located at 915 Washington Street, San Carlos and open Friday, Saturday and Sunday. Telephone 650 636-6737, web www.flyingsuitcasewines.com.
When we arrived at Domenico Winery we found work in progress since here was a working winery and the 2016 crush had already begun. As we watched Owner and winemaker Dominick Chirichillo displayed grapes from a vat of freshly harvested Cabernet Sauvignon. The Domenico Winery and huge tasting room take up a whole block of San Carlos' industrial area. A self taught wine maker Dominick's wines have won many awards in wine competitions. The inventory of wines at Domenico is large and special attention to some Italian varietals. Besides Chardonnay and Sauvignon Blanc the whites include Viognier, Rose and Pinot Girgio. The reds include Barbera and Nebbiolo and super Tuscan style blend.
All the nearby appellations are the sources for Domenico wines and the meritage style wines show prominently here with several winning competition awards.
The tasting room at Domenico is open Monday through Saturday from noon to five p.m., closed Sundays. The Bacchus Winemaking Club plays a large role at Domenico starting in New Jersey and continuing in San Carlos.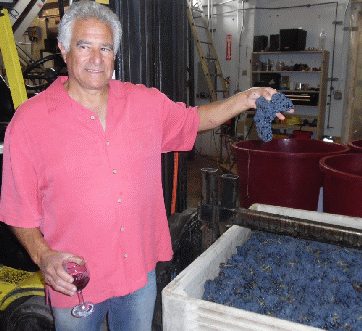 Domenico Winery is located at 1697 Industrial Road, San Carlos. Telephone 650 593-2335, web www.domenicowinery.com.
Back to Table of Contents..

Last Update:9/23/16
&copy 2016 Joe Hilbers All Rights Reserved.
Graphic Design by Impact Graphics