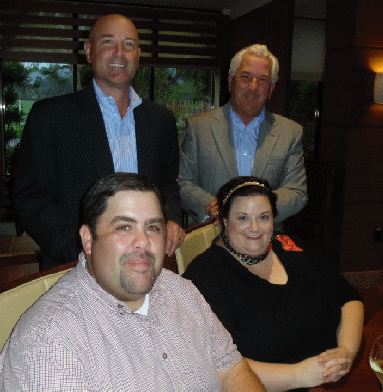 Monterey--Hyatt Regency Hotel shows Peninsula at its best
By Joe Hilbers, Editor
he Monterey Peninsula is a most popular destination with legendary places like the world famous Monterey Aquarium, Carmel, Seventeen Mile Drive, Pebble Beach and Cannery Row, to name just a few. Our weekend destination was the Hyatt Regency Monterey Hotel and Spa.
One evening we attended a winemaker dinner which Executive Chef Steve Johnson preparing an exciting menu paired with Twisted Roots wines. This took place in the Hotel's chic TusCA Ristorante. We did have the opportunity to chat with Chef Johnson who has been with Hyatt 16 years.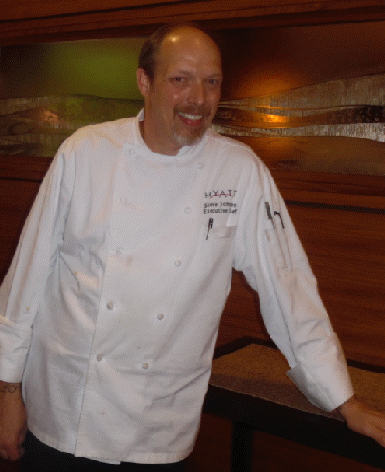 Owners Josh and Julie Ruiz were there to tell us about the Twisted Roots wines. Josh explained that he is a farmer who developed a love for wines and so, nine years ago, started making wines from vineyards located on family land in Lodi, including old Zinfandel vines dating back to 1918.
Josh said the success of the wines comes from using older 'neutral' French oak barrels both for fermentation and aging. This allows the grapes to show more of their natural flavors. The first wine, from Lodi family vineyards was made in 2005, a Petite Sirah. Previously the family vineyards were selling grapes to other winemakers.
The success of the 2005 vintage was so remarkable that Josh has expanded to several other varietals as well. However he claims that his first love is still the Petite Sirah.
Chef Johnson started us with Tempura Miataki mushrooms with a soy-mirin dipping sauce. Our wine a 2015 Twisted Roots Chardonnay. Next seared diver scallops,carrot pudding, Chanterelle mushrooms and shaved asparagus. The wine a 2012 Petite Sirah.
Next was dry aged Niman Ranch New New York steak, duck fat cooked heirloom potatoes, and demi glace roasted blue lake beans. Perfectly matched was Twisted Roots 2012 Cabernet Sauvignon.
Attending the dinner as hosts were Steve McNally, general manager, and David Lambert, director of sales and marketing of the Hyatt Regency Hotel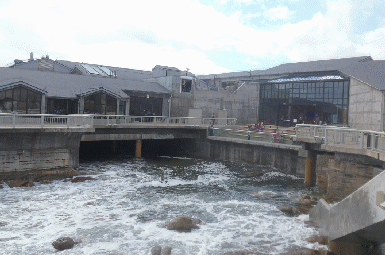 During our weekend stay at Hyatt Regency Monterey Hotel our day at the Monterey Aquarium proved to be a special delight. We alternated between looking at exhibits like the three story living Kelp Forest to wandering on the open decks that front on the waters of Monterey Bay. It was an overcast day and the whole expanse of the Bay from Monterey to Santa Cruz offered a marvelous view with the added drama of darkening clouds.
The exhibit of 'Jellies: Living Art' is a place to watch with fascination the grace of these creatures. This exhibit has become so popular that the Aquarium extended it. Viewing these most unusual life forms is a special treat.
The Aquarium is a great place for children with the walk through wave crash and hands on exhibits in the family activity room. There is also the Ocean's Edge galleries that not only feature the ocean life of Monterey Bay but also the human connection and the need to preserve this unique world for future generations. Here on view are varieties of sharks, rays and schooling fishes including the famed Monterey sardine which for a time made Monterey the nation's top fishing port. Then overfishing changed Cannery Row into the tourist attraction it is today.
The Monterey Bay Aquarium is world famous and is acclaimed as the best in the U.S. Since opening in 1984 millions of visitors have enjoyed its exhibitions and educational message. It is located on famed Cannery Row in Monterey, California's most historic city. And indeed the original building for the Aquarium was once a cannery.
The Aquarium is open daily from 10 a.m. to 6 p.m. and in summer and major holiday periods from 9:30 a.m. to 6 p.m. Closed on Christmas Day. For more information call 831 648-4888 or on online at www.montereybayaquarium.org. The Aquarium website is full of interesting information, not only on the events being held but also on the studies and research that is continually being done.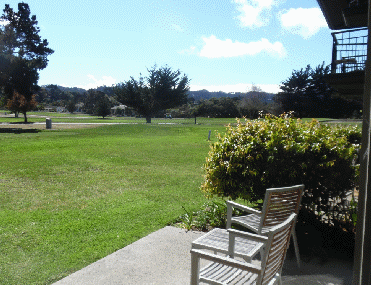 We returned to the Hyatt Regency for lunch to try its oven toasted pizza in the lounge bar area overlooking the golf course.
Then spent some time on Cannery Row and revisited Carmel Valley resisting, for at least one day, stops at winery tasting rooms.
The Hyatt Regency in Monterey is adjacent to the Del Monte18 hole golf course and many of the 500 rooms overlook the course. The lounge, dining room, and patio are all situated to overlook the course as well.. Adjacent is the highly popular Knuckles Sports Bar.
Back to Table of Contents..
Last Update:10/31/16
&copy 2016 Joe Hilbers All Rights Reserved.
Graphic Design by Impact Graphics