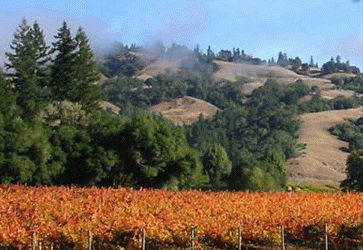 Anderson Valley-- Lula Cellars producing Gold Medal Pinot Noir
By Joe Hilbers, Editor
We had one more stop in Mendocino and it was in the Anderson Valley. Lula Cellars was new to us, one of the many wineries that are now to be found along Highway 128.
Close to the coast the climate is excellent for vineyards of Pinot Noir, Sauvignon Banc and Gewurztraniner. We learned about the quality of Lula wines and the expertise of Winemaker Jeff Hansen while at the Inn at Newport Ranch . When we met Jeff it soon seemed like old home week since he told us how he had spent years in the San Fernando Valley working at one of the best wine shops in Los Angeles while attending college. It was a store that we knew well and we discussed how wine retailing has changed through the years.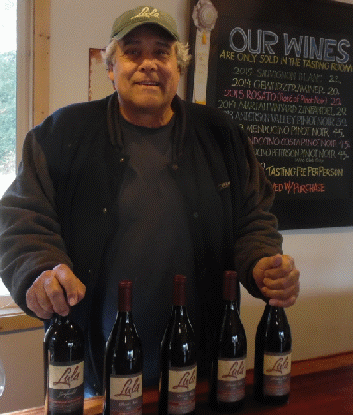 All told, Jeff has thirty years experience in grape growing and winemaking, much of it in the Napa Valley. Lula Cellars was founded in 2010. Jeff pointed out that the Anderson Appellation has the coolest climate of any in the State.
The Lula name is to honor Jeff's grandmother who he recalls as being of remarkable courage and love and, after the death of her husband, she guided the family through difficult times. Lula has twenty two acres of grapes and almost all the wines are estate grown. Currently the wines include 2015 Sauvignon Blanc, 2014 Mendocino Gewurztraniner, 2015 Rose of Pinot Noir, 2013 Anderson Valley Pinot Noir and 2013 Mendocino Pinot Noir. Like almost all the Anderson Valley wineries it is family owned and currently has a 700 member wine club. Two wines that earned Gold Medals currently being released are the 2014 Single Vineyard Zinfandel and Lula 2013 Costa Vineyard Pinot Noir.
Looking to the future we asked Jeff if he had any plans to add new varietals and he replied that Syrah would be his top choice since it also does well in the region. We were impressed with the 2015 Sauvignon Blanc which is one of our favorite white varietals. Jeff explained that the vineyard is at 2400 feet elevation with warm days and cool nights. We thought it an excellent wine, as was the newly released 2013 Costa Vineyard Pinot Noir. All the Lula Pinot Noirs are aged in French Oak barrels.
Lula Cellars is located at 2800 Guntley Road on Highway 128. The tasting room is pet friendly and open daily from 10 a.m. to 6 p.m. Adjacent is a large area for picnic, weddings and group gatherings.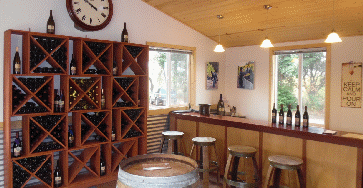 Back to Table of Contents..
Last Update:10/31/16
&copy 2016 Joe Hilbers All Rights Reserved.
Graphic Design by Impact Graphics