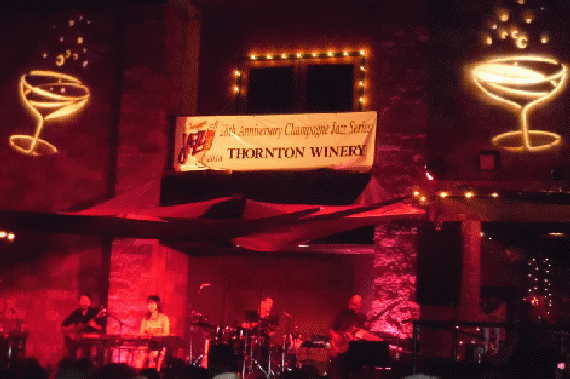 "Temecula--Success again marks Thornton Winery 28th Champagne Jazz Concert series"

by Joe Hilbers
"And all that Jazz" is an expression that means having it all, the whole nine yards or the whole enchilada. It is most appropriate in describing the Thornton Winery Champagne Jazz Concert series now in its 28th season.
Location plays a big role with the picturesque Courtyard and patio of the Winery that accommodates some 600 people. Those attending have the choice of purchasing general admission tickets for non reserve seating or the gourmet supper package which includes a reserved table and three course dinner.
At our Thornton evening Keiko Matsui showed a house of excited fans why her fame is world wide. Backing her up was a group of truly gifted sidemen with a percussion section that had both the wine glasses and fans jiggling.
The stars were truly in their courses this night as the Chef Alfred Fierro Jr. stepped forward with an outstanding menu that offered a Cafe Champagne Salad of field greens, tomatoes, golden raisins, spiced peccans, with blue cheese. Served with it Thornton NV Champagne. Our notes on this vintage reported a great aroma full of fruit, fine acidity and balance and a pleasant finish.
Entree was oven roasted Salmon with marbled baby potato, chef's vegetables and a saffron sauce.. The wine, a Thornton 2014 Chardonnay. This wine was very true to its Bugundian heritage with light nose, dry fruit flavors on the palate and a long finish. Dessert was Lemon Blueberry Cheescake with sugar crumbs. The wine an exceptional Thornton 2013 Barbera with a demanding presence and just right for sipping as Kenny Lattimore and Michael Lington took over on stage with a most enthusiastic audience.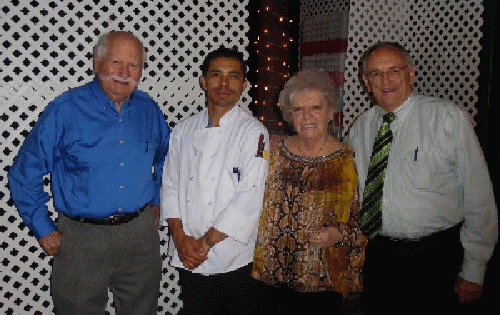 The wine list is most impressive not only with Thornton wines but with well chosen varietals from Napa as well. As always the professional skill of the service staff was again evident.
These concerts will continue through October offering some of the brightest names in contemporary jazz.
Thornton Winery is located at 32575 Rancho California Road in Temecula with ample off street free parking to all that attend. For the complete concert schedule call 951- 699-0099 as well as information on tickets which can be purchased in advance of each event. And of course you can enjoy the cuisine of Chef Alfred Fierro any time at Cafe Champagne. On the web at www.thorntonwine.com.
Back to Table of Contents..
Last Update:9/26/16
&copy 2016 Joe Hilbers All Rights Reserved.
Graphic Design by Impact Graphics