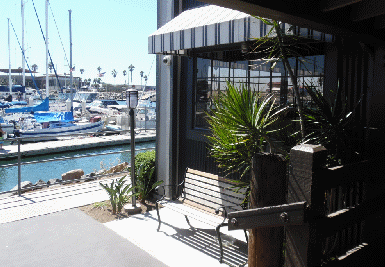 "Oceanside--The Marina view only adds to the delightful cuisine and ambiance of Oceanside Broiler"
.. By The Editor
As part of a weekend spent in Temecula wine country and north San Diego County we stopped in Oceanside to check out the Oceanside Broiler located in the Marina. We were well acquainted with the two award winning restaurants in Newport Beach under the same ownership.
The location has been a landmark for decades but the Broiler underwent a complete renovation and now offers a completely new decor and ambiance.
The outdoor patio, has its own bar, and the dining area places you just yards from the water and a sparkling Marine view. Inside there is a casual cocktail lounge and several dining rooms.
At the restaurant we met General Manager Warren Hyde as well as Chef Thomas Mellen who prepared some of the specialties on the menu we enjoyed that day.
First there was the New England clam chowder and chicken lettuce wraps followed by an Appetizer Platter with fried calamari, coconut shrimp and, our favorite, ahi poke. Our entrees included swordfish and filet mignon This restaurant shows an unusually large menu for both lunch and dinner.
So as we sat at a table with a view of the Marina we congratulated ourselves on our clever idea of returning to the Oceanside Broiler once again.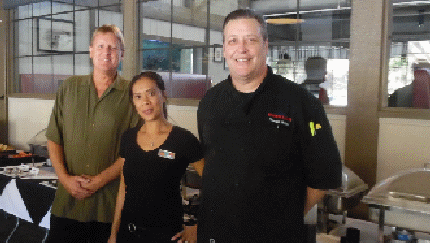 This, our second visit to the restaurant was to check out Chef Thomas Mellen's brunch offerings featured each Sunday at the Marina facing restaurant.
We felt right at home again with greeting from Warren Hyde and then having Ty Tran assigned to our table as our waitress. We had already become friends with her on our original visit and our first question was how her eight year old daughter was doing. To which Ty promptly showed us her picture.
As to the selection at the buffet the question was what was not offered in the rows of steamers that lined both sides of the banquet room. The list of items on the Brunch menu take up half a page.
There is a full list of breakfast items like bacon, pork links and Portuguese sausage, buttermilk biscuits in country gravy, Eggs Benedict and French Toast, then lunch items like clam chowder, fried chicken tenders, Mahi or Yellowtail dishes, smoked salmon, steamed clams and the roast beef sliced before your eyes. Also salads like Cobb, Caesar and Spinach
We opened with cocktail shrimp and steamed clams, then discovered the smoked salmon with cream cheese and capers. We were back for a slice of roast beef, slightly pink, along with Alfredo pasta and country potatoes.
Our desserts included the bread pudding and chocolate eclairs.
The regular menu has offerings for almost every appetite. There is a' Happy Hour' every day of the week and also an 'After Happy Hour' which on Monday extends to 9 p.m., Tuesday Top Sirloin Night, Wednesday Coconut Salmon Night and Thursday Taco and Beer night.
For regular diners there is 'First Seating' Monday to Thursday from 5 p.m. to 6 p.m. offering a three course prefix menu at a special price.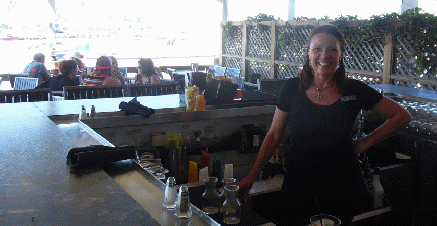 'From the Sea' menu is huge with a large variety of fish and in the shell Alaskan King Crab legs. Also favorites like Fish and Chips, Coconut Shrimp, Seafood Cioppino and Shrimp Pasta.
Steak lovers are not neglected here for there is a choice of Filet Mignon, Rib Eye, Top Sirloin, New York and Burger.
Ocean Broiler is open seven days a week with lunch from 11 a.m. and the Sunday Brunch from 10 a.m. to 2 p.m. Dinner six days from 5 p.m. to 9:30 p.m., Sunday from 4 p.m. to 8 p.m.
Ocean Broiler has free off street parking and is located at 1325 Harbor Drive North in Oceanside. The view of the adjacent Marina is free as well.
Back to Table of Contents..

Last Update:9/31/16
&copy 2016 Joe Hilbers All Rights Reserved.
Graphic Design by Impact Graphics