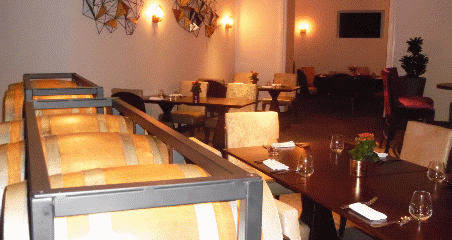 "Los Angeles--Sheraton's new Bistro styled Costero offers exciting scene for cocktals and dining"
.. By The Editor
The newly opened Costero California Bar + Bistro at the Sheraton Gateway Hotel has merged the new trend toward casual dining with a most exciting and innovative cuisine. The design and layout of Costero is certainly 21st Century with large space devoted to the bar, lounge, large number of tables and giant video screen. The dining room has been placed so that, while maintaining the contemporary decor and ambiance, offers a retreat to truly appreciate a cuisine that combines California flavors with Continental additions.
This cuisine is the creation of Executive Chef Orazio Parisi who has used his experience in Cordon Bleu to add exciting entrees to the menu. This Chef has solid credentials including being voted "2012 Chef of the Year" by the Southern California Restaurant Writers. As a long time member of the Writers group we recalled the Awards dinner where the presentation took place.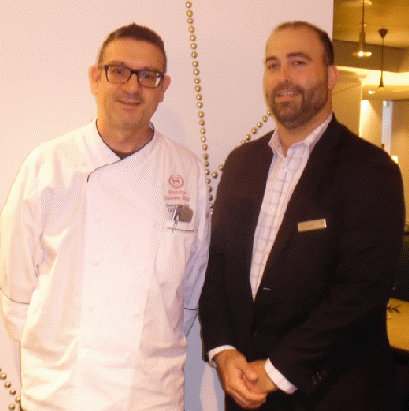 When we met Chef Orazio this time we had a lot to talk about since we share a Sicilian heritage. He launched his culinary career after coming to America. In my case my Mother was born in Sicily and came to this country as a small child.
Actually Orazio Parisi's whole career as a chef has centered in Los Angeles. He attended the California School of Culinary Arts and then was affiliated with three of Southern California best restaurants, in each bringing his 'trattoria' style', often a mix of Continental and California cuisine.
After that he moved on to work with the fine dining rooms of two of Los Angeles major hotels. He rejoined the Sheraton Gateway to open the hotel's new Costero.
We also had the opportunity to chat with Romain Lescaon, assistant director of Food & Beverage and Xiomara Guzman, assistant Outlet Manager.
The menu at Costero is large and is designed to please both the patron at the bar seeking a small snack as well as serious diners. The result is a list of 13 small plates, five salads and six pizza, and eight sandwiches and burgers. For the serious diner a list of 13 entrees, some American classics like bone in ribeye, beef tenderloin or lamb chops. Others more Continental like beef short rib lasagna, Cioppino, or Costero Seafood Spaghetti.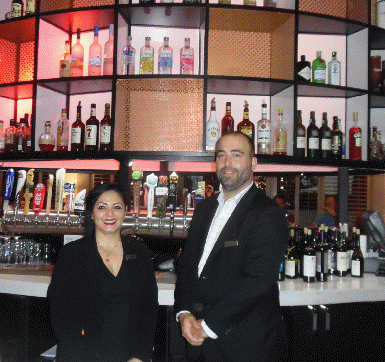 My dining partner and I opened with two of the small plates, Monterey Bay calamari and Burrata & Prosciutto. Then entrees that included the Pan seared scallops and Lamp chops. The chops arrived in a truly wonderful port wine sauce and a Peperonata with giant beans, pioppini mushrooms, Coachella desert arugula and the sauce. The Scallops on a bed of squid ink couscous, caponata, cauliflower puree and pancetta vinaigrette. Presentation was perfect with the four bone in chops stacked in a row with the scallops size huge.
Chef Orazio decided we must try his Neapolitan pizzas so one was sent to our table. It was the Margherita with Mozzarella, San Marzano tomato sauce and basil, one of six on the menu. The crust was most tasty and flaked perfectly.
A full page of the menu is devoted to the beverages that Costero features. There are 28 wines by the glass and 48 bottles selected from almost all the major wine producing countries world wide. The beer equally large with six on draft , another 6 local crafts on tap and six bottled craft beers.
Our wine with dinner was a 2014 Rutherford Ranch Napa Cabernet Sauvignon.
Then it was time to look over the Dessert list. The Hazelnut Praline Napoleon caught our eye, also the Tarta Del Huerto with Tahitian vanilla gelato but the Chocolate-Pistachio cake won the day with us and was served with the vanilla gelato as well.
The service staff was attentive and most knowledgeable about the menu items and the wines. Our Waitress Veronica was perfect with our service and showed care in putting together my take home package.
Costero California Bar and Bistro is located inside Sheraton Gateway Los Angeles at 6101 W. Century Blvd., Los Angeles, Telephone 888 627-7104, web www.sheratonlax.com
Back to Table of Contents..

Last Update:10/1/16
&copy 2016 Joe Hilbers All Rights Reserved.
Graphic Design by Impact Graphics