"Los Angeles--In downtown L.A. we discovered Mexico's State of Queretaro and another wine road"
By The Editor
When we attended a preview on tourism in Mexico's State of Queretaro, it was truly a time of discovery for us and an educational experience on many subjects.
The closest we have ever been to Queretaro was San Miguel Allende which we were told is about a two hour ride by road further south.
For us one of the most interesting was our introduction to Mexico's second most important wine producing region. Today every wine region in the world has its very own wine road and yes there is one in the State of Queretaro as well. Here since the region is also famous for its cheeses, the route takes the name of the Queretaro Art, Cheese and Wine Route, in Spanish "Tour Ruta Del Queso Y Vino".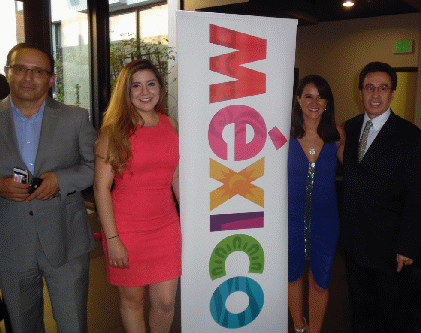 Two neighboring cities are included in this tour, Tequisquiapan and Bernal. These wineries and vineyards are billed as the mostly southerly in the Northern Hemisphere. And with the adjacent cheese production the region combines both.
The Don Chente Bar and Grill in downtown Los Angeles ,where the event took place, was perfect for tasting some of the wines produced there. We instantly recognized the name Freixenet, which has Finca Sala Vive brand there, but the other wineries were all new to us. The colorful label on Bodegas De Cote attracted the eye and the wines we tasted justified our attention. Its own vineyards produce varietals like Chardonnay, Sauvignon Blanc, Tempanillo and Malbec. We found the Tempanillo, we tasted, to be dark, bold and well made.
White wines are not neglected either. We tasted a Vina Dona Dolores Viognier that was very true to the varietal. A cabernet sauvignon from Delice Catembe was flavorful and tannins well controlled. A blend of red Italian varietals from Vinedos La Redonda we tasted was Sierra Gorda. Sparkling wines are being made in the region by Finca SalaVive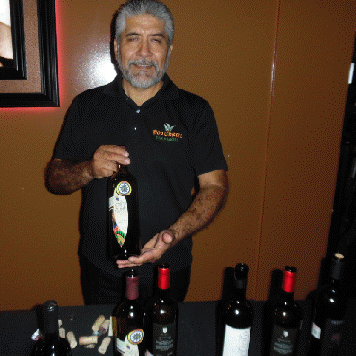 The tourist attractions of the State of Queretaro are varied with World Heritage sites like the Franciscan Missions in the Sierra Gorda and the Inland Royal Road. The region has many small picturesque towns and villages like Jalpan, Cadereyta, San Sebastian Bernal and Tequisquiapan.
Besides the Queretaro wines, we tasted the event also provided some of foods of the region which were served that evening along with the music of three guitars. Our hosts included Jorge Gemboa Patron, director in Los Angeles for the Mexico Tourist Board and Adolfo Barron Romero, director for Tourism in Queretano. The event took place at Don Chente Bar, Grill and Lounge located at 1248 South Figueroa Street in Los Angeles. Telephone 213 814-4865, web. www.donchenedtla.com.
Back to Table of Contents..
Last Update:10/3/16
&copy 2016 Joe Hilbers All Rights Reserved.
Graphic Design by Impact Graphics