"Culver City--Historic hotel retakes its prominence with complete makeover"
.. By Ronnie Greenberg
For its 90th birthday, a few years back, the historic Culver Hotel gave itself a monumental makeover. From a complete renovation of the 46 guest rooms and public areas and a brand new menu and Prohibition-inspired cocktail list, the iconic Grande Dame is looking marvelous with its vintage meets modern decor, all under the supervision of owner Maya Mallick.
In 1924 owner Harry Culver brought all the biggest stars, to come out to celebrate the six-story "skyscraper" the centerpiece of Culver City. It became a glamorous hangout for such A- listers as Clark Gable, Greta Garbo, Joan Crawford, Buster Keaton and Ronald Reagan. He also lured several movie studios, including MGM and Hal Roach Studio, famous for its Our Gang and Laurel and Hardy comedies. But the Culver Hotel is perhaps most famous for its association with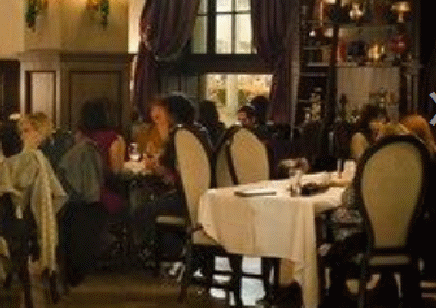 The Wizard of Oz. The legendary film was made in Culver City, and The Culver Hotel was home during production to nearly all of the 124 actors and actresses who played the Munchkins.
Legend has it that Charlie Chaplin who owned the hotel for a while, sold itto John Wayne during a poker game for $1.
Throughout the years it has seen many lives including falling into total disrepair, but now nearly nine decades later, The Culver Hotel again sparkles as the jewel of downtown Culver City, providing the ambience and service of a grand European hotel in a way that's casual and relaxed.
Also unveiled is an entirely new dining program offering something for everyone. "Because of the eclectic crowd we get, we created a similarly interesting set of dishes to satisfy every palate, The quality, flavor and presentation of food is very important here", says Mallick.
The all-new Prohibition-inspired food and drink menus, spear headed by Food and Beverage Director Louie Spetrini. includes separate breakfast, lunch and dinner menus and feature what he calls "modern takes on classic grand hotel dishes," along with shareable small plates and appetizers for the bar. Everything uses as many fresh and local ingredients as possible, and menus change seasonally. There's an amazing selection of wines, and a new cocktail list that features 18 Prohibition-era classics, all with a twist.
"The abundance of tasty fare that caters to both hotel guests and locals" says General Manager Seth Horowitz, "begins in the morning with The Culver Hotel's Daily Brunch." Favorites on the menu include: steak & eggs ;a bistro omelet; French toast made with thick-cut artisanal bread; eggs Benedict, the unique John Wayne , a hearty meal of roasted potatoes, ham, cheese, tomato sauce, fried eggs and a corn tortilla served up in a skillet; and the breakfast Culver burger comprised of a thick Kobe beef patty topped with a fried egg, charred onion and peppers, a zesty black pepper sauce and Huntsman cheese (a combination of creamy double Gloucester and tangy Stilton).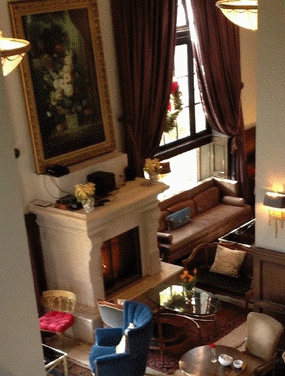 After Brunch, the menu switches over to an all-day menu, offering everything from salads and sandwiches to shareable plates and high-end entrees. Chef Samuel Vasquez offers an incredible bacon cheeseburger, as well as a variety of healthy vegetarian and vegan options. There's everything from a red organic quinoa salad to the Mediterranean influenced farro; Tuscan kale salad; sesame salmon poke; roasted pork loin panini; the house-made salmon burger; the unique creation of the turkey club and outstanding pastas.
Dinner is served daily with add on selections that include pastrami Reuben sliders; three cheese arancini; grilled Jerusalem artichokes; grilled lamb loin chop; pan roasted filet mignon; chicken fried cauliflower steak; day boat scallops and honey lavender glazed duck breast. Some of the yummy desserts are citrus panna cotta; plum jam turnovers; and chocolate almond Florentine.
The Happiest of Hours take place daily from 4-7 p.m. Clinking glasses is the best way to start a fun night with an assortment of tasty appetizers, along with a dazzling menu of beer, wine and cocktails.
Tea for Two or Two for Tea served in the Grand Lobby features delicious scones, tea sandwiches and more. Reservations are required.
Take some time to check out the quirky designs throughout the hotel including a giant empty picture frame hanging askew in the lobby; the Wizard of Oz-inspired emerald velvet chair with a ruby pillow in the entrance staircase; the ongoing old-time movies in the dining room; and the newly renovated second floor meeting and event space, where you can see Harry Culver's office and his huge walk- in safe called "The Vault," (now a bar for special events).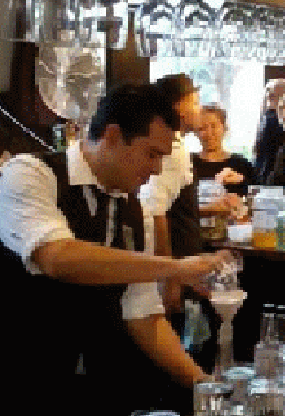 The Culver Hotel's Kitchen is open weekdays from 7 a,m. to 10 p.m. Bar 7 a.m.to 12 a.m . Brunch is available on weekends from 7 a.m. until 3 p.m. There's live jazz every evening from 7:30 p.m. to 11 p.m.
The Culver Hotel is located at 9400 Culver Boulevard in Culver City, Phone (310) 558-9400 or www.culverhotel.com
Back to Table of Contents..

Last Update:10/12/16
&copy 2016 Joe Hilbers All Rights Reserved.
Graphic Design by Impact Graphics