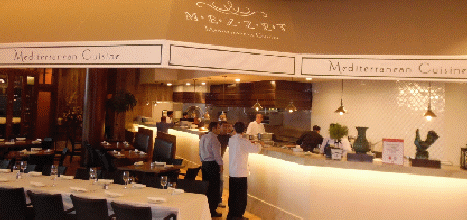 'Costa Mesa--Mezzet shows exciting Mediterranean Cuisine at South Coast Plaza"
By The Editor
The shores of the Mediterranean Sea encompass some of the earliest known civilizations and the number and types of cuisines that developed over the centuries engulf ones imagination. So when we met Colin Colville, Executive Chef, of the newly opened Mezzet featuring Mediterranean cuisine we had a good deal to talk about.
Colin is responsible for the exciting menu now featured at Mezzet which is located in Costa Mesa's South Coast Plaza. He pointed out that beginning with the Middle East there is Turkish, Lebanese, Greek, Italian, Spanish and Morocco cuisines that all can properly be called Mediterranean cuisine. We also chatted with Proprietor Wally Nasser who has long experience as a restaurateur.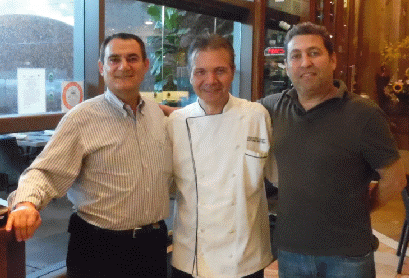 The menu Colin created for the recent dinner of the Academy of Culinary Professionals demonstrates what the Mezzet kitchen staff, headed by Chef Anthony Mattina, can produce.. We have known Chef Mattina from some of his past culinary exploits.
The Academy, now in its 17th year, is based in Orange County with Impresario James Woodin heading the group and each month seeking a fine dining Southern California restaurant. Over the years we have attended many of these Culinary Professional events and some of its members have become good friends.
The Mezzet dinner was entitled "An Exotic Culinary Spin Through the Tastes of Spain, Lebanon, Italy, Greece and Morocco".
Appetizer was Hummus of chicken puree, Tahini, lemon and olive oil and Baba Ghanoush, smoked eggplant and Tahini. Next a Caprese salad with heirloom tomato, Buffalo Mozzarella, basil, olive Tapenade and oil followed by Fattoush, a Lebanese garden salad with Romaine, tomato, cucumbers, mint, scallions, green bell peppers, radish, sumac, pomegranate molasses and lemon dressing. Our pasta was Rotolo Di Ricotta, rolled pasta filled with Ricotta cheese and spinach on a bed of tomato sauce.
Still to come was a combination skewer plate with Lamb Kafta, chicken skewer filet with al dente vegetables and potatoes. Our dessert Sponge cake with Pistachio and chocolate mousse. The regular menu shows many appetizers, nine pastas, eight salads and six pizzas besides fire grille entrees like Moroccan Tagine with a choice of lamb, chicken or veggies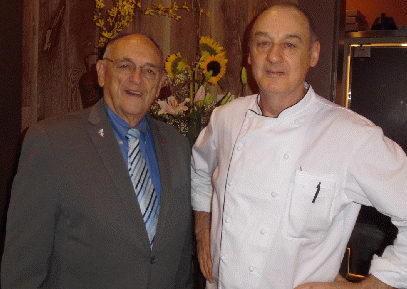 Mezzet includes a comfortable bar and lounge with a Happy Hour Monday thru Friday from 3 to 6 p.m. The wine list is extensive, some from California vineyards, others from countries world wide, with many available by the glass.
This restaurant, which is located in the open end of the north plaza, offers an ambiance and airy atmosphere of a sidewalk facing old world restaurant, but with the controlled, always comfortable, temperature of the Mall.
Mezzet is located at 3333 Bear Street # 118, South Coast Plaza, Costa Mesa. It is open daily for lunch and dinner. The restaurant is named for Middle Eastern small plates called "mezze". Parking in the Mall is free and no time limit. Telephone 714 540-3365. web www.mezzetsuthcoastplaza.com..
Back to Table of Contents..
Last Update:10/14/16
&copy 2016 Joe Hilbers All Rights Reserved.
Graphic Design by Impact Graphics