"Greater Phoenix--We could not get enough of the Wigwam Arizona Resort"
by Joe Hilbers
Our recent exploration of the Greater Phoenix area was truly a memorable experience and one of the most unforgetable was our stay at the Wigwam Arizona Resort located at Litchfield Park.
From the moment on arrived we were captivated by the classic Spanish southwest architecture, beautifully maintained grounds and boundless space it offered. Once registered, there was a guide in a golf cart we followed to our room which was almost a separate building with a parking spot for the car steps away.
He explained there was a front door for entry and a back door for convenient car unloading. By the front door was a private patio with table and chairs. Inside the room were two queen size beds, a huge bath with both walk in shower and huge tub, a walk in closet as well as a bar with counter, sink and refrigerator.
The early Spanish southwest theme of Wigwam is carried on to room decor and open beamed ceilings.
When we travel by our own car we always like to keep it as close to us as possible since there always seems to be one more thing that was not unloaded into the room. So having the car just outside the door of our suite was a true plus for us.
Over many years Wigwam Resort has earned a five star rating and soon after our arrival we had no reason to question that. The next thing we learned about Wigwam was its huge size and, with three championship golf courses, appears to take up a good portion of Litchfield Park which is principally a high end residential area of Phoenix. These golf courses are a dream come true for golfers, each with its own challenges especially the Gold course.
When it comes to food and beverages Wigwam has many options including its fine dining Litchfield's, then the more casual Red's Bar & Grill and for outdoor patio lovers the Tower Pool Bar & Grill.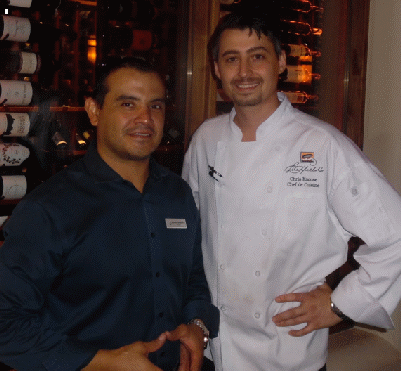 We enjoyed two dinners that could only be called a gourmet's delight. One evening it was at Litchfield's, the upscale dining room where we met Ricardo Camarillo, food and beverage manager, and Chris Knouse, chef de cuisine. The menu stresses farm to table and local produce and offers a large number of steaks.
While attacking a Caesar salad we noted the open kitchen equipped with a wood flamed grill. This served notice that the steaks were cooked over open flame, prepared just the way we like them . So we ordered the smaller of two filet mignon listed and it arrived perfectly done medium rare as ordered. My dining partner ordered the filet mignon but also foie gras which was served atop the steak. Also on the plate was a uniquely prepared mac and cheese and fresh asparagus. Our wine, chosen from a very large selection, was 2012 Columbia Valley Genesis Meritage which we found excellent.
The dessert menu was most tempting, especially the bread pudding, but we were done for the evening.
Wigwam also offers a wine dinner series. As it happened one was scheduled during our stay. These are four course dinners especially prepared by Chef Knouse designed to match each course with a separate wine. Beringer wines were featured the night we attended and we sat next to Cliff Schupbach of Treasury Wine Estates who described each vintage.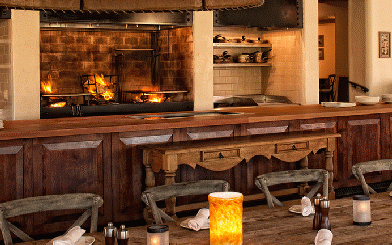 Opening was Yellowfin Tuna with sour orange, avocado, tobiko and soy. The wine 2014 Luminus Chardonnay from Oak Knoll, Napa. We noted to Cliff that we detected some oak and he agreed saying some of the vintage was fermented in oak.
Next was White Pekin Duck with forbidden rice, celery, coconut and molasses. The wine 2013 Beringer 'The Waymaker" Red wine from Paso Robles appellation.
The third course was Kurobuta Pork tenderloin with sweet corn, chile and blackberry. The vintage served was 2012 Sonoma's Knights Valley Valley Reserve Cabernet Sauvignon. Cliff explained that Beringer, while still based in Napa, has acquired vineyards both in Paso Robles and Sonoma as well. Fourth course was Cedar River Ribeye with yukon gold potatoes, parsley and balsamic. The wine equalled this tasty steak, Beringer 2012 Private Reserve Cabernet Sauvignon from Napa.
Dessert was peach cobbler pound cake and Chef Chris Knouse then appeared to acknowledge the appreciation of the seventy five, mostly local, wine lovers in attendance.
The Wigwam has already announced the 2017 schedule for the highly popular wine dinner series.
The only thing that could have improved our Wigwam visit was to have stayed longer. We loved the place and want to return.
Back to Table of Contents..
Last Update:10/18/16
&copy 2016 Joe Hilbers All Rights Reserved.
Graphic Design by Impact Graphics