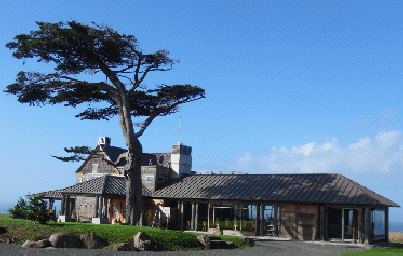 Mendocino County--Inn at Newport Ranch captures wonder of coast and forest"
By The Editor.
Visiting and enjoying nature's scenic wonders has often required some discomfort and been associated with a separation from personal amenities. But on a visit to the Inn at Newport Ranch we discovered that these concepts are just past history. For here situated on a bluff above the restless Pacific Ocean is a resort that offers comfort and indeed luxury for its guests. Inspired by the history of its location the lodge, suites and rooms have been carefully crafted from the materials that are produced within a short distance.
The Inn at Newport Ranch is located just a few miles north of Fort Bragg on Highway One as it follows its scenic route along the Pacific Coast. It's 2000 acres include rugged coast land as well as inland timbered mountains with a grove of redwoods. The Inn is new, open one year, but its location lies on ground that contains the region's early history. For in the 1800s two coastal logging towns, Newport and Kibesillah, were thriving communities in this part of Mendocino county.
Upon our arrival we were met by Manager Evan Manly who first allowed us to tour the lodge with its commanding architecture, carefully crafted wood interior and elegant rooms. These included a lounge, library, and dining room, all furnished to match the logging history of the region. Much is in glass so views of both the rugged coast on one side and the rising timbered mountains on the other, are always to be enjoyed.
Then Evan handed us the key to our suite, located in a separate building. Called 'The Grove' it included a large lounge with fireplace, two bedrooms, each with complete bathrooms, a fully equipped kitchen, and both indoor and patio dining areas. The lounge is all in natural woods with the ceiling supported by tree trunks still with their natural coating of bark. Every room offered views of the surrounding countryside.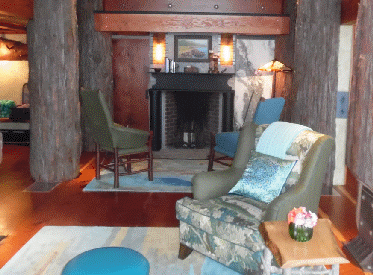 After settling us in Evan announced that dinner would be served at 7 p.m. at the main lodge. As it happened other guests had departed that morning and others due the following day, so the two of us would be the only ones at dinner that evening. Dinners at the Inn are optional and must be ordered in advance with a visiting Chef. He is Sterling Thomas, who resides at nearby Fort Bragg. Native to the North Coast, Sterling traveled widely as a chef before returning to his home town. So that evening my partner and I sat in splendor at the lodge before a crackling fireplace while Chef Sterling presented us with a dinner that opened with a spinach salad with grape tomatoes. Our entree was filet mignon with a distinctive wine sauce, prepared perfectly medium rare as ordered. With the steak carrots, mushrooms, beans and fried potatoes, all prepared al dente. Our wine was a W H Smith 2013 Pinot Noir from the Sonoma coast. Then a specially prepared dessert entitled 'Brownie Love'.
Before retiring after this feast, Evan announced that we were due to take a guided tour of the entire property the following day on a ATV.
Breakfast is served to all guests and as we arrived at the lodge the next morning were met by Inn Managers Creighton & Cindi Smith. As we enjoyed a huge breakfast of scrambled eggs with cheese, bacon, sausage and sweet rolls Creighton told us how the Newport Ranch was created.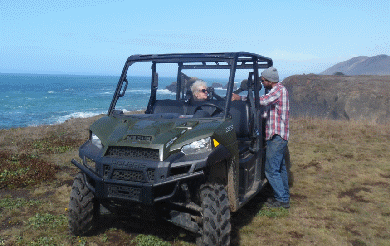 The owner is Will Jackson who was born and still lives in Connecticut. Will may be an Easterner but has always had an interest in the outdoors and his country's early history. In 1985 he saw an ad offering for sale an 850 acre ranch in Mendocino County, much of the land stretching along the coast line of the Pacific Ocean. After a visit to see it all for himself the sale was made. Then over some years he continued to purchase parcels of property that bordered his so that it now includes 2000 acres with over one and one half miles of land along the coast.
Over a period of fifteen years a plan was made to build the current Inn so family and guests could enjoy both the coast and the timbered mountains inland while preserving it. This finally came to past and the Inn opened last year and since has achieved much national attention.
We were fortunate to have a bright sunny day for our ATV excursion with Manager Even at the wheel. Our route first took us to points along the coast that have a unique history. The region was originally settled to harvest the timber but means had to be made to ship it south to San Francisco which was growing rapidly. This coast has no natural harbors so at some rocky points cable chutes were devised so schooners could take aboard the timber while hovering close to shore. Seeing where these chutes were located was an interesting experience since off shore many reefs and rocks are to be seen.
Inland our ATV tour followed trails that had once been made by the loggers as they harvested massive amounts of redwood and Douglas fir trees. One such trail led us to the open areas where the towns of Newport and Kibesillah once stood. They have now completely disappeared but the cemetery with the graves of many of the pioneering families still can be visited. As we stood in the open meadow it was hard to picture that this had once been a bustling center for loggers and townspeople perhaps now captured best in some Hollywood Western film. Now the forest is reclaiming its past in part due to the policies of its present owner. Our two hour tour covered 10 of the 20 miles of trail now available at the ranch. Our guide, Evan was must knowledgable and explained how redwood trees can regenerate from the roots or even downed trees and showed us examples as we moved through the forest. Over the last one hundred and fiify years this forest had been logged over twice but now the new growth of both Douglas Fir and Redwood trees is most impressive.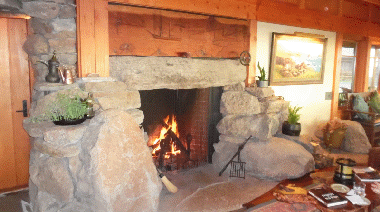 Some timber was harvested in the making of the present Inn and Creighton Smith pointed out to us that wood for the entire floor of the lodge was milled from a single redwood tree.
Each evening guests enjoy, from 6 to 7 p.m, a wine and cheese event in the Lodge dining room. We took advantage of this event to taste some of the local wines from the nearby Anderson Valley as well as some Sonoma coastal vintages. Here one evening we met new arrivals, two couples who were also from Southern California and discovered we had much to talk about.
We found the staff ready to please but unintusive, leaving us to enjoy the surroundings with its relaxed atmosphere. This is the kind of place where one can sit for long periods of time looking at the ocean or perhaps the evening sky as first Venus and then Mars appeared in the clear air. Here one can get as far away as one wants from a crowded world.
The Inn at Newport Ranch is located at 31502 North Highway 1, Fort Bragg, CFa. 95437. Telephone 707 962-4818, web www.theinnatnewportranch.com. The website is most informative and includes excellent photographs of the Inn and surrounding courntryside.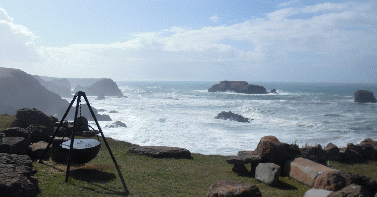 Back to Table of Contents

Last Update:10/25/16
&copy 2016 Joe Hilbers All Rights Reserved.
Graphic Design by Impact Graphics