Lake of the Ozarks"
.. By Jeanne Bartlett
It is hard to believe that there is a more picturesque setting for a winery than that of Seven Springs Winery and Vineyards. The owner, Mike Bleile, disclosed that he purchased these 160 acres and carved out the facility from scratch. The owner has included not only the vines and winery property but an inviting patio area. This area features umbrella and comfortable chairs next to a fence composed of metal grape clusters interspersed with red brick columns. You can enjoy your wine and catch stunning views there or on the spacious covered veranda. If wine is not your thing they serve a few micro-brews
Once you are settled, take a look at the lengthy list of wines you can try. Since the temperatures can reach 82-84 degrees in the summer months, best not to try all ten. The helpful servers are knowledgeable and can guide you if you would like some hints on what to try. Your choices range from the Chardonel, a hybrid varietal fruity white wine, to the Seven's Red Heaven, a sweet, deep plum-color favored by the locals. The Norton, a varietal indigenous to North America, might be an option to please a west coast palate. While enjoying the wines why not try some the Nibblers or Light Fare. To pair with Chardonel they recommend the Lump Crab and Brie Quesadilla topped with green onions and a side of fresh mango salsa. For the Seven's Red Heaven they suggest the Meat and Cheese Platter with sliced summer sausages with aged cheddar cheese, crackers and Crostini.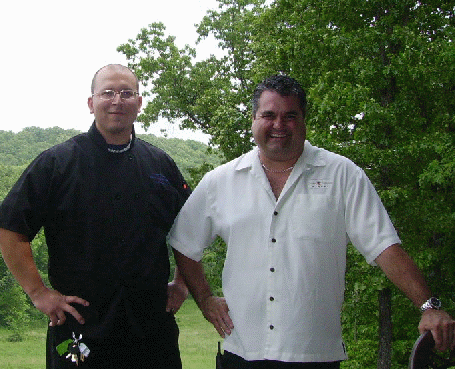 The food that is available is really outstanding. For more hardy meal try Chef Josh Juarez's Spicy Shrimp and Crab Bisque with wild bay shrimp, lump crab, herbs and cayenne in a rich cream sauce. Add to that a whole wheat wrap of either Cranberry and Curried Chicken salad of Turkish-style chicken with dried cranberries, toasted almonds, onion and a mild yellow curry or the Beef Bourguignon wrap of roast beef with onions and mushrooms sautéed in Norton red wine.
To further your enjoyment there is Sax on the Beach. Bill Ehelebe is the Sax of Saxophone and keyboards and Haley Powers entertains with vocals and guitar. They make a great team and in the summer of 2011 they will be playing every Friday evening and Saturday and Sunday afternoon. Listening to Haley we suggested that she might want to try for American Idol but she reported that she had already registered for the next trials.
Just looking around the property you knew they offer locations for weddings, parties and special events. If it is a catered food you are interested in, it is prepared on site.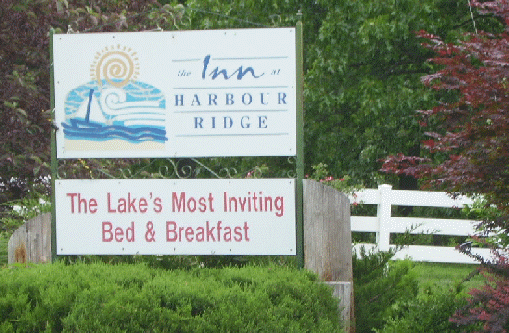 Seven Springs Winery and Vineyards is located in Linn Creek MO, 65052. between Camdenton and Osage Beach. Phone: 573.317.0100. To get exact directions go to the web site, www.sevenspringswinery.com. The winery shuttle bus offers pick ups from the lake area for a maximum of 14 guests for a charge of $10 per person.
The Inn at Harbour Ridge in Osage Beach, Mo., really does have it all! Sue and Ron Westenhaver, the owners and innkeepers, have thought of everything a guest could want and have it ready for you. First, they found the perfect setting in Missouri's picturesque Lake of the Ozarks country. The Inn overlooks a peaceful cove on the lake. When the weather warms up you might see squirrels or a mama deer bringing her twins to stroll in the garden. After you have experienced the great outdoor setting, discover the fireplace in your room, a twosome-tubbie (whirlpool tub in the suite), or step outside and luxuriate in a private hot tub under the stars. When you have relaxed, get ready to curl up in a feather bed with super-fine linens.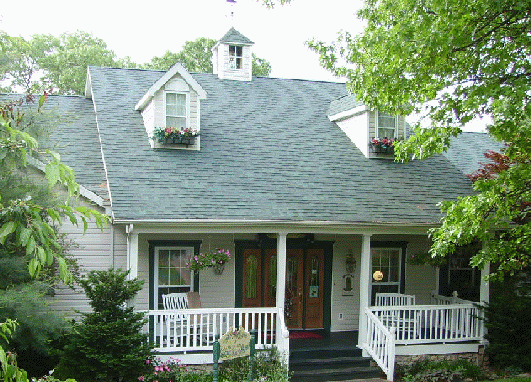 Each of the four rooms has been given a clever name. If it is a wedding, anniversary you could settle on the "Love Nest." Check out the rooms named "Uncle Bill's Place" or "Captain's Quarters," as they could be for a promotion or graduation. "Happily Ever After" is for a wedding or vow renewal, or even a special rendezvous. The "Roll in the Hay" guest cottage is listed as being a super-secluded zone, possibly for a ladies' fun and shopping getaway or if you are altar bound you could stay there and do it up right with a lake wedding.
Besides guest rooms, there is a large "common area" downstairs in the main house where guests may sit in front of the fire, read books from the library, play games from the well-stocked supply or enjoy choosing music to their liking. This area has been dubbed the 19th Hole, possibly for having a bar with lots of popcorn and a frig stocked with sodas, tea and ice.
The Inn won an award as "Missouri's Lake of the Ozarks Most Romantic and Inviting Bed and Breakfast Inn." Its weddings come in all sizes and packages. The ceremony can take place on the lawn, in the gazebo, under the garden arch, or by the fireside in winter. When you see a picture of the gazebo decorated with tulle, festive ribbons and silk roses surrounded by tall trees, their leaves fluttering in the breeze, a gazebo wedding is hard to resist
The Inn may shine for its wedding capabilities but I can vouch from personal experience that it is tops in the culinary department – and it was mentioned for that reason in U.S.A. Today. Sue serves "breakfeast," not plain old breakfast. I was lucky enough to get muffins that announced themselves with heavenly aromas. They were served with a pear poached in port wine, followed by Sue's specialty baked Cinnamon French Toast and a perfect, thick slice of Pork Roast.
Sue and Ron call themselves the "new kids on the block," having opened Valentine's weekend in 2000, and classify their contemporary setting "country nautical." Of all their awards, they most cherish the comments left by their visitors. The New Kids have done it up right!
The Inn at Harbour Ridge, 6334 Red Barn Road, Osage Beach, Missouri, 65065. Telephone toll free: 877-774-6020.
Back to Table of Contents..

Last Update:6/1/11
&copy 2011 Joe Hilbers All Rights Reserved.
Graphic Design by Impact Graphics