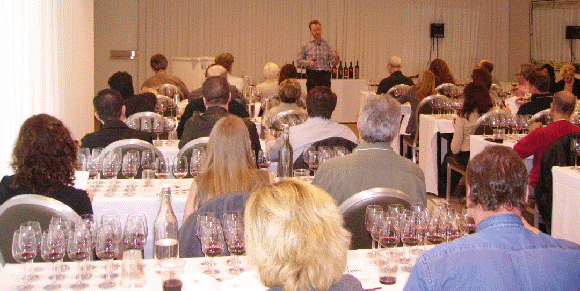 "Old vines of a unique varietal make Toro Spanish wines exciting"
By The Editor

Our world of wine expanded once again when we attended a seminar and tasting to introduce the wines of Toro. Officially called Consejor Regulador D.O. Toro, the wines originate from an area of northern Spain called the Duero River valley. For hundreds of years the grape grown here is Tina de Toro which adopted over much time from Tempranillo due to the unique terroir of the region.
Representatives from 14 Toro Bodegas were on hand at the SLS Hotel in Beverly Hills to show their wines. Our seminar was conducted by Master Sommelier Fred Dexheimer who led us through a tasting of 14 wines all made from this Tina de Toro grape.
What is particularly interesting about the Toro grape is that the vineyards have withstood the test of time surviving the phylloxera and just about everything else. Today there are 1200 growers of the Toro grape supplying 51 wineries. Many of these vineyards are over one hundred years old and we tasted wines made from these vineyards.
All fourteen wines served to us that memorable day were made from the Toro grape but the differences between them was amazing. Here was a perfect example of how much influence the type of barrel makes on a wine. Some were aged in American oak, others in a mix of French and Hungarian oak and others in new French oak. And we tasted one that was made completely in stainless steel.
A characteristic of the Toro grape is that the wines enjoy a long life and some of the winemakers leave a vintage in the bottle for five years or more before release. Toro wine is deep in color and intense in aroma with complex flavors and texture. Most of the wines range from 13.5 to 14 per cent alcohol but a few at 15 per cent. We thought Toro wines bold and hearty, some even powerful.
Greeting us was Jose Amancio Moyano Munoz, president of the CRDO Toro group of 50 wineries. The Toro region has enjoyed a huge increase in wineries in just two decades, actually from five wineries in 1990 to fifty today. Most own some vineyards and buy the rest from the twelve hundred growers mostly family operated. The average age of these vineyards is fifty years but we tasted wines made from vines 80 to 100 years old.
After the seminar Spanish Tapas were served. Some white wines are produced in the region and we tasted one, a Bodegas Farina 2009 Malvasia. But with Toro wines thing red. To us they represented true value with exceptional quality and very moderate pricing. After this day we were ready for another trip to Spain.
Back to Table of Contents..
Last Update:6/9/11
&copy 2011 Joe Hilbers All Rights Reserved.
Graphic Design by Impact Graphics