"Tustin==Culinary Arts reign supreme at The Winery
.. By Joe Hilbers
Orange County has long had a tradition of outstanding restaurants and fine dining. Now add The Winery Restaurant & Wine Bar to this illustrious list. Located at The District in Tustin The Winery is a showplace restaurant offering a memorable dining experience. Four men, all with long culinary backgrounds, have made this happen.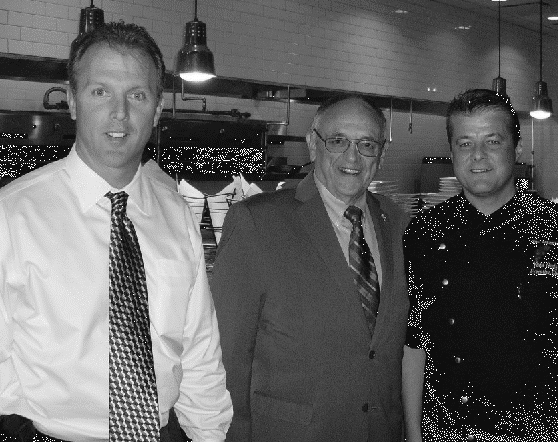 Upcoming Event--Planning for an upcoming dinner of the Academy of Culinary Professionals took place at The Winery recently. Shown left to right are Partner JC Clow, Jim Woodin of A.O.C.P.and Executive Chef & Partner Yvon Goetz.
There is JC Clow, general manager who you will find as often as not acting as host. Then there is William Lewis, Sommelier and Host, who is responsible for the wine cellar with its sixty seven hundred wines from 13 different countries and five continents. Heading the culinary staff is Executive Chef Yvon Goetz who was named Chef of the Year by the Southern California Restaurant Writers in 2004 when he was with the Ritz Carlton in Dana Point.. Overseeing the elegant bar and lounge is Patrick Quinn whose experience is counted in decades. Captain of the dining room is Bryan 'Spike' Bradford.
For the visitor to The Winery all this points to an exciting dining experience. In ambiance The Winery offers a casual California atmosphere with both indoor and patio dining.. It is a large restaurant that can seat 220 people using both the patio and dining rooms.
The outside patio seats up to 45 people and is often used for special events like winemaker dinners, which are held five or six times a year, as well as private parties.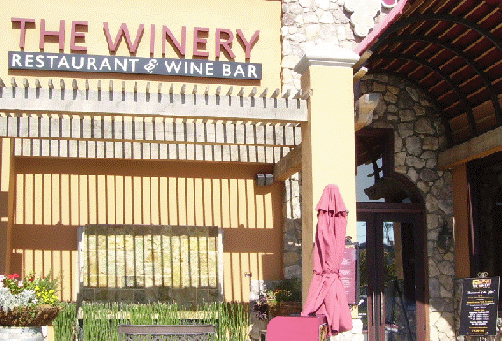 At The Winery Chef Yvon shows a California regional menu that relies for much of its produce from local Farmers Markets. Besides traditional steaks the menu shows an interesting choice of wild game including venison, buffalo, elk, rabbit, squab and quail. All food is prepared in an exhibition kitchen and if you wish to watch the culinary staff in action there are several tables available to do just that. The pairing of food and wine is given much attention here especially with the wild game entrees.
We also liked the idea of listing 'Sommeliers Proposals', suggested wines with entrees on each day's menu. Currently there are thirty three wines available by the glass and William explained that these do change with the season, additional light wines added for summer. Our first visit to The Winery was for a leisurely lunch that lasted a full two hours. That day the dining room was filled and we noted many of the other diners were also enjoying an extended break in the day. Chef Yvon has daily specials and often interesting innovations for luncheon. We opted for the three course lunch. Our waiter, Lou Miron, like all the wait staff we observed, was friendly, helpful and skillful and deft in cleaning up for two sloppy eaters. But the freshly baked, piping hot rolls did make some crumbs.
We opened with a Winery House Salad which included organic greens, candied walnuts and roquefort cheese. Also beef tenderloin brochettes with a bean salad. For the main course we ordered both the Corkscrew pasta and the Hawaiian Mahi-Mahi so we could taste both. The pasta came with grilled chicken, baby artichokes, oven dried tomatoes and basil pesto. Actually we were rather reluctant to share it with our dining partner. However the chili-lime rubbed Mahi-Mahi, which arrived with Jasmine rice and a lemon Gewurztraminer butter sauce, was shared with me most generously by my partner.
And yes we must confess to having dessert too. It was mango-chocolate chip creme brulee with a chocolate fleur de sel cookie. Hey, like we said, it was a leisurely lunch.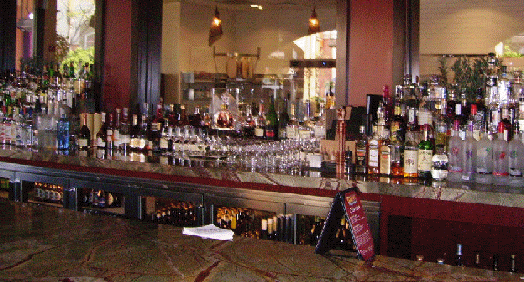 All of this also gave us time to talk with Patrick about his outstanding selection of spirits, scotches, bourbons and vodkas with proud names as well as Crush Hour at the Wine Bar which takes place late afternoons and evenings six days a week.
And of course we just had to see the wine cellar, temperature controlled, and proudly shown to us by William Lewis. In this restaurant wines are offered in seven different wine glasses depending on the varietal being served. On request the ordered wine will be decanted at the table by the Sommelier or Waiter.
At The Winery the customer comes first. Here the valet parking is free at lunch and at any time when you leave the restaurant your car is already at the door.
The Winery is located at 2647 Park Avenue in the District located at Jamboree Road and Barranca Parkway in Tustin. Hours for lunch are 11:30 a.m. to 3:30 p.m. Monday-Friday, Dinner Sunday-Thursday 5 p.m. to 10 p.m., Friday & Saturday 5 p.m. to 10:30 p.m. Reservations 714 258-7600, Website www.thewineryrestaurant.net.
Back to Table of Contents..

Last Update:6/1/11
&copy 2011 Joe Hilbers All Rights Reserved.
Graphic Design by Impact Graphics