Nova Scotia--Its wineries and vineyards have come of age and are flourishing
By Joe Hilbers

When we first visited Jost Vineyards 16 years ago winemaking with grapes was a new concept in Nova Scotia. Jost was one of only two vintners producing grape wines in the Province. When we returned to Nova Scotia recently we discovered vast changes not only at Jost but with the wine industry as a whole.
Now there are thirteen wineries with two distinct vineyard regions and thirty commercial grape growers. Jost Vineyards has flourished along the Northumberland Strait while most of the other vineyards and wineries are located in the Annapolis Valley and the Gaspereau Valley. Both enjoy unique terroirs for vineyards thanks to the soil and climate effects of the nearby waters of the Bay of Fundy.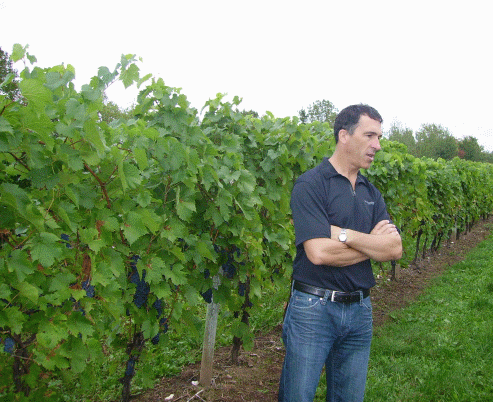 The Jost family, when they immigrated from the Rhine Valley to Nova Scotia in 1970, brought with them a four century background as vintners and planting wine grapes in Nova Scotia was a new concept. Now as we stood with Hans Christian Jost in a lush vineyard of Marechal Foch with every vine heavy with berries, still a few weeks from harvest ,we marveled on how well both Jost and a new industry were flourishing. Hans then took us on a tour of the winery while the bottling line was in full operation fulling bottles with red table wine. Then we were treated to a tasting on a beautifully covered grape vine patio of Josh wines now featured in Canada and Japan.
Over the years Jost Vineyards has won some 200 awards for its wines including being named once "Canada's Wine of the Year". Six major varietals are At our tasting of Jost wines we were intrigued with the Muscat grape as it grows in Nova Scotia. Jost's Eagle 2008 Muscat had great muscat aromas but on the palate the wine offers a crisp dry fruit flavored finish.
Another grape, Marechal Foch, a French red hybrid, also does particularly well here and we gave high marks to Jost's 2007 vintage which enjoyed a full year in French oak and offers full aroma and rich, even hearty flavors. Ice wines are produced in Nova Scotia and the ones we tasted were all excellent and much of it is exported to Japan. At Jost we tasted the 2008 Ice wine produced from the German Ortega grape. An ice wine is also produced from the Muscat grape.
On the web at wwwjostwine.com Another showcase Nova Scotia winery we visited was Domaine De Grand Pre which is located in the Annapolis Valley. This is the creation of a Swiss immigrant who moved to Nova Scotia in the late 1990s with the express purpose of becoming a vintner. He acquired a neglected property and since opening it the late 1990s has made Domaine a property with producing vineyards and tasting room equal to any found in California as well as a three star restaurant named Le Caveau. Hanspeter Stutz is owner and his son, Jurg Stutz, winemaker.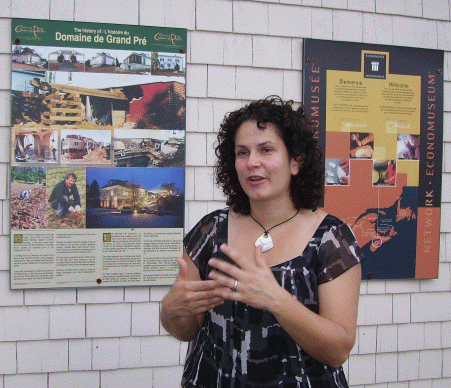 Cacilia Stutz-Spirig, Jurg's wife, was our guide as we toured the vineyards located on rolling hill terrain. We viewed a vineyard of Seyval Blanc, a white wine that does very well in Nova Scotia. The vines were heavy with fruit ready for harvest, in just about a week Cacilia assured us, with the first grapes marked for Domaine's sparkling wine.
Then we moved to the showplace tasting room where Cacilia took us through some of Domaine's vintages. Starting with Champlain Ice Cuvee, a sparkling Brut made with L'Acadie Blanc and Seyval Blanc grapes, it offered tiny bubbles and a dry fruit finish and is produced methode champenoise. Next was Vintner's Reserve L'Acadie Blanc, a crisp dry white wine that was finished in oak. Acadie is the name that was given to the region by the first French settlers. Vintner's Reserve Castel is a red wine that had six months in American oak. It is a hearty red with bold flavors and a long finish. Jurg Stutz is producing many wines including sparkling, table, dessert and ice wines as well.
Our review of Le Caveau Restaurant appears with Vittles story on Nova Scotia dining. Find on the web at www.grandprewines,ns,ca Located in the Gaspereau Valley is Gaspereau Vineyards which opened in 2004. The vineyards at Gaspereau present a lovely rural scene in rolling hill country with some of the vines growing on hillsides cleared of forest.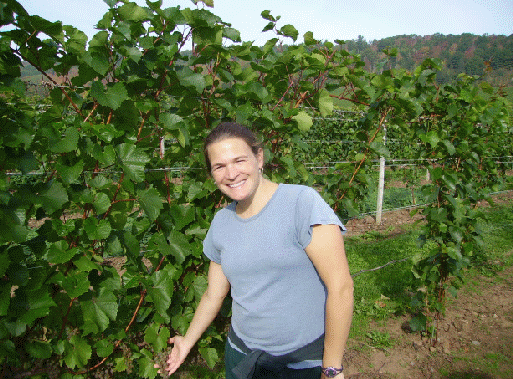 Gina Haverstock, Gaspereau winemaker, was there to greet us and she is a remarkable person. Her credentials as a winemaker are many since she has a University trained knowledge of the technical aspects of her profession as well as experience in Napa, Germany, Australia and New Zealand. Her enthusiasm in presenting the wines was exciting.
The wines we tasted included a 2009 L'Acadia Blanc, which was a gold medal winner; a 2009 Seyval Blanc and 2009 Rose, an excellent 2009 Muscat, with the familiar Nova Scotia dry finish as well as Crescendo sparkling wine. A red varietal Lucie Kuhlmann 2007 Castel was interesting with a mild aroma but bold taste. The Ortega Vidal 2008 Ice Wine was outstanding. The winery has a delightful tasting room and outdoor patio for viewing the vineyards.
There is no question that the Nova Scotia wine industry is going to continue to grow and produce quality wines. Vintners and growers have the full cooperation of the Provincial government to increase the number of wineries in the future and probably double the amount of vineyard acreage. This year's harvest was the best in history and almost all was sold to local wineries. Hans Jost was quoted as saying it was the best harvest in forty years. Moderate pricing of the wines has encouraged marketing and local restaurants are very loyal in promoting Nova Scotia wines. Ice wines in Nova Scotia, which are harvested in the coldest days of December and January, are of high quality and enjoy popularity locally as well as an export to Asia.
We were much interested in the varietals being grown in Nova Scotia and the wines they were producing. We learned with some research that varietals like Marechal Foch, a red and Seyval, a white, are French-American hybrids that were developed specifically for a more northern climate and are also planted in the Finger Lakes region of New York. The ice wines that so impressed us were generally produced from Ortega, a German native.
All three wineries we visited, Jost Vineyards, Domaine de Grand Pre and Gaspereau Vineyards, received gold awards at the Atlantic Canadian Wine competition conducted by the Canadian Association of Professional Sommeliers just a few weeks after our departure.
Back to Table of Contents..
Last Update:6/1/11
&copy 2011 Joe Hilbers All Rights Reserved.
Graphic Design by Impact Graphics