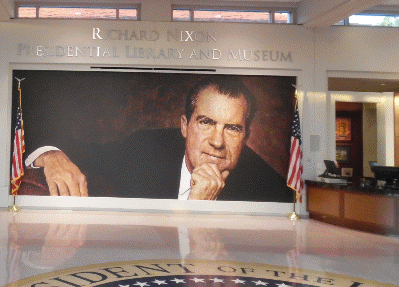 "Yorba Linda--The President Richard Nixon Presidential Libary reopens with much new to enjoy" By The Editor
.
We chose a perfect Fall afternoon to visit the Richard Nixon Presidential Library which recently enjoyed a make over, one of several that have taken place, since its opening in Yorba Linda in 1990 at the site of President Nixon's birthplace.
For here exhibits offer a sweeping historical view of the 20th Century. The Library complex includes nine acres of historic galleries, the Pat Nixon amphitheater, beautifully kept gardens with all flora and fauna labeled as well as the house built by the President's Father, Frank Nixon, and where Richard Nixon was born.
In today's world it is highly unusual for someone to be buried just a few yards from where they were born but that is the case here. For the graves of both Richard and his wife, Pat, are just a few steps from the house where he was born and spent the first seven years of his life with his parents and three brothers. P>A tour of the house is a step back in time to the first decades of the 20th Century and illustrates so very well how average Americans lived at that time. Much of the furnishings are as they were when the Nixon family resided in the house. In front of the house is a magnificent California Pepper tree planted by Frank Nixon in 1912.
The Galleries are an illustrated history of some 50 years of the last Century tracing Richard Nixon's political career as first a congressman, then as Vice President with Dwight Eisenhower's eight years in the White House and finally his election as President. An excellent film depicts some President Nixon's accomplishments as well as how his whole political career was a series of ups and downs.
Included in the galleries is a recreation of the Lincoln Room of the White House which was President Nixon's favorite with its fireplace, classic furnishings and the desk where he wrote many of his speeches in long hand. Another room is a duplicate of the famed Oval Office at the White House. Here visitors are allowed to sit at the desk. While we were there two young girls, both below teen years, took turns sitting at the desk. We had to wonder if perhaps some day one of them would be sitting in that office in Washington.
One gallery is devoted to Watergate with a timeline narration of developments as they took place. Pat Nixon, as a much admired First Lady, is the subject of a gallery as well showing glimpses of her life in the White House and her work as an 'Ambassador of Goodwill'.
Another gallery has life size statues of 10 world leaders including General Charles LeGaulle, Winston Churchill and Chairman Mao.
There is a special exhibit at the Museum celebrating the opening of diplomatic relations between China and the U.S. on President Nixon's visit to China in 1972. Called "Journeys to Peace" it chronicles the events of President Nixon's visit to China and his meetings with Chairman Mao Zehong and President Jiang Zemin of the Peoples Republic of China.
Included is a recreation of the White House East Room. The East Room is the largest in the White House and is traditionally used for large gatherings, White House Balls and important treaty signing ceremonies. Early on the East Room served as offices for President Jefferson and his secretary, Meriwether Lewis, later to lead the Lewis and Clark Expedition and open the West to the new nation.
The East Room at the Yorba Linda Center is complete with furnishings much like the original as well as life-sized portraits of George and Martha Washington. We recall that we attended two Award Dinners of the Southern California Restaurant Writers in that room since it is available for private functions.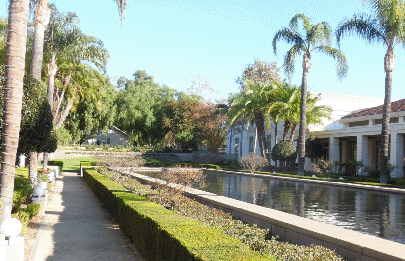 On such a perfect Fall day we spent many minutes sitting outside at Pat Nixon Amphitheater and Garden marveling at its serenity and thinking that, once again, our nation had spent a year in turmoil.
On our visit to the Nixon Library we were impressed with the galleries that reviewed so much of the national and world events of our life time. One gallery depicts America's space efforts with a complete space suit as worn on the Moon, a rock from the Moon's surface and photos of the 1969 moon landing of Apollo XI.
Plan a visit to the Nixon Library when you have several hours to spent looking at the galleries, touring the original Nixon home and wandering through the wonderful gardens.
The Richard Nixon Library & Birthplace is located at 18001 Yorba Linda Blvd. in Yorba Linda just three miles from the 57 Freeway. It is open six days a week from 10 a.m. to 5 p.m. and on Sunday from 11 a.m. to 5 p.m. For information call 714 993-5075 or visit at www.nixonlibrary.org. There is a modest admission fee and ample free parking.
Back to Table of Contents..

Last Update:12/1/16
&copy 2016 Joe Hilbers All Rights Reserved.
Graphic Design by Impact Graphics