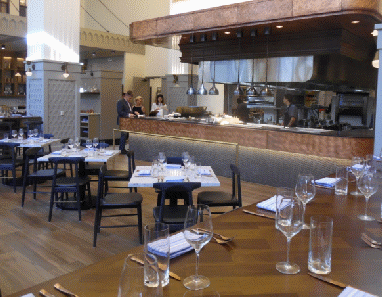 San Diego--The Gaslamp Quarter offers a huge variety of cuisine in its restaurants "
The culinary scene at Pendry Hotel, located in the Gaslamp Quarter of San Diego, has offerings to please every palate.
Provisional is arranged to serve both those at the Fifth & Rose cocktail lounge who wish for short bites and appetizers as well as featuring menus for breakfast, lunch and dinner. Lionfish, the fine dining room, offers a modern coastal cuisine by Chef JoJo Ruiz. We could not visit Lionfish at the time of our visit since it was in reserve for a private event.
At Provisional our dinner opened with Hudson Valley Fois Gras with seasonal fruit for my dining partner while my choice was the dry aged beef carpaccio with shaved carrots and a cilantro sauce. For our entree we both ordered the Snake River Farm Flank Steak with Frites and a Bordelaise sauce. Provisional Chef Christopher Osborne also sent to our table small portions of two other entrees for us to taste. They were the Pappardelle Pasta with wild mushroom ragout, truffle Bechamel with Lemon Brown butter and the pan roasted sea bass with tomato jam, local radishes and Tamarind clam sauce.
Our wine was Caballero Malbec Reserve from Argentina's Mendoza Uco Valley chosen from a unusually full wine list and large selection by the glass.
Everything we tasted offered different flavors and introduction to combinations of sauces and spices.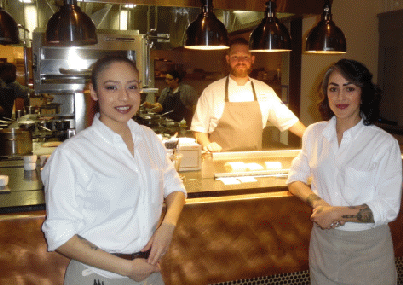 We were impressed with the performance of the wait staff and on inquiry learned that they all had a long period of training before the hotel opened.
The lunch menu offered a large selection of greens and pizza besides burgers and sandwiches. The breakfast menu is complete with juice, health, sweet and hearty.
Having dined so well for dessert we decided to share the chocolate hazelnut creame sponge cake with a generous addition of Pistachios ice cream.
Pendry San Diego is located at 550 J Street, San Diego, Tele. 619 738-7000, web.www.pendryhotels.com/sandiego.com
One night as we walked and perused the offerings of the Gaslamp along Fifth Avenue we noted an interesting Mexican restaurant named Don Chido. A plaque outside noted that it had been selected as the outstanding new Mexican restaurant in 2016 which added to our interest.
So we chose it for our dinner one evening. Don Chido is large with a full bar and cocktail lounge as well as several intimate size dining rooms. Our Waiter was David Valenzuela and he was perfect in explaining what the menu had to offer that was not over spiced or produced pepper heat. With this care from David we ordered the Glacamole and a Shrimp Ceviche for openers along with warm tortilla chips and their signature salsa, excellent but too warm for us.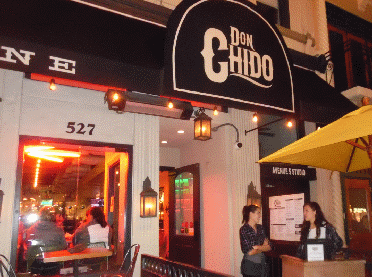 Following was the Maui Maui street tacos and for my dining partner, the shrimp tacos. David recommended the churro for dessert and they were excellent with a vanilla dipping sauce.
Don Chido means Mr. Cool in English and is located at 527 5th Avenue in the heart of San Diego's Gaslamp Quarter.
Last Update: 2/26/17
&copy 2017 Joe Hilbers All Rights Reserved.
Graphic Design by Impact Graphics