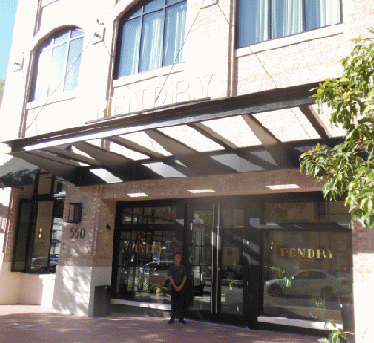 San Diego--Pendry Hotel adds fifth star to Gaslamp Quarter lodging
No city offers a more convenient location for its entertainment and night life than San Diego with its famed Gaslamp Quarter. For here in a twelve block downtown district one can find lodging, scores of restaurants and bars all grouped in a walk around area.
This historic area enjoys a long history and today skyscraper hotels mix with Victorian era buildings that nightly draws locals and visitors alike.
Our recent visit coincided with the opening of Gaslamp's first truly five star hotel, Pendry located in the heart of the Quarter at 550 J Street. From the moment of arrival at Pendry you are in the lap of luxury. As we pulled in front of the hotel several valets were on hand to unload our luggage and whisk the car away. A doorman was present to open the entry door and first view is of a luxurious lounge complete with flaming fireplace. Front desk is a round styled counter and there is the bellman to guide you and your luggage to one of the 317 rooms located on one of its twelve floors .
We were on the eleventh floor in a room with one wall complete glass overlooking the harbor, Point Loma and the Pacific Ocean to the horizon. The room included all amenities including king size bed and large walk in shower. There was the desk for those foolish enough to bring work with them and a sofa for relaxing and enjoying the view.
Pendry Hotel had only been open a few weeks when we arrived. It is the concept of Alan Fuerstman and his son, Michael Fuerstman. Alan Fuerstman is the founder of Montage which began in 2002. Pendry Hotels has been added to the Montage lineage for travelers seeking a truly contemporary style and located in bustling downtown areas. In San Diego this meant being in the heart of the Gaslamp Quarter. The San Diego Pendry is the second. The first was established in Baltmore's Charm City at the Recreation Pier. Like San Diego's Pendry it is located in the midst of an entertainment center.
In San Diego Pendry Hotel has established three bars and restaurants to add to the Gaslamp theme. There is the smart bar lounge with both indoor and sidewalk patio seating. This sidewalk patio seating continues at Provisional Kitchen and Cafe which offers both casual and enticing entrees for breakfast, lunch and dinner as well as bar appetizers for the adjacent lounge. Standing alone is the Lionfish for fine dining with a modern coastal cuisine by Chef JoJo Ruiz.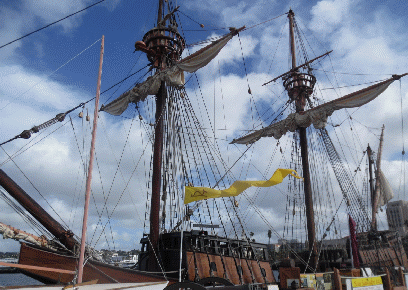 We dined one night at Provisional and this experience will be covered in a separate Vittles story.
Over the last few years I watched the building in San Diego of San Salvador, a replica of the ship Juan Rodriguez Cabrillo used to discover San Diego Bay and then the Channel Islands for the European world in 1542. It was built over a period of five years, much by volunteers, at nearby Spanish Landing. Other activities kept me from taking part in the launching and maiden voyage of the reborn San Salvador a few months ago but it now is on exhibit and can be boarded at the Maritime museum of San Diego.
This is the best Maritime Museum in the U.S. and it is truly an outstanding experience for anyone interested in maritime history. Here is the Star of India, the world's oldest active sailing ship, and now joining her is San Salvador. We were thrilled boarding San Salvador and used our imagination to consider what it must have been like for Cabrillo as he sailed into unknown waters to discover a beautiful new country. This took place just fifty years after Columbus discovered the New World. Cabrillo became the first European to see the west coast of North America. And here, beside the protecting Bay, is where the first Spanish settlement in California took place. This was also his last voyage since he died while the ship explored the Channel Islands (now a national park) and is believed buried on Santa Rosa Island.
If you ever saw the movie "Master and Commander" the ship was HMS Surprise and it too is now on display at the Museum.
The vessel is a replica of the H.M.S. Rose and has enjoyed a colorful history. The Rose was an English frigate that played a significant part during the Revolutionary War causing the Colonists a good deal of mischief. It was among His Majesty Ships that forced General Washington from New York.
A new H.M.S. Rose was built in Nova Scotia in 1970 and was used in historical events as well as training for future seamen. Fox Studios purchased the ship for the filming of Master & Commander making suitable changes to aid in filming.
Inspecting H.M.S. Surprise from bowhead to stern was a must for this Writer who had read both Jack O'Brian books on which the film was based. Signs posted on the bulkheads tell the story of what life was like on sailing ships during the 18th century especially Navy ships which required over twice the usual number of crewmen. Also on display is the clothing worn by seamen and officers as well as mess utensils.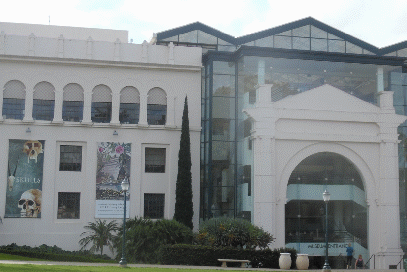 Besides the H.M.S. Surprise three other historic vessels are afloat at the Museum: the 1898 Ferryboat 'Berkeley'; the 1863 sailing ship 'Star of India' and the 1904 Steam Yacht, 'Medea'.
The 'Star of India' is a full rigged Bark that made some 21 voyages around the globe. In its long career the ship, one of the earliest iron-hulled ships to be built, was a merchantman with voyages between Britain and India. Later it took emigrants from Britain to New Zealand. Some 400 at a time. Then she hauled cargoes of timber, coal and sugar in the trans-Pacific trade.
Now the 'Star of India' is in the Guinness Book of Records as the oldest vessel in the world still sea worthy and regularly, on a yearly bases, puts out to sea once again.
For hours and information on the Maritime Museum located at 1492 N. Harbor Drive call 619 234-9153, web wwwsdmaritime.org.
From the Harbor we moved to Balboa Park and a visit to the San Diego Natural History Museum. Here was a new exhibition entitled "Ultimate Dinosaurs" featuring dinosaur specimens from the Southern Hemisphere. There was the Eoraptor and we recall the scene in the movie "Jurassic Park" where a huge herd of the creatures were in motion. Then there was Giganotosaura, a bigger, and even more terrifying cousin of T Rex.
The Museum is huge with five floors filled with skeletons and stuffed animals. Another exhibition currently being shown is "Coast to Cactus" and there is a 3D theater. The three films, all in 3D, currently being shown are "Through Africa", "Sea Monsters" and :"Ocean Oasis".
Allow plenty of time in visiting this Museum especially if you plan on seeing any of the movies. The San Diego Natural History Museum is hard to miss in Balboa Park. For hours call 877 946-7797, on the web www. sdnat.org.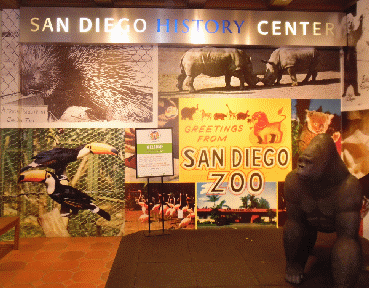 For us time was running short but while still at Balboa Park we did manage to also visit the San Diego History Center. Here we saw a movie that outlined the history of Balboa Park from its early beginnings, then its time as an national Exhibition as well as its role during two world wars. The photographs and movies of those early days were must interesting. There is no charge for visiting the History Center but donations can be made. The San Diego History Center is located at 1649 El Prado, telephone 619 232-6203, web www.sandiegohistory.org. .
Back to Table of Contents..
Last Update:2/25/17
&copy 2017 Joe Hilbers All Rights Reserved.
Graphic Design by Impact Graphics