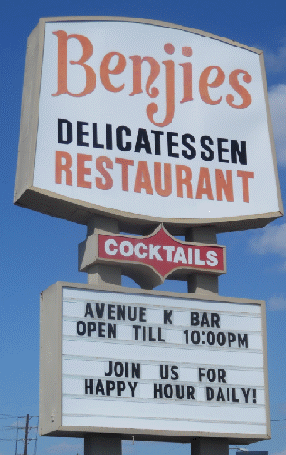 "Santa Ana--After 50 years Benjies remains supreme with its New York Deli style experience"
By Joe Hilbers
Everyone loves a success story. So when we learned there was a restaurant in Orange County that was soon to celebrate a 50th anniversary we wanted to know more.
As it happened we were already familiar with Benjies New York Deli Restaurant and Avenue K Bar in Santa Ana. First we love the food of a New York style Deli and had once, in the distant past, written a story on Benjies.
So with its 50th anniversary arriving in a few months it was high time for us to make a return visit to Benjies New York Deli Restaurant in Santa Ana. And a good time to renew our acquaintance with Owners Lloyd and Noriko Weinstein and once again feast on some our favorites like corned beef on rye, the Matzo Ball soup and chopped liver paste.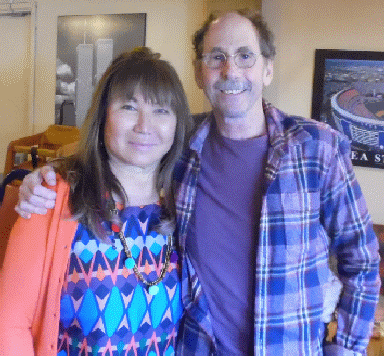 The restaurant was opened in 1967 by Stan Weinstein, Lloyd's father and later taken over by his son, Lloyd. This after Lloyd served some years with the U.S. Navy during the Vietnam conflict.
Through the years Benjies has received many awards including some by the Orange County Register and the Southern California Restaurant Writers.
On this visit we were treated to a huge tray of heaping goodies like the pickled tongue, corned beef, pastrami, potato and cold slaw salads, chopped liver, and several varieties of pickles all with two styles of homemade bread. We also had to try the house specialty, sauced dipped brisket of beef. The menu at Benjies goes far past its deli with many traditional American entrees and serves breakfast, lunch and dinner. It is the only New York Deli in Orange County but also features a diner atmosphere with special menus that are very poplar with its patrons.
There is also a most attractive bar and lounge which recently enjoyed a remodeling and makeover.
Many of the service staff have enjoyed long careers at Benjies. We chatted with Waitress Sally Davis who has been with the restaurant for 44 years.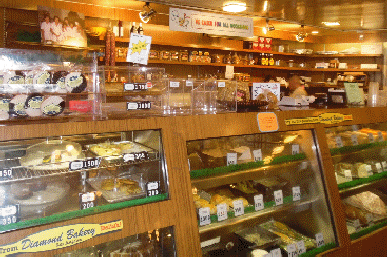 Benjies New York Delicatessen Bakery is located at 1828 N. Tustin Avenue in Santa Ana with a large adjacent free parking lot. It is open seven days a week for breakfast, lunch and dinner. Hours are 8 a.m. to 9 p.m., 10 p.m. on weekends. Telephone 714 541-6263, web www.benjiesdeli.com. Take out food is available and the rstaurant caters for all occasions.
Back to Table of Contents..

Last Update:3/5/17
&copy 2017 Joe Hilbers All Rights Reserved.
Graphic Design by Impact Graphics