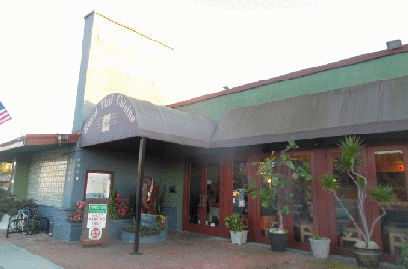 "Newport Beach--Sumeth and Chau Tila celebrate forty years of showing classic cuisine at their Royal Thai restaurants "
.
<
By The Editor
We have followed the culinary career and achievements of Sumeth (Sammy) Tila and his wife, Chau for decades but still the recent celebration of forty years as a Southern California Restaurateur needed to be recognized. We were present when in 2004 the Government of Thailand Tourism Authority recognized his opening the first Thai restaurant on the West side of Los Angeles in 1976.
Later Sammy moved his Royal Thai restaurant to Newport Beach and then added a second in Laguna Beach. Over the years Sumeth Tila has received many awards including 'Restaurateur of the Year" by the Southern California Restaurant Writers and his restaurants consistently earn five star awards for their authentic Thai cuisine. Somehow Sammy also finds time to conduct cooking classes at his restaurant in Newport Beach.
Recently we visited the Royal Thai in Newport Beach once again. After cocktails, the restaurant has a most comfortable bar and lounge, we opened with a calamari tempura which came with a chutney dipping sauce. Thai food is traditionally hot and spicy and everything on the menu is marked if spicy. This was great for This Writer who has an allergy to peppers and spicy dishes. Again avoiding the hot stuff I ordered the shrimp entree which came with Paht Jungle. This was a delicious dish of mushrooms, bamboo shoots, green onions, snow peas, baby corn, carrots, all in a light garlic sauce. White rice was perfect with the garlic sauce.
My dining partner chose the scallops for her entree and then seeing my Paht Jungle ordered it as well. Another at our table ordered the Tom Kah spicy coconut soup and followed with the beef entree accompanied with a spicy Kang Panang mix of veggies.
The list of appetizers is large including such favorites as BBQ ribs, Thai spring rolls, naked shrimp; and a seafood mix called Yun Ta Lay. There are Specialties like Volcanic chicken. This arrives still cooking on an open burner and is expertly carved at table. It is served on a bed of greens with a most tasty plum sauce and a bowl of steaming white rice. Other interesting specialties included Chou Chee duck with a curry sauce or the Crying Tiger, medallions of spicy beef. The seafood menu covers many ocean species and is most tempting. It takes many visits to this restaurant to experience the large selection of Thai styled entrees. We love noodles and there is a large selection here. There are also three several course dinners on the menu including Prince of Thailand, Queen's Royal Banquet and King of Thailand. These are designed from two people to large groups.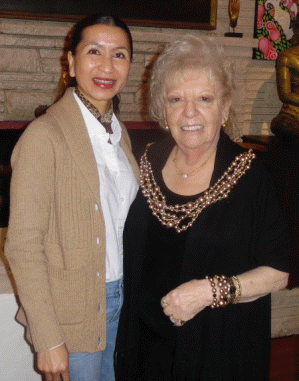 The restaurant has an exceptionally solid wine list but this evening with long drives ahead for all of us we stayed with the classic Thai green tea. Our dessert was fresh coconut ice cream.
Our lovely Thai waitress named Mum was attentive and most helpful in describing some of the dishes we were studying on the menu.
The Royal Thai Restaurant in Newport Beach is located at 4001 W. Pacific Coast Highway, Telephone 949 646-THAI. The Laguna Beach Royal Thai is located at 1750 South Coast Highway, telephone 949 494-THAI.. Both restaurants are open seven days a week.