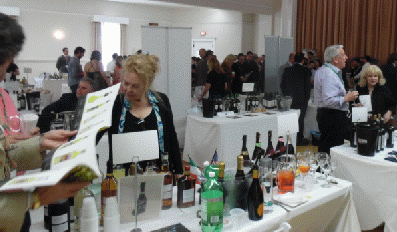 "Santa Monica--The 'Savor Italy' lived up to its billing showing exciting Italian foods and wines" .
.. By Joe Hilbers
It is a fact that the US is the top market for Italian exports of food and wine, if you doubt that think pizza. So when the Italy-America Chamber of Commerce West (IACCW) staged a 'Savor Italy' event recently in Los Angeles we were ready to attend.
Besides many prestigious wines from almost every region the showing also included food items like Balsamic Vinegar, bottled water, virgin olive oils, pasta, and cheese.
We had a most interesting chat with Donatella Bianchi of Newsense where we tasted a Nero Di Troia which is unique to Puglia located at the heel of Italy's boot.
From Tuscany we admired both wines and olive oils from the estate Le Regge. Here Stefania Del Bianco was most helpful in explaining the role of the owning Ferruzazi family and the region, near Greve, which is considered the original production area for Chianti.
Vitali is a family owned company producing quality foods, everything from Cappellacci pasta dough to traditionally aged Prosiutto. We met with Gorgia Vitali, export manager, and tasted the well aged Prosiutto ham. Mortadella and Salami are also produced by Vitali.
It is hard to find a region of Italy that does not have vineyards and produce wine. Cantina di Solopaca is a large cooperative located in Campania facing the western Mediterranean. It has its own D.O.C. and has vineyards with several local varietals such as Falanghina, Aglianico, Sanno Beneventano and rediscovered vines like Coda di Volkpe and Barbera. We met and discussed some of these varietals with Carmine Coletta who is Presidente of the Co-op. Both still and sparkling wines are produced.
D.O.C.G. Prosecco sparkling wines are a rapidly expanding market both in Italy and the US. Cantine Vedova is a major producer of Prosecco with nine different types being marketed under the Vedova label. We discussed this growing market with Diego Vedova of the family and tasted some of the wines. Two outstanding Cabernet Sauvignon wines are also produced by Vedova.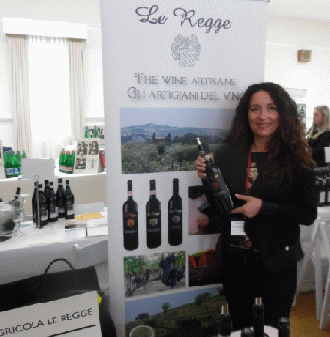 'Savor Italy' took place at the Santa Monica Bay Women's Club and included seminars as well the tasting of foods and wines. In all there were thirty tables with representatives presenting their products. The sponsoring Italy-America Chamber of Commerce is world wide with 78 chambers operating in 54 countries.
Back to Table of Contents..

Last Update:3/11/17
&copy 2017 Joe Hilbers All Rights Reserved.
Graphic Design by Impact Graphics